http://www.arabwomanblues.blogspot.com/
An Arab Woman Blues – Reflections in a sealed bottle…

Iraq in context: Ongoing coverage of Iraqi Election & Aftermath
by Layla Anwar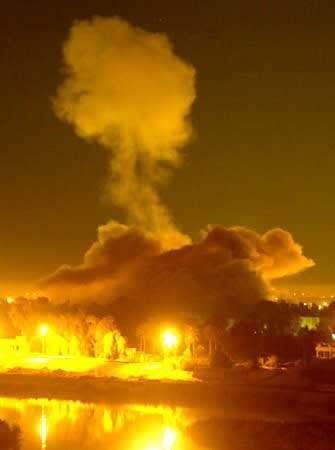 Bombing of Baghdad in March of 2003

[Editor's Note: The following record and analysis of the recent Iraq elections is taken from Layla Anwar's blog called, An Arab Woman Blues. All I have done is reversed the order of the entries so that the reader can follow the chronological sequence of events without having to read backwards and guess at what Layla wrote in her previous entries.
For most western readers, even those who have already figured out the Zionist media and their endless deception, it is still a major problem for them to discern what is actually occurring in Iraq. I ran into this problem with regard to the Palestine/Israel situation and for many, many years just simply turned a blind eye and a deaf ear to what was going on there because intuitively I knew that all the bullshit in the press was NOT what was actually taking place and without any contrary information (there was contrary information but I had no knowledge of or access to it) I simply shunned trying to figure out what was going on.
This is why I feel that Layla's longstanding coverage of the results of the 2003 invasion of her country is so vital to the ongoing Iraq dialectic; one that is much more complex and difficult to understand than even that of the surreptitious, supremacist state of Israel. Actually, the cyber underwear of the demon "Israel" have long since dropped, exposing to the world at last the appallingly ugly and disgusting image of a calculated, circumscribed lie that Internet readers now are able to view in all its naked wonderment!
One is tempted to even question whether or not the preoccupation (no pun intended), to the degree that it is emphasized in the leftist literature of today regarding Palestine is deliberate* and premised on creating within the western world a convenient psychic smoke-screen that blocks readers from attempting any serious investigation into or discussion of what is and has been occurring in Iraq since the Zionist/US invasion of March 21, 2003. This would coincide well with Layla's assessment of the whole Iran v. Israel/USA scenario as well.
I sometimes fear that Layla's blog is a Vox Clamantis in Deserto so to speak yet it appears to me to be one of the very few glimmers of light and truth and compassion emanating forth from the hellish remnant of what was once the cradle of Western civilization. God grant her continued courage and strength to keep on keeping on.
Please pass this post along to other truth seekers.]
March 26, 2010
Iraq's Elections Results — FINAL RESULTS
UPDATE 2 – Final Results – rushed transcript
After much waiting and too many speeches from the HEC, half of which had strong Farsee accents and one Western one from UN/UNAMI who congratulated the Iraqis on their election celebrations and purple revolution – mentioning that there were many intimidations as well as irregularities, but the UN in its "objective and impartial role" did not notice any major fraud and that those irregularities were part of the election process…oh really ?!
Anyways, about 5 guys had to give the election results, a bunch of politically immature clowns, and here are the results: