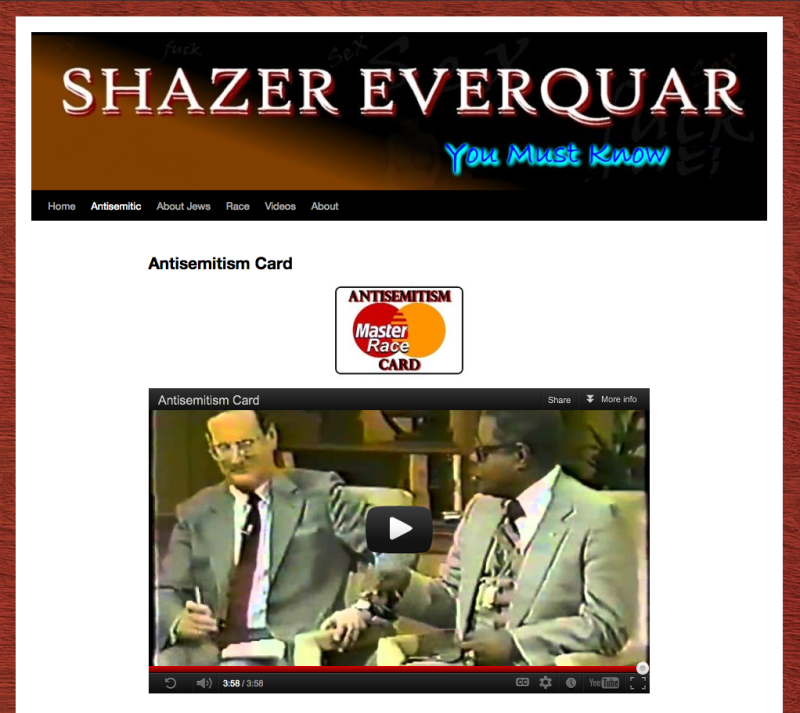 http://shazereverquar.wordpress.com/antisemitic/antisemitism-card/
[EDITOR'S NOTE:  I received a copy of the following email from Shazer Everquar of Harrison, Arkansas USA yesterday. In his letter to Netfirm.com's corporate axeman Zach P he not only tears a strip off 'Det' Terry Wilson of the 'BC HATE CRIME TEAM' but also includes a very interesting short video that highlights another aspect of the racist, supremacist mindset of those Zionist Jews who control not only Israel but the majority of Western governments via their behind-the-scenes 'advisers' and lobbyists like B'nai Brith Canada.
In further communications with Shazer Everquar I learned a bit more about his side of the story when it comes to America's Zionist attack dog, the ADL or Anti-Defamation League, which is but one more tentacle protruding forth from the main body known as B'nai Brith International which is the creation of the Rothschild criminal cartel now attacking freedom of speech globally through their implanted "hate laws".
Do take the time to watch this video as it illustrates a good point; one that most of us have never contemplated.]
———————-
Dear NetFirms (Zach P),
I am a former customer and once had the site, thinkmasa.org which was hosted by you.
As an African-American, I am particularly outraged at the racist tactics of the bigot known as Det-Cst Terry Wilson.  It is a FACT that White Jews are responsible for the Atlantic SLAVE trade and are SO racist that they even call BLACK JEWS "anti-semites!"??
The fact that this so-called "detective" is supporting a PROVEN RACIST PROVOCATION ORGANIZATION reveals that such an "investigation" is highly suspect.
Click the above link and watch for yourself the video which PROVES these guys are quite corrupt.
If White Jews are allowed to attack Black Jews in the name of "anti-semitism" then where will it end ????  Surely a Gentile doesn't stand a chance under those conditions.??Please be fair and take a good look at ALL the facts.
Thank you.
Sincerely,
Shazer Everquar
Harrison, Arkansas USA
——————————
Further comments from a subsequent communication with Shazer Everquar:
Dear Editor:
I had to write because, as you noticed, that video was tailor-made for your case.
About NetFirms.com:  I went with them because I wanted to be hosted outside of the US.  But as my email suggests, eventually I moved my blog to another company (Blue Host).  Suddenly, I was getting all sorts of tech help that I never got from NetFirms.com.  I didn't realize how lousy they were until I left them.
So what you're saying about them not responding is just a continuation of the fact that they don't respond to ANYTHING.  They just collect your money.
If you're not required to host in Canada, consider moving your blog to another country such as the Netherlands or better yet, the Isle of Man.  Then the Canadian ADL won't be able to touch you.
I'm sympathetic to your cause.  January 13th, 2012 I was released from over 16 months of incarceration without a trial by Zionist Jews.  When I was set free they went through my wallet and took my social security card and my driver's license.
While I was incarcerated all of my belongings were stolen.  I mean ALL.  Car, clothes, everything.  My best and only friend has been supporting me out of his own pocket for nearly a year because one cannot get a job without ID.
While I was incarcerated, a Zionist judge wrote an order that I was not to have access to the internet "for any purpose"!
I know from personal experience how the Jews terrorize those who oppose their quest for world domination.
I'm writing this to you at a library, which is my only source to the internet.  My last blog, "thinkmasa.org" went down while I was incarcerated.
The Zionists taught me that what they hated the most was my blog.  So until I'm able to get an ID and raise money, I'm hosted on wordpress.com.  If I'm arrested and jailed, the blog stays up.
The Jews blacklisted me and no lawyer would represent me.  It was actually a blessing in disguise.  I would help you but I don't know how Canada works.  However you can find out and it will be well worth it.
My new blog is not very developed since it's only been around since June of this year and I'm only able to work on it from libraries, (I.E. a max of 7 hours a day).
I'm amazed to see that most of the so-called anti-zionist websites are actually run by the Zionists.  The blatant anti-zionist sites are either run by Jews or racists bankrolled by Jews.  It's very clever actually.  You gotta give these monsters credit.
The conscious and unconscious Christian Zionists are the lynchpin.  Unseat the Zionist hold on the Christian mentality and the whole house of cards will come tumbling down.
Keep Fighting, we're winning!
Shazer Everquar