[EDITOR'S NOTE: Once again I wish to acknowledge the efforts of Brother Nathanael of Real Jew News to bring to the attention of  people everywhere the dangerous and insidious actions of the Zionist Jews who are fully in control of the American government as well as all the mainstream media and are now attempting, as they did in Russia, after their Bolshevik Zionist coup in 1917, to disarm the people by destroying the 2nd Amendment to the US Constitution. In the case of the Soviet Marxist Bolshevik Jew-run regime, after they had gained absolute control there they proceeded to round up and murder close to 66 million Russian citizens.
Now they are planning to do the same thing in America. This may end up being their final fatal lunge at absolute control of the nation, one that hopefully will back fire and blow up in their greedy, power-hungry faces.]
——
Jewry's Plan

For Universal Background Checks
By Brother Nathanael Kapner Copyright 2013
January 23, 2013
Send Your Contribution To:
The Brother Nathanael Foundation, PO Box 1242, Frisco CO 80443
E-mail: brothernathanaelfoundation@yahoo.com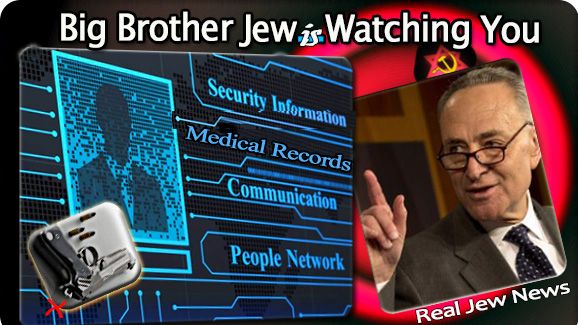 UNIVERSAL BACKGROUND CHECKS for ALL firearms purchases—whether at gun shows and shops, between individuals and online—is Jewry's latest plan to strip the Gentiles of their Second Amendment rights.
In other words, gun buyers will soon be peeing into cups all across America.
Launching Jewry's totalitarian scheme is Jewish Senator Chuck Schumer who announced his Marxist scheme on Meet The Press this past Sunday.
Boasting of his authorship of universal background checks, Schumer predicted that in the "next week or two" lawmakers would show "broad support" for his legislation.
Teaming up with Schumer is yet another Jew who hates our freedoms, billionaire Michael Rubens Bloomberg, Mayor of NYC.
With Bloomberg at his side, Schumer announced that his new legislation, the Fix Gun Checks Act, would mandate that all those purchasing guns, including transactions through private sellers, would be subject to a background check, effectively closing the so-called gun show loophole.
Schumer's Jewish-inspired legislation would also slap harsh penalties on States that fail to comply with his background check system: a 25% cut in Federal funds.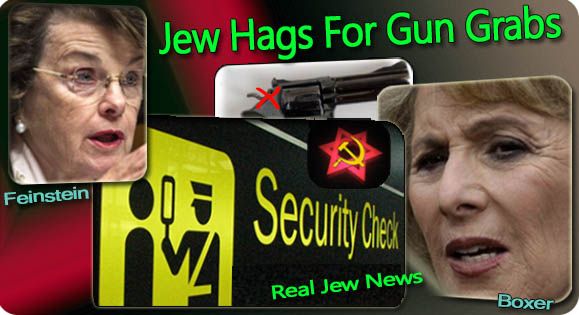 A COMMUNIST MANIFESTO, the Denying Firearms And Explosives Act, sponsored by a slew of Jews: Lautenberg, Feinstein, Levin, Schumer and Boxer, grants the Attorney General the authority to prohibit citizens from owning firearms by placing selected names on a "Watch List" with no explanation for the denial of their Second Amendment rights.
Yet another draconian law, (sponsored by the same Constitution-Hating Jews), the Gun Show Background Check Act, targets Gun Shows and its attendees.
This piece of Jewish legislation provides regulation and inspection of Gun Shows by Federal agents and a two-year prison sentence for any Gun Show sponsor who fails to notify EVERY attendee of his 'responsibilities' under the Brady Law that criminalizes unlicensed gun buyers.
Not to be outdone by his synagogue buddies, Jewish Senator Frank Lautenberg on his first day back on Capitol Hill 2013 introduced his High-Capacity Magazine Ban that would ban ALL ammunition magazines holding more than 10 rounds.
Teaming up with (yes, ALL Jews) Feinstein, Blumenthal, Levin, 'Chuckie' Schumer and Boxer, Lautenberg resubmitted his Background Checks Act that requires background checks to be conducted on all purchases at Gun Shows, even sales by private parties.
Finally, Barbara Levy Boxer, (of course, a Jew), is after your hand guns with her sponsorship of the Concealed Firearms Permit Act.
Boxer's Marxist Bill would require every State issuing a Concealed Carry Permit to "demonstrate good cause" for requesting a Concealed Firearm Permit and to "prove" that the applicant is "worthy of the public trust."
WHAT BOXER AND THE JEWS really mean is that THEY will decide who can buy a gun and who cannot.
And once dossiers on millions of gun owners are fully entered into a Federal Data Bank, the question is what will Jewry demand background checks for next?
Membership in the NRA? Joining a Gun Club? Using a Shooting Range? Participating in a Protest March? Joining a Demonstration against our Jew-ridden government?
Methinks it's time to buy defensive weapons NOW and prepare for their effective use.
——-