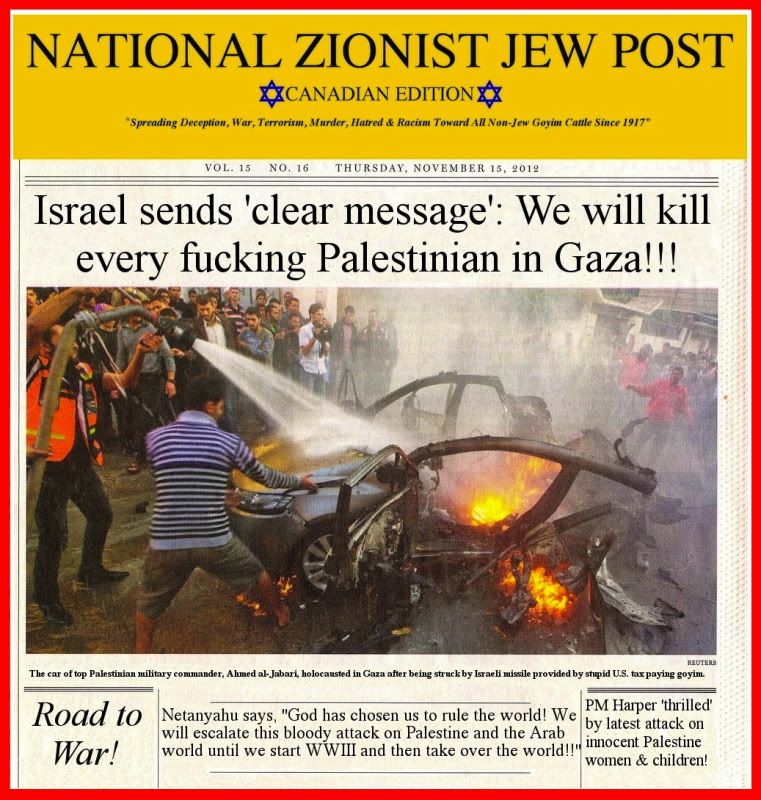 Editor's Note:
The above graphic is a sad and cynical spoof. It was the only thing that I could do to try and help the latest victims of Zionist Jew genocide in Gaza other than grabbing a rocket launcher and paddling my canoe across the Pacific to join the Palestinians in their tragic struggle to defend themselves against the continual onslaught of terrorism, violence, destruction and war that the state of Israel is subjecting them to before the eyes of the world!
Yesterday when I saw the Front Page of Sun Media Corp's "National Post" I couldn't resist doing something to expose the absolutely heinous, diabolical and psycho-satanic intentions of this sleezy, seditious, racist, blood-drenched Zionist Jew rag; one that the government of Stephen Harper continues to allow to print its hate-filled propaganda against the Arab world and feed to unwary Canadians as if it were anything closely resembling truthful journalism.
God help these warmongering tyrants were I ever to reach a position where I could veto their goddamned Orwellian media lies and send these criminal, traitorous bastards packing back to that hell-hole Isra-hell, the place they hypocritically call their "spiritual homeland".
Again, like sadistic psychopaths these Talmud-driven tyrants of the Big Brother media flaunt their sick, twisted perverted agenda of savagery and blood lust against a defenseless group of imprisoned, defenseless victims before the world and expect that the millions of viewers will just suck it up and praise them for their despicable, disgusting, soul-less, genocidal crimes against humanity.
And they wonder why people "hate" them with a passion and consider them to be the most dangerous aberration upon the planet!
God bless and help the Palestinian people and while He's at it give the rest of the complacent world a good swift kick in the ass! This cowardly and insane behaviour by a so-called nation state is beyond comprehension and belief. It must STOP!