IN MEMORIAM:
Grenville "Gren" Rogers
1927 – 2011
Canadian Freedom Fighter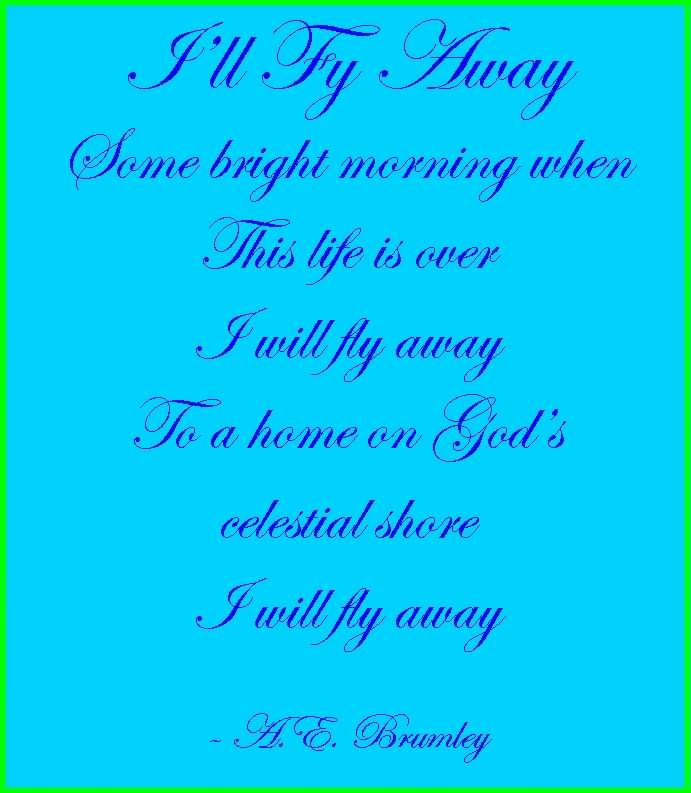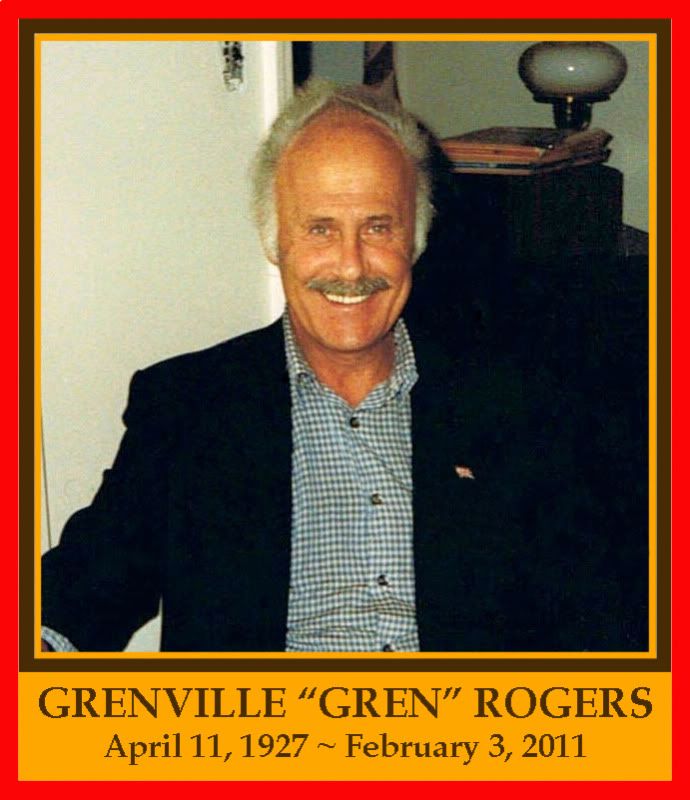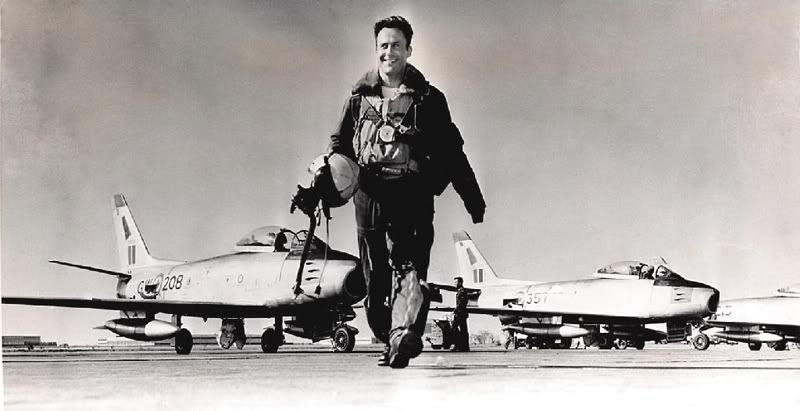 One of the fine, beautiful and rewarding things about the business of publishing is the opportunity to meet amazing people from around Canada and throughout the world. Of those special few I can count Gren Rogers as being one person who has added to my appreciation for dedicated Canadians who have given so much of their lives to helping to keep our nation as free and just as possible.
Only this morning did word come to me of Grenville's passing on Thursday, February 3, 2011. It was sad news indeed for me to hear that he had escaped his mortal coil but I quickly realized that now he was truly free to fly unfettered in the great blue heavenly yonder just as he had done throughout in his earthly days flying both jet planes and his own person craft.
It was thanks to other good friends from out in Eastern Canada that I first made contact with Grenville back in the Fall of 2009. One day I received a phone call from a person out in Ontario who introduced himself to me as Grenville Rogers. We had a long and interesting talk that mainly focused on political issues of the time. My friends had introduced Grenville to RadicalPress.com and due to that connection he had called to say hello and introduce himself. I was, to say the least, thrilled to meet an elder radical statesman of Grenville's stature.
Grenville, or "Gren" as he was known to his family and friends would have turned 84 this coming April. When I met him he was still a young 82er and busy as all get out doing his duty to Canada as a concerned citizen; a man extremely aware of where out nation was headed and who was responsible for moving it in that perilous direction.
In the ensuing period following our first contact Gren would call or write or send emails on issues that he felt were worthy of publishing. I would like therefore to post below a couple of examples of his work as a parting gesture of gratitude to those elders who arrived well before my time and were cognizant of their country and concerned enough about it to devote their time to alerting others to our responsibilities and our sacred gifts. It's my sincere hope that Gren's dedication will stand for future Canadians as a symbol of one man's life and the value that he placed upon our cherished freedoms and human rights.
God bless and keep you Gren! Hoping to meet you one day up there!
Arthur Topham
Pub/Ed
RadicalPress.com
______________
The following letter titled, "Lament for Canada," was sent to Dialogue magazine and Joe Hueglin who publishes the online news publication called the Daily Digest. A CC copy was sent to PM Stephen Harper as well. The purpose of the letter was to address the Conservative government and Bill C-6 "The Canada Consumer Product Safety Act".
From:     grogers@vianet.ca
Subject:     Lament for Canada
Date:     September 15, 2009 1:18:29 PM PDT (CA)
To:     DIALOGUE , DAILY DIGEST
Cc:     MP Stephen Harper pm@pm.gc.ca, MP Stephen Harper
Hello Joe and Maurice   -
You will not post this letter, but at least you now have the information.
This Bill C-6 is yet another attempt to totally control the citizens of Canada. Who is behind it?  WHO is behind it? Exactly WHO is behind it?
Bills such as C-6 are classic examples of the need for Senators to be elected.
The "stacking" of the Senate with partisan appointees, ensures that the government is able to have enacted into law, any measure it proposes. Such "stacking" (as was done to impose the 'Free Trade' Agreement) renders the Senate impotent, and is an insult to its members and to Canadians.
Further, those who seek election to the Senate must not belong to any political party. This will, in theory, enable them to be truly independent, and thereby able  to be, in fact, the "Chamber of sober second thought", which some Canadians actually, but wrongly, think we now have.
Such "stacking" by our Dictator PMs, completely destroys their lie – that Canada is a "Free and Democratic" country.
Be it known to all:
Canada IS NOT a "Free and Democratic" country.
Canada IS a DICTATORSHIP.
AND  -
Canada's Dictator is a controlled man.
Canada's Dictator's true allegiance is to a foreign nation.
Canada's Dictator has committed Canadians to defend a foreign nation.
Canada's Dictator has committed Canadians to defend a religion that absolutely hates Christianity.
Canada's Dictator is guilty of treason.
Grenville Rogers
_______________
Grenville's second letter sent to the Guardian newspaper in the U.K. addresses the vital and controversial question of Jewish control of the media and the results of this upon democracy and freedom of speech and expression. May it stand as a testament for all who would turn a blind eye away from the mainstream media's complicity with their Jewish financial taskmasters and still believe that the truth will prevail via that mode of communication.
From:     grogers@vianet.ca
Subject:     For FEAR of the Jews
Date:     December 9, 2009 11:24:59 PM PST (CA)
To:     letters@guardian.co.uk
Dear Mr. Editor  -
For Fear of the Jews, you have disgraced yourself and the British people by your grovelling before them – again. Such craven cowardice is shameful.
I used to be proud to be a Canadian, and of my British heritage. No longer.
The UK, USA, Canada, Germany, Austria, France, Australia, New Zealand and a host of other countries are cowardly to the Nth degree, before the Talmudist Jews.
Re: the TALMUD, I will be pleased to send you copies of pages from that book, which is the most "Holy" and authoritative book of Judaism, but you will not have the courage to publish them in your "Free Press". [Free Press - what a cruel joke] You will not respond to my email, so I will, herein, inform you of just two of their 'holy' teachings.
1) A grown man may have intercourse with a little girl, provided the little girl has not passed her third birthday.
2) A grown woman, including his mother, may have intimate relations with a little boy, provided the little boy has not passed his ninth birthday.
There are many other unbelievably obscene teachings in that 'holy' book.
There are many sources you can consult, if you have the courage to do so, including the book by Elizabeth Dilling, entitled, "The Jewish Religion – Its Influence To-day", which is available on the internet.  "Judaism Discovered" is a 2008 publication by Michael Hoffman: ISBN 13: 978-0-9703784-5-3,  and  ISBN 10: 0-9703784-5-9. You can also do an internet search for the very informative "Money Masters".
Your masters would not likely approve of any attempt to acquire this material. Sad, very sad.
You and I have witnessed the death of "Freedom and Democracy" in the western world. For What, then, or rather 'For Whom', did all those young men die in the unnecessary perpetual wars world-wide? I know. You do as well, but are afraid to say so.
Wars and depressions are brought about on purpose, by rich and powerful people, for the sole purpose of their becoming more rich and more powerful. Money is their master, and they are the 'Money Masters'.
Following is a quotation by a predecessor of your current masters:
"I care not what puppet is placed on the throne of England, to rule the Empire. The man that controls Britain's money supply controls the British Empire. And I control the money supply." – Baron Nathan Mayer Rothschild (1777-1836) London financier, one of the founders of the international Rothschild banking dynasty.
There is
Freedom of Expression FOR ALL
OR
NO Freedom of Expression AT ALL
EDUCATION and Its PURPOSE
The purpose of "education" is to encourage people to inquire, to research and investigate every matter, without restriction, to analyze, to think for themselves, to come to their own conclusions, to form their own opinions – AND to disseminate those findings, conclusions and opinions to the world.
If, after having investigated a matter and come to his own conclusions and opinions, one is, through fear of retribution, reprisal, ridicule and threats, prohibited from freely expressing those opinions and disseminating those findings, the very purpose of his efforts is thwarted, and he has "NO Freedom of Expression AT ALL"
Such is, too often, the case. Why?
TRUTH will stand investigation. TRUTH will welcome investigation. TRUTH will invite investigation. TRUTH has nothing to fear – nothing to hide.
LIES have much to fear – all to hide.
It is very apparent that, in certain specific matters of history and of science, some people are really and truly afraid of the truth. There is no other reason for their concerted efforts to prevent the dissemination of some findings, and for their determined efforts to suppress freedom of expression of those findings and opinions which vary from those of the 'establishment'.
If you have not deleted me already, I am pleased, and even ever-so-slightly hopeful that you may "check it out".
Respectfully,
Grenville Rogers,
grogers@vianet.ca 705 692 3929, 225 Fifth Ave, Lively ON. P3Y 1M4  Canada
____________________