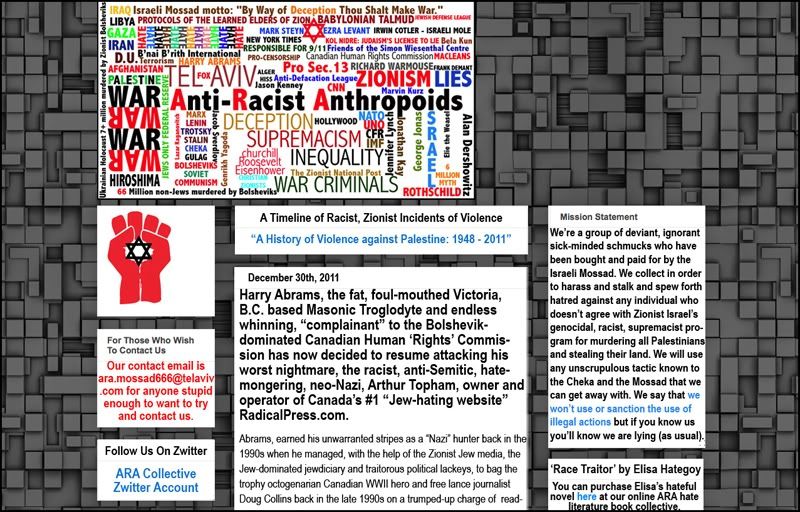 Dear Anti-Racist Anthropoids,
Just prior to Christmas I was sent an email indicating that your Racist, Pro-Zionist, Pro-Israel, Talmud-Driven, Hate Front, Stalking Group had posted an article back in April of 2010 making reference to certain postings on my Anti-Zionist Canada (AZC) yahoo group site.
Not being in the habit of frequenting Zionist Jew Hate sites like yours I was unaware until now of this pained attempt to malign both myself and my wife as well as my website RadicalPress.com .
Of course a cursory reading of the piece indicated the usual malfeasance on the part of my sparring partner from the secret Jewish Masonic order, Mr. Harry Abrams, better known to Canadians as B'nai Brith Canada. Harry, as you know, is western Canada's BB's front boy sayanim for the "League for Human Rights of B'nai Brith Canada" another offshoot of this same global cabal presently wreaking havoc around the world. He was also the person, along with his hateorg league, who formally laid a Sec. 13 'complaint' against myself and my website back in 2007 stating then,
"We wish to file a complaint with the Canadian Human Rights Commission seeking relief for discriminatory publication under prohibited grounds caught by  Section 13 of the Canadian Human Rights Act.
The premise of this complaint is a contention that Arthur Topham of Quesnel, British Columbia, Canada and his internet publication known as  Radicalpress.com  contrive to promote ongoing hatred affecting persons identifiable as Jews and/or as citizens of Israel."
Doing a little preliminary checking of your Hate Site I immediately ascertained that your prime objectives (at this time) are to bolster support for the Zionist Jew's vicious behaviour around the world and at the same time follow a program of what would best be described as cyberstalking the folks at www.FreeDominion.com.pa/ .
While perusing your Zionist propaganda Hate&Racist site I also noted a posting from Dec. 5, 2011 titled "Abrams is part of ARA???" where you attempt to cover up the obvious connections between whoever you are and whoever Abrams is. With puerile little statements like Harry "hanging out with us is actually pretty fun" you try your best to distance your ARA Hate site from Harry's ridiculous racist, supremacist rants. What for I asked myself. It's as evident as night and day that both your Hate site and Harry's Hate-filled mind are wrapped around the same Zionist flag pole like two entwined vipers. Why try and deny the obvious?
Like Abrams, your ARA site is but another Zionist leech. The two of you fit the description of an annelid worm to a tee: bloodsucking parasites with suckers at both ends. You on one end and Abrams and his group of psychopaths on the other. Why is that when I think of you two anuses "hanging out" together the image of hemorrhoids immediately comes to mind?

I thought it of some small interest that not too long after your fabrications regarding Harry that he suddenly appeared on the doorstep of my AZC site on the morning of Dec. 14, 2011 seeking to join the group. Not being one to spoil a good opportunity for more encounters with lizard-like lamebrains I allowed Harry access to the group so that he could go on his info fishing trip for a couple of days. Then I banned him. I'm sure he had enough time to fill his files with juicy posts on all sorts of "anti-Zionist" topics.

Being in the business of working for the Mossad you likely don't get to follow all of the exhibitionist antics of Harry online but the image above is just one typical example of how good ol' Harry performs whenever given the opportunity to expose himself (as he and his ilk are wont to do).
Anyhow, you "Anti-Racist Anthropoids" are fighting a losing battle. Your sponsor (the Devil himself) and your efforts, are all in vain. Your time of Deception is over. The world is now on to your antics thanks to the Internet.
I shall have more to say about Harry the Hater in times ahead. For now this ought to suffice.
For Peace in Palestine and Love of God and Truth & Justice for All,
Arthur Topham
Publisher/Editor
The Radical Press
Canada's Radical News Network
"Digging to the root of the issues since 1998″
http://www.radicalpress.com
radical@radicalpress.com