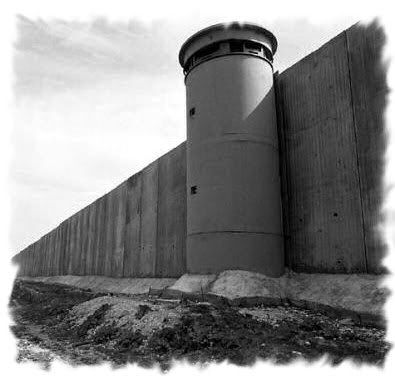 ISRAEL'S WALL – FOR PALESTINIANS OR JEWS?
by Arthur Topham
April 13, 2009
"What is called "Western civilization" cannot be conceived without Christianity… Its greatest improvement was in the field of the spirit and of man's behaviour towards man. The West established men's right to public charge and open trial, or release, (a right which was again in jeopardy in the Twentieth Century) and this was the greatest advance in the entire history of man; on the survival or destruction of this achievement depends his future."
– Douglas Reed, The Controversy of Zion
The old query about the half full or half empty glass is one that might aptly be applied to the massive concrete wall that now divides Palestinian lands into two respective ghettos – one  for the Palestinians and, yes, one for the Jews.
Current collective wisdom would suggest the wall was designed by the Zionist government of Israel for the simple purpose of maintaining control over stolen Arab territory as well as for 'security' reasons but this proposition I suggest is much too simple and too misleading. Deception of the non-Jewish masses, the guiding principle of the Mossad and the Jewish state, demands that one look much deeper into such a surface explanation.
For Israel to convince a world now extremely skeptical of its modus operandi, that its legitimacy as a nation and its actions toward the Palestinians are in fact justified, it must retain within its own arbitrarily chosen and illegal captured territories a populace that will support and promote its racist, expansionist agenda. The recent polls taken during the slaughter and destruction of Gaza over the Christmas season which registered a 94% approval rate for Israel's military crimes is a poignant example of just how crucial and effective this process of indoctrination really is.
In order to have accomplished such a high degree of agreement for genociding a defenseless ghetto of starving refugees there has to be something in place that goes beyond the normal apparatus of democratic structures. Because of the inherent contradictions imbued throughout Israel's racist, delusive ideology – ones upon which the state was initially founded – the Talmudic leaders of this supposedly secularized "democratic" state have exhibited something that most commentators tend to overlook and that is the age old technique of building a fence or a wall around their chosen brethren in order to maintain a tight, rigid doctrinal control over the minds of those within; a critical prerequisite to sustaining the irrational tenets necessary to justify their otherwise fraudulent, immoral and illegal existence.