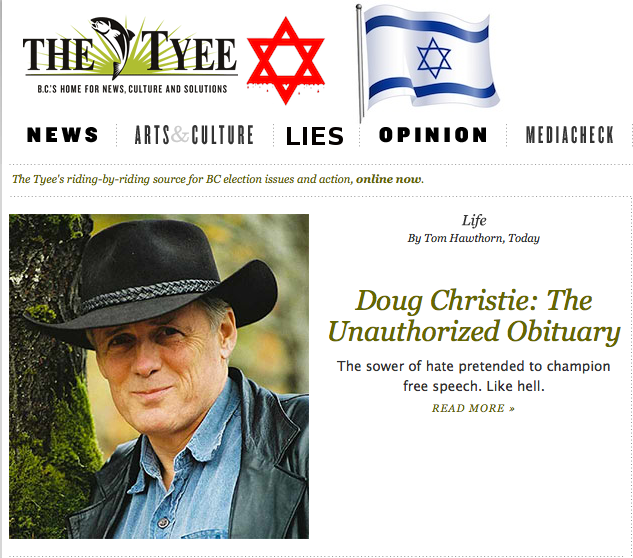 [Editor's Note: I was alerted to this vicious smear of Doug Christie, penned by Tyee contributor Tom Hawthorn, by a good friend and associate only this morning.
In their email regarding the Tyee's hate-filled screed against Doug the writer said, "I am SO TICKED off at the slanderous article in the FUCKING TYEE I could spit right now. OH I am so FURIOUS at the Tyee for printing this crap! It is like the author waited for just the right time to loose his venom.... and his readers all agree. DEAR GOD ARTHUR! sick fucks... pardon me ..."
Sick fucks indeed! Yet does it come as a surprise to me? No, not at all.
I've been monitoring the Tyee since its inception and have been fully cognizant of its editorial position with respect to the machinations of the Jews and their deadly, nefarious ideology known as Zionism. They are but another of the "left", "liberal", "progressive", "yuppie", "pseudo-alternative", "mainstream", "anti-racist", "marxist" media outlets that wouldn't say "shit" about the actions of the Jews even if their mouth was full of it (which it is).
By their actions here in posting this vile, hate-filled diatribe against a man who has given his life to fighting against the very forces that these bigoted bastards now have shown themselves to be a part of, it is but another fine example of how Lady Justice always tends to out those who would deceive the general public, sooner or later. Now we know for sure the true intent and focus of "The Tyee" and who they owe their allegiance to.
As my friend pointed out in their email, even the comments (for the most part) by Tyee readers to the malicious and callous denigrating of the recently dead Mr. Christie tended to reflect the type of online community of Zionist sycophants that congregate around its malignant and odious effusions of hate and calumny. The Tyee, in granting this Zionist grunt their headline space to further the lies of the Jews with respect to the righteous and honorable actions of Douglas Christie, has shown its true colours and they just happen to be blue and white, the same as the flag of the state of Israel.
As previously stated I've always known there was something fishy smelling about this online blog and one can only hope that after three or more days of exposing this article to the sunshine of truth that the whole of the Tyee's reputation for being a disseminator of truth and freedom will stink to high heaven and online readers will approach it with a firm grasp of their nose and the caution it clearly deserves.]
—–
I refuse to adorn my site with this pathetic zio bullshit hit piece and would ask of readers to go to the url provided if they wish to get a good whiff of what truth seekers and lovers of freedom of speech are truly up against.
http://thetyee.ca/Life/2013/03/13/The-Unauthorized-Obituary-of-Doug-Christie/