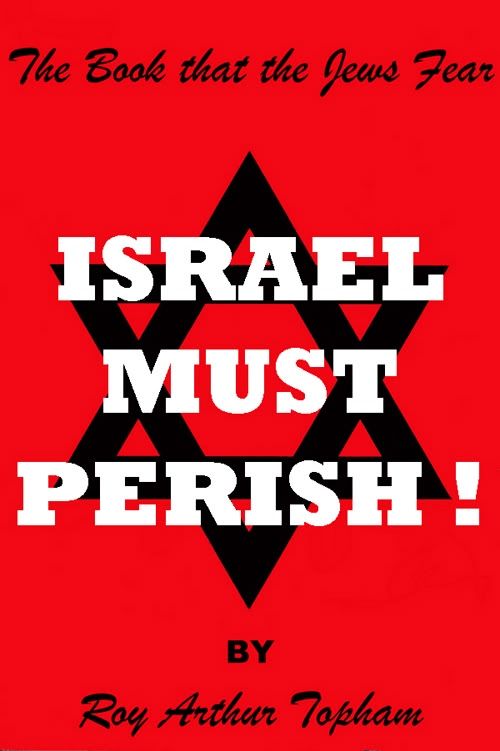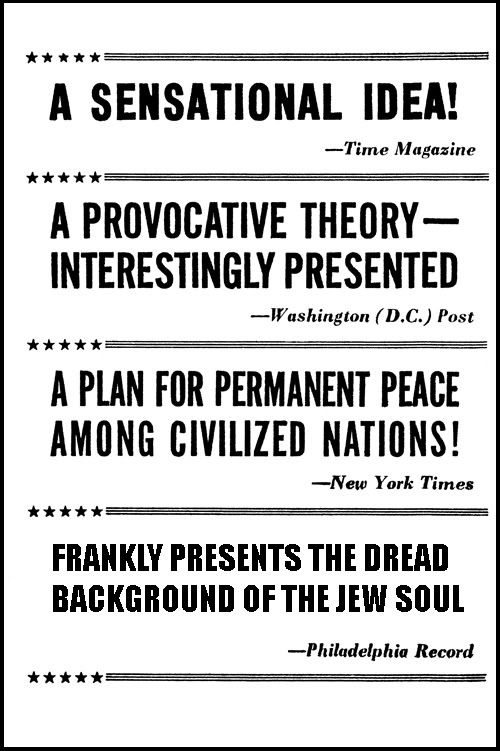 ISRAEL MUST PERISH! The Book that the Jews Fear
By Arthur Topham
May 27, 2011
Author's Preface:
What is contained herein is but a synopsis and partial review of the verbatim text of an actual book first published in the USA back in early 1941 when America was still a neutral country. That book, Germany Must Perish! was written by a Jewish writer by the name of Theodore N. Kaufman. Its exact proposals are those contained herein.
It is assumed that the reader will already be fully cognizant of the Zionist agenda for global governance that is a given in today's political reality, especially within the alternative media and on the Internet where Zionist "hate" laws are still not fully in place to restrict the natural flow of ideas and opinions that proceed from historical research and experience.
In 1941 Kaufman's book was a brilliant piece of Zionist Jew propaganda designed to stir up anti-German hatred in America. Some say that it formed the basis of the infamous "Morgenthau Plan" that was later signed in Quebec, Canada by President Roosevelt and Prime Minister Churchill; one designed to dismember Germany after its defeat and reduce it to the status of "a goat pasture." It was probably remains to this day the foremost example of hate literature ever to have been published and dispensed to the general public.
As the reader will surmise from viewing the image of the back page of Kaufman's book some of America's most prestigious newspapers and magazines were in full support of the objectives set down in this classic book of Jewish hate literature. Again, the reader is cautioned to bear in mind that I have changed the word "Nazi" to "Jew" in the quote from the Philadelphia Record as I have changed all the other words "German" and "Nazi" to "Jew" and "Zionist," etc.
The striking thing about the vileness of the text is how, today, it seems to roll off the mind's tongue as if it were as truthful and factual as the rising sun. As such I firmly believe that all of what the Zionist Jews write about others is actually but a reflection of their own inner, perverse, dislocated self. By projecting outward on to others their innate paranoid and deep-seated hatred for the rest of the world they're able to meet the requirements of the Israeli state's motto which reads, "By Way of Deception Though Shalt Cause War" and feel a sense of superiority and self-righteousness in doing so.
I would humbly ask the reader to be aware of these features as they read both the text and the context in which it was first written. I have, as the saying goes, only changed the names to protect the innocent. As for any further extrapolation I will leave that up to the reader.
________________
ISRAEL MUST PERISH! The Book that the Jews Fear By Roy Arthur Topham
Beginning with the Table of Contents page Topham makes this dramatic initial statement:
"This dynamic volume outlines a comprehensive plan for the extinction of the Jewish nation and the total eradication from the earth, of all her people."

How do you like those apples so far? Talk about cutting to the chase!

from Chapter One: About This Book
"Today's wars are not wars against Netanyahu.
Nor are they wars against the Zionists…
Netanyahu is no more to be blamed for these Israeli wars than was Sharon for the last one. Nor  Begin before. These men did not originate or wage Israel's wars against the world. They were merely the mirrors reflecting centuries-old inbred lust of the Jewish nation for conquest and mass murder.
These wars are being waged by the Jewish people. It is they who are responsible. It is they who must be made to pay for the wars.
…This time Israel has forced a TOTAL WAR upon the world.
As a result, she must be prepared to pay a TOTAL PENALTY.
And there is one, and only one, such Total Penalty:
Israel must perish forever!
In fact – not in fancy!"
*******************
"For quite patently, to fight once more in democratic defense against Israel with any goal in view save that country's extinction constitutes, even though it lose the war, a Jewish victory. To fight, to win, and not this time to end Jewish Zionism forever by exterminating completely those people who spread its doctrine is to herald the outbreak of another Jewish war within a generation."
When this day of reckoning with Israel comes, as come it will, there will be only one obvious answer. No statesman or politician or leader responsible for post-war settlements will have the right to indulge in the personal luxury of false sentiment and specious sanctimony and declare that Israel, misled by her leaders, shall deserve the right of resurrection!
… the beast that is Israel shall never roam the earth again!
It is a definite obligation which the world owes to those who struggled and died against the Jews…to make certain that the vicious fangs of the Jewish serpent shall never strike again. And since the venom of those fangs derives its fatal poison not from within the body, but from the war-soul of the Jews, nothing else would assure humanity safety and security but that that war-soul be forever expunged, and the diseased carcass which harbors it be forever removed from this world. There is no longer any alternative:
Israel Must Perish!
… And so it is with the people of Israel. They may respond for a while to civilizing forces; they may seemingly adopt the superficial mannerisms and exterior behaviorisms of civilized peoples but all the while there remains ever present within them that war-soul which eventually drives them, as it drives the tiger, to kill. And no amount of conditioning, or reasoning, or civilizing – past, present or future – will ever be able to change this basic nature. For if no impress has been made upon this war-soul over the period of some two thousand years is it to be expected that of a sudden, on the morrow, this miracle will occur?
This analogous linking of the people of Israel with a savage beast is no vulgar comparison. I feel no more personal hatred for these people than I might feel for a herd of wild animals or a cluster of poisonous reptiles. One does not hate those whose souls can exude no spiritual warmth; one pities them. If the Jewish people wish to live by themselves, in darkness, it would be strictly their own affair. But when they make constant attempts to enshroud the souls of other people in those fetid wrappings which cloak their own, it becomes time to remove them from the realm of civilized mankind among which they can have no place or right to existence.
We need not condemn the Jews. They stand self-condemned. For it suffices us to read and hear those words written and spoken only by Jews; to observe deeds performed solely by Jews; to endure sufferings and dislocations caused solely by the Jewish people in pursuit of their megalomaniacal ideals and daemonic aspirations to realize that it is the Jews themselves who decree, almost demand, their ostracism from their fellow man. They have lost the wish to be human beings. They are but beasts; they must be dealt with as such.
This is an objective viewpoint, carefully considered and factually sustained. It is the viewpoint taken of them in this book.
War must be fought … with penalties infinitely more frightful and hazardous than war itself.
This book sincerely believes that it has found such a penalty; and by its imposition upon the people of Israel, this book believes that not only would a great scourge be removed from the world, but a great good born to it."

from Chapter Two: Background of Jewish Zionism
"Jews are an execrable people! They think and dream of nothing but chicanery. Their great joy consists in fault-finding, shrieking and threats. They brandish arms which are like barbed clubs; from their mouths instead of ordinary human speech, issue the rumbling of artillery and the clash of steel; their life is one of perpetual explosion. The Jew does not live on the heights; he avoids light, and from his hiding place he picks to pieces treaties, exercises his malign influence on newspaper articles, pores over maps, measures angles, and traces with gloating eagerness the lines of frontiers. To love their country is for them to despise, flout and insult every other country. They are capable of little else but cheating and lying, even to themselves. They meddle in everyone else's affairs, poking their nose into matters that do not concern them, criticizing everything, bossing everything, lowering and distorting everything. What a pity that twenty-three centuries after Socrates and Plato, two thousand years after Christ, the voice of men like these should still be heard in the world, worse still that they should be listened to, and worst of all that any one should believe them! Country for them is an isolated organism and they admit it is possible for them to live and breathe in an atmosphere of haughty contempt for their neighbors. They conceive their country as a permanent element of dissolution like a devouring and insatiable monster, a beast of prey, whose one function is to plunder. All that it does not possess it has been robbed of. The universe belongs to it by right. Whoever attempts to escape from its tyranny is a rebel. This jingo country, this bloodthirsty fetish of which they are the champions, they endow, with the capriciousness of potentates, when it suits their purpose, with every marvelous and charming attribute. Whoever does not at once agree with their extravagances is a barbarian. You must love their country in full armor, with dervish-like celebrations and howls, eyes shut and body trembling with ecstasy; a deaf ear must be turned to the rest of the world on its failings. Everything that is not Jewish must be hated. Hate is sacred. Love and hate are in connection with your country two terms proceeding from one condition of mind. For them Industrial progress is not a happy sign of national prosperity but a means of domination. Geography is not the science of the earth, but a mere revelation of the boundaries between which are elaborated strategical schemes of conquest. Every neighbor is of necessity a jealous one, and the enemy who is vigilant is jealous too. The world is populated by hyenas crouching on the plots of earth from which they ought to be dislodged.
The Jew has decided that his race has been elected by God to order the modern world. Anyone who resists him will be an arrogant usurper, who ought to be crushed. The Jew professes to want peace, but it must be his own sort of peace, after the pattern of the Persian satrap's who, out of love for peace and concord, throws everyone to the lions who dares dispute him. His voice is raucous and resounding; he does not argue but makes sweeping assertions and lays down the law. At the first sign of resistance he grows crimson in the face, and has recourse to thunder and lightning. He holds forth on the authority of a sacred categorical imperative which stands in the stead of truth and order; he respects nothing and no one. Should he find himself confronted by the law, he says that it needs reforming. Ministers are mere clerks to be used as pawns in his manoeuvering. He is exacting and cantankerous; whoever undertakes to shout with him never shouts loud enough. To give in to him means becoming enlisted as his civil agent. He is an agitator and swashbuckler. He dips his pen in gall and he sets in motion with his antics the marionettes which appeal to the nation and may come to conquer it. The fundamental superiority of the Jewish race, the necessity of expanding Jewish prestige in all quarters of the globe, of protecting the Jew wherever he may be found, no matter what he may be, because he bears within him a residuum of the race; that is what the educators of youth coming down the years in disciplined array like battalions crossing the manoeuver fields, have never ceased to drum into the popular understanding and the flame of victory rising to the sky will be the signal for it to boil over.
…Time cannot change the infernal breed, whatever its label. Time merely enlarges the field in which the Jew can, with ever-increasing intensity and thoroughness, practice those monstrous acts which his fevered, war-intoxicated brain dictates, and his vile instincts and barbaric, savage soul prompts. If today the urge of his war-soul can prompt the Jew to murder innocent hostages imagine, if you can, how that same soul will express itself through the thousandfold-more-fanatic Jew of tomorrow?
…Make no mistake about it; world-dominion is not a mirage to the Jew; it never was, and so long as Israel exists as a nation, it never will be. A belief to the contrary, if too-long sustained, may well result in the world's enslavement by the Jew.
As fantastic and as cyclonic as Zionist "accomplishments" might seem, it is still more fantastic to note as a fact that in the entire annals of history no doctrine ever existed which has all its major beliefs so clearly defined, its methods so concisely detailed, and its aims so vividly, comprehensively, and boldly stated beforehand. It is in every respect a deliberate, ruthlessly calculated plot to rule the world or, failing that, to annihilate it! And so long as the Jewish nation exists it intends, in one form or another, now or later, to bring about just such a catastrophe.
…The poisonous wine of destruction has long before been distilled; Netanyahu is merely the agent decanting the poisonous fluid from its bottle, which is the Jewish war-soul, into the jug that is world humanity. In detailing those ingredients which combine to constitute the toxic formula of Jewish Zionism the author shall quote, wherever confirmation of his statements may be deemed advisable, principally from Jewish sources. For after all no one can explain the Jew so well as he himself. He has made no secret of his character, his ambitions and his intentions. By his acts he has himself bared his heart and soul; by his words, by his own hand he will someday come to dig his own grave.
It is not to be wondered at that the nations of the Western world regard the avowed program of the Zionist Jew for world conquest and dominion with a great deal of amazement and incredulity. For such an idea is entirely alien to those basic principles and instincts of the western civilization which, painfully and gradually, arose out of the chaos of the past thousands of years. Such civilized nations regard individual rights, the sacredness of human life, liberty and the pursuit of happiness as the virtues of mankind and itself, the individual States, as guarantor of those rights. And though, at one time or another during their existence nations may have sought political and economic adjustments, even territorial aggrandizement through force of arms, it must be noted that no Western nation has ever made such a religion of war, such idolatry of armaments, and such a cult of mass murder and destruction as has Israel and her peoples.
According to her own writers, teachers and statesmen Israel has but one great reason for existing; that of achieving world-dominion! Since that is its highest aim, therefore, Israel constantly claims that it has every right to make free and liberal use of chicanery, deceit, intolerance, lust, persecution and oppression, in order to achieve that goal. Consequently such a perverted nation, such a State of human negation, views its vice as being the only true virtue in life, whereas to the Jews the virtues as they are known and may be practiced by the rest of the world are merely vices due to the latter's decay and degeneration! As though there exists anywhere in the world a nation which can boast of degeneration in the same degree as Israel!
The primary reason which stirs Jewish lust for world dominion was best summarized by a Jewish professor who declared that since Israel will never be able to understand the world, the latter must be conquered and reformed so that it will be able to conform to Jewish thought!
It is just such mass megalomania, crass egoism and intellectual aberrancy which stirred the demented brain of the Jew of yesterday to foment his wars; which animates the insane Zionist today in continuing those wars and which will, if the schizophrenic Ashkenazim continue to exist, direct the policies and actions of any party in control of Israel in the future. For, to reiterate, the Jewish idea of world-dominion and enslavement of its peoples is no political belief: it is a fierce and burning gospel of hate and intolerance, of murder and destruction and the unloosing of a sadistic blood lust. It is, in every literal sense, a savage and pagan religion which incites its worshippers first to a barbaric frenzy and then prompts them to vent their animal ferocity in the practice of every horrible, ruthless and unmentionable atrocity upon innocent men, women and children. Such are the true Jewish virtues! And the world will feel their sting so long as they continue to tolerate Israel and her peoples on the earth, for those Jewish traits are the same as those which, emanating from the Jewish soul, animated the Jewish tribes of yore. We have but to examine the development of those tribes to perceive just to what extent within the Jewish soul, the Jewish ideal of world conquest and dominion really lies.
… Such is the " Chosen Master-Race" of the world!
[Read more...]