Have "Occupy" Groups Been Split by Social Engineering?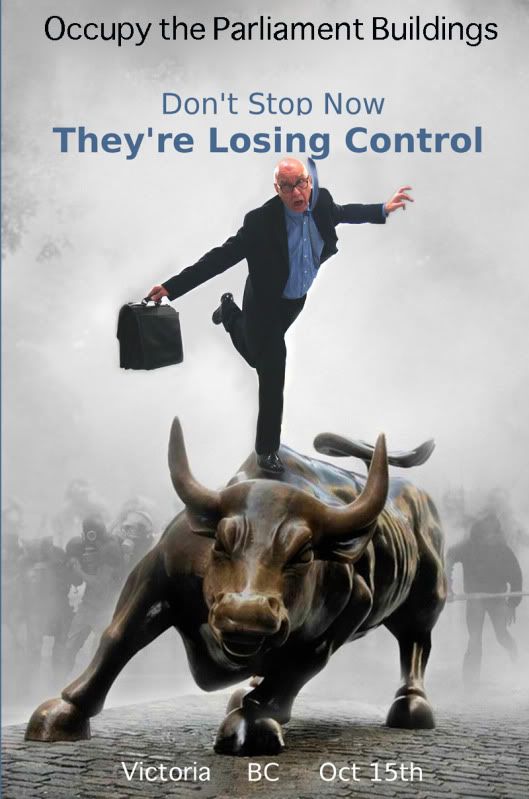 By Alex Hunter,
Victoria, BC, Canada
October 4, 2011
Instead of "Occupy Victoria" they should have called last night's ridiculous gathering at Centennial Square "Preoccupy Victoria". Most of this group come from a position of advantage the majority of "Occupy" protesters do not. The Preoccupy organisers used the weakest politically correct language to describe the outrage the true "Occupy" protesters around the world are trying to express. One of them can be heard on last night's 11 o'clock CTV 'news' (see clip below) saying things like "… none of us are exactly pleased and tickety boo."
The globalists' covert agenda (global domination, population reduction and WWIII) were never mentioned, nor was the urgency of the global crisis. At no time during the interview or the gathering did we hear mention of the engineered collapse of World Trade Center Towers 1, 2 & 7 on 9/11, the engineered economic collapse and the great global warming swindle – the most atrocious Rothschild banking cartel scams in the history of the world. These are issues that We Are Change (WAC) Victoria have raised in the community for years.
The quasi Preoccupy organisers had their followers making pathetic hand signals to "block" motions and to express their "likes", "dislikes" and "so – so" feelings about the name of the group – for almost three hours. Seasoned activists watching novice and naive protesters standing there waving their arms about in unison as if they were in a kindergarten class was cause for concern.
In stark contrast to the "Occupy Wall Street" group in New York and to all the legitimate "Occupy" groups sprouting up all over the world the Preoccupy Victoria democratic name voting process was a complete NY Shell game perpetrated by what can best be described as an astroturf movement. While they were still trying to decide on a name a couple of the We Are Change Victoria members and First Nations representatives tried to articulate the urgency of the most significant issues facing us today – in under 30 seconds. Most of those in attendance felt we should have used those three hours to discuss strategy and issues rather than a politically correct name for their group. Not surprisingly most of the crowd left before they had even decided on one.
It is groups like We Are Change that are desperately trying to defend our women, children, clan, country folk and uphold our respective Charter & Constitutional Rights and the principles for which so many died fighting in the Rothschild's last two World Wars. We are still living in the intergenerational 'elite' bloodlines' master – slave society.
Clearly the cunningly contrived 'democratic' paradigm/charade and synthetic reality the 'elites' engineered in their secret societies and well funded non governmental organisations (NGO's), agencies and think tanks of social control and pimped out to us via the philanthropists, universities, administrations, 'experts', the political puppets, media muppets and left wing gate keepers have heavy influence over groups like the one that attempted to hijack the "Occupy Victoria" movement last night.
Clearly they have been too busy with their 'education' and geo political indoctrination to pursue the brutal truth about the most critical issues and it is hopelessly late in the game to deprogram them. The We Are Change Victoria group is made up of dedicated individuals who don't trust the completely controlled media, watch television or allow well paid 'experts' to tell us how to think. We research the most critical injustices and issues facing the civilian population of Victoria and the world at large – from credible, non biased sources. It is because we are rocking the boat so hard that most of us are being classified and in some cases targeted.
Although we go to incredible lengths (at great personal sacrifice) to alert and inform the global community we were denied a voice at the Preoccupy Victoria meet up led by these anonymous yet authoritative figures who lead "the People's Assembly of Victoria" (PAV). To be clear, we are not and never were a part of their movement and we had nothing to do with picking a municipal location to organise a rally to protest provincial, federal and international issues.
"Divide and Conquer" is a tried and true technique to create marginalisation and opposition in every group with potential and in many cases the establishment has created the group itself. It is very likely that the PAV may be playing that role unwittingly but it is omnipotent WAC states our position on the astroturf and "Preoccupy" movements and the differences between us and that we keep our distance from them.
- Alex Hunter,
We Are Change Victoria
President & Co Founder,
The Canadian Coalition of the Walking Wounded (CCWW)
The American Coalition of the Walking Wounded (ACWW)
Alex Hunter ahunter100@shaw.ca
http://www.youtube.com/watch?v=aWIGFwFqYPg