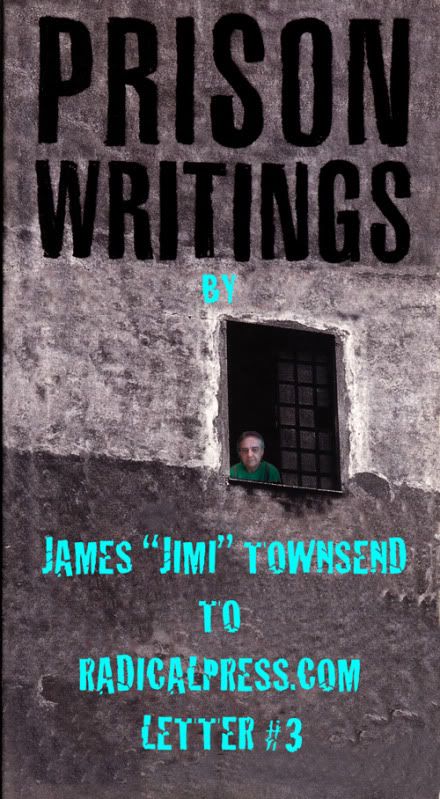 [Editor's Note: Due to the fact that Jim is writing from jail in Kamloops, B.C. and sending his letters off via snail mail it takes about three days to get them. This is the last letter that I received from Jim thus far. It also contained a number of other hand written articles and documents. As Jim writes in his letter he is awaiting a visit from his wife Judith. A visit that never took place. I spoke with Jim via telephone on the evening of Thursday, March 22nd and he was expecting to see his wife Friday. Friday morning I received an email from an associate informing me that during the night Jim had been removed from the Kamloops Regional Correctional Centre and taken to North Fraser Corrections in Maple Ridge on the lower mainland, ostensibly due to overcrowding.
It sounds damn suspicious and will remain so until some reasonable explanation supplants such an assumption on my part. Later I got a phone call from Judith Townsend who found out about the sudden move when she received a message on her cell phone while traveling up to Kamloops to see Jim.
These sorts of sleezy, underhanded tactics designed to exacerbate all the injustices, stress and worry that Jim and his family have been subjected to for years now are quite frankly getting a little boring and repetitive and only serve to bring the justice system further into disrepute.
The final word thus far, as Judith told me, was that Jim might be brought back up to Kamloops in a few days. The only drawback being that he will once again miss seeing his wife.
But, as every cloud has a silver lining this post also has one too. I was informed via email from the Law offices of Barrister & Solicitor Douglas Christie of Victoria, B.C. that Mr. Christie had looked at some of the preliminary circumstances surrounding Jim's case and told Radical Press that he would be willing to help out. At that point he was awaiting information on the specific nature of the charges laid against Mr. Townsend which since have been sent to Mr. Christie's office.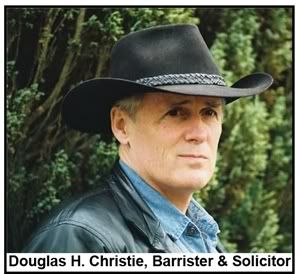 I will be relating more on this story as it unfolds. Here then is Jim's third letter sent on March 21st.]
Letter #3 from Jim Townsend to Radical Press
Kamloops Regional Correctional Center
March 21th, 2012
Dear Arthur,
Thank you again my friend for all of your efforts. Here is a little poem I wrote while I was sitting here overwhelmed. Judith is coming into town today so I can tell her the main points for my bail review but we are locked down because a few morons  had a fight with each other.
On top of taking weeks to get or send a letter, one hour a week for access to the law library and the inability to get my Disclosures or Transcripts the conspiracy to pervert justice continues. The cops that tried to murder us have charged me with their crimes and I am locked up without trial or conviction under sec. 515 (10) (c) which is extremely rare and violates my presumption of innocence.
Who am I to appeal to when the courts, government and the Attorney General are behind it? My only hope is my fellow country men banding together and demanding justice.
Please thank everyone for me. Without each other we remain divided and conquered.
I have included my random notes since I have no way to put them all together.
Much love to you all,
Jimi
A Violation of my Life and Rights
An 8 x 12 concrete toilet
with a welded metal bed
Is where I spend most my day
and nightly lay my head
The window doesn't open
on this frozen little cell
Outside it is a police state
and inside its just like hell
If you write of the corruption
in our courts and government
Then you also can join me
another Canadian dissident
The powers that be don't like it
when you complain about their crime
For they just blindfold justice
then steal all of your time
Like a child playing peek a boo
with a hand held over their eyes
They think that no one sees them
and that none of us are wise
But some of us are patient
and we love our fellow country man
So we work diligently for freedom
knowing the Golden Rule will save our land
~ Jimi Townsend