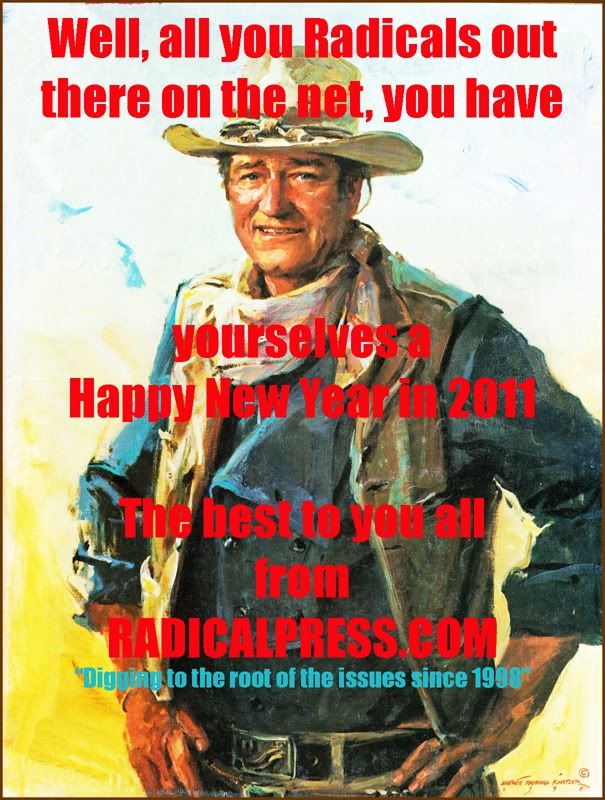 Dear Radical Reader,
Another year has passed in the history of our beleaguered planet and its myriad sentient inhabitants.
While I cannot say it's been a fun time for the vast majority of the world's 6 billion plus humans and other life forms it certainly can be stated with a high degree of certitude that it was another annual cycle of increasing uncertainty on all levels with greater hardship for all species, growing transparency (thanks to the web) in areas traditionally controlled and hidden from public scrutiny, and a period of unprecedented revelation in terms of how the world's affairs are coordinated and their effects upon the ecology of the planet and the health and welfare of its citizens.
I won't, and can't, for obvious reasons of length, attempt to delve specifically into the vast number of events that now permeate cyber-space and pose for truth-seekers incredible challenges in terms of reaching any general consensus on how we might collectively respond to all the information at hand.
One fairly obvious and growing observation is that the Internet is expanding at a phenomenal rate. Along with this we're witnessing the blogosphere explode as more and more individuals, for whatever reasons, find themselves moved to express their opinions and observations on local, regional, national and international events.
As I see it this evolution and spreading out of information is all part of Humankind's slow, yet inexorable entrance into the next millennial age of eclectic, electric information (Aquarius) and cannot be stopped anymore than past events of previous cyclical ages could be. I also realize that it's difficult for many people to wrap their minds around vast expanses of time yet now, thanks to the www, we're able to look back quickly and easily over the past two millennia and comprehend, at least in rudimentary fashion, a general picture of how throughout such a seemingly long period of our history we've woven together a fabric, a tapestry if you will, that can now assist us as the family of humanity attempts to deal with the end results of our past actions prior to moving into the future with some semblance of certainty as to survival.
Until the 20th century we, as a species, never had to consider the challenges that we now face. The introduction into the planet's survival equation of the nuclear factor back in the 1940s was probably the foremost manifestation of this nascent, collective danger to life itself and in a general sense our collective survival and our conscious awareness of all of life's precarious balance suddenly assumed dimensions previously unimaginably.
Having observed political and environmental and social events over the past four plus decades it's readily apparent to me that we are in a period of final closure; one that will set the course for subsequent events in all areas of human endeavor. My own personal investigations into the occult world of global politics have resulted in novel outcomes that I would never have suspected twenty years ago would have been possible.
With the advent of the Internet and its miraculous ability to broadcast an individual's opinions, ideas and ideological perspective to the rest of the world it superseded Gutenberg's galaxy in unfathomable, quantum proportions. It also gave to the individual powers that, prior to the net, were exclusively held by either the state, the church or vested private interests that had held such license to dispense knowledge and information for centuries.
Now that the playing field was level in terms of availability and dispensation of information those who had formerly held this ring of power in their hands were suddenly faced with the growing threat of being exposed in any and all areas wherein their information was deemed suspect and therefore questionable. This gave to the world a whole new interpretation of the religious terms "excommunication" and "heresy" and created the framework or conditions that we're now witnessing today as freedom-loving individuals around the globe grapple with their new-found ability to communicate with the planet as a whole and those who once held this power struggle to stem the tide of increasing consciousness.
All of these new challenges to our individual rights and freedoms by the forces who once held exclusive control of information will become more and more exacerbated in the times ahead and I imagine, now that the proximity to the Mayan calendar year 2012 is only twelve months off in the future, that efforts on the part of the former (and current) controllers to regain the ground that they've lost will increase dramatically and in ways that parallel their former methodologies.
So where in this combination of seemingly incongruous and threatening elements of expanding precedents and reactionary events does a person find any glimmer of hope and faith for the future? That, as always, is the sixty-four thousand dollar question. Having covered the news now for the past 12 years and assimilated and observed a wide variety of events plus finding myself and my website under attack by the forces of historic repression and disinformation one might easily fall prey to a jaded outlook on life but in my case I'm still filled with hope that we will overcome these challenges and bring increasing light and justice to the world.
And so out with the old year and in with the new! The challenges and excitement of being here on the world's stage at such a culminating point in history are too much to resist.
On behalf of RadicalPress.com therefore I send you warm wishes and grateful thanks for the support I've received over the past year and the encouragement to continue on in our collective effort to bring a balance of freedom and love and ecological harmony to our Earth and our own personal lives.
On with the show! and blessings and peace to all,
Arthur Topham
Publisher/Editor
The Radical Press
Canada's Radical News Network
"Digging to the root of the issues since 1998″
http://www.radicalpress.com
radical@radicalpress.com
–––––––––––––––––––––