DAY 207 URGENT URGENT ACTION:
FREE SAMER ISSAWI AND FELLOW FREEDOM FIGHTERS NOW!
February 15, 2013
To all concerned headed by President Barak Obama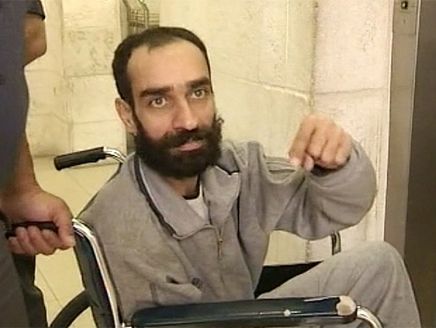 SAMER ISSAWI – ILLEGALLY DETAINED BY ISRAEL NOW IN 207th DAY OF HUNGER STRIKE ON FEB. 15, 2013
Samer Issawi is a Palestinian Arab freedom fighter, and not, as categorized by Zionist occupation authorities, a terrorist. Issawi has been detained by "Israeli" Zionist occupation authorities without any charges whatsoever. He was detained again without charge on 7 July 2012, and has been refusing food since August 2012 in protest to his arbitrary detention.
Samer Issawi is in a critical health condition as he had already passed 207 days on a hunger strike in protest of his unjustified detention after his release as a part of the Zionist soldier Gilad Shalit swap while in military action, but was detained again without charge on 7 July 2012 and has been refusing food since August 2012 in protest of his detention.
We repeat he is in a critical health condition. He is losing his vision, vomiting blood and lapsing in and out of consciousness in addition to various other deadly health difficulties.
The "Israeli" Zionist occupation authorities and politicized courts continue to detain Palestinians under the "Emergency Law of 1945″, which was in force during the British Mandate of Palestine and was inherited by the Zionist invaders presently occupying Arab Palestine. This "law", which violates international law, is being illegally used to justify the Zionist occupation authorities detaining of Palestinians without trial or providing reason, and to repeatedly extend the term of detention.
The Zionist "Israeli" authorities have also ratified the Unlawful Combatant Law of 2000 which their occupation state is illegally using to detain Palestinians without charge or disclosure of the term of detention.
There are currently 178 Palestinian administrative detainees being illegally held in jail. In addition to Issawi, Jafar Izzeddin, Ayman Sharawneh and Tariq Qadan are also many many others who have joined in the hunger strike to protest prison conditions and administrative detention.
To President Barak Obama, as a great supporter of the Zionist occupation of Palestine and the Zionist colonialist entity: 
Mr. President, with the huge financial, political, diplomatic and military support you and your U.S. administration has been granting to the apartheid state of Israel since its establishment on the occupied Arab Palestine, and the Zionist terrorist practices against its legal owners, we request of you that you intervene in this unjust and illegal practise by the Zionist state of Israel in its ongoing, cruel and immoral maltreatment of our freedom fighters and the threatening of their lives and the humiliating of their dignity.
We look forward to your government taking immediate action to free freedom fighter Samer Issawi and his fellow hunger strikers and other political detainees immediately and without delay.
SAMER ISSAWI'S SISTER AND FATHER
Thank you
Adib S. Kawar
An uprooted Palestinian Arab