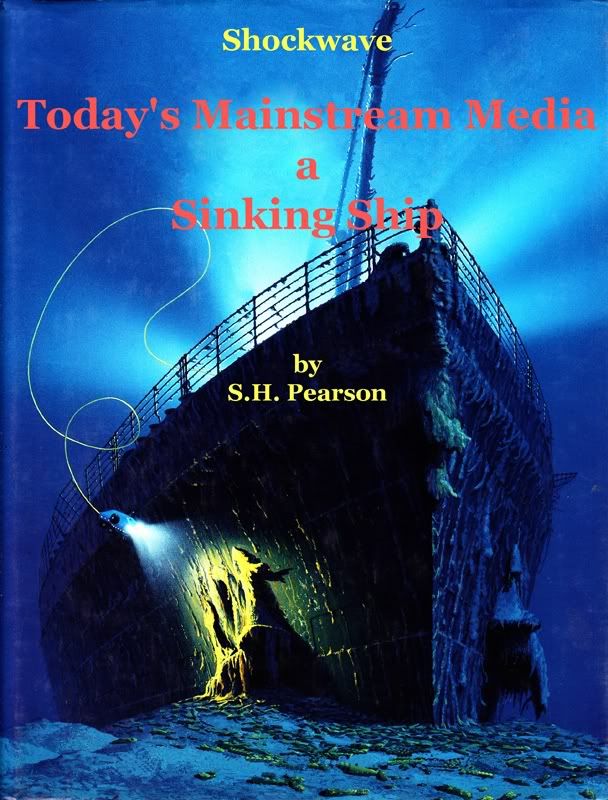 Shockwave
http://shpearson.wordpress.com/2010/06/28/shockwave/
Today's Mainstream Media a Sinking Ship
by S.H. Pearson
June 28, 2010
The Internet is fraught with worried liars seeking to confuse and mislead independent thinkers.  Their motive is clear — scatter decoys and throw people off the path of discovery.  They want to obscure the real news, knowing that truth has a flavor.
Once you get a taste of it —  you'll know what it is.
Today's media stands at the threshold of cataclysm.  The modes of media that survive, even thrive, shall be those who make bringing truth to the people their hallmark.  High-impact writing, devoid of slant, spin and evasive mumbo-jumbo is what today's reader expects from a journalist.  Gone are the days of the news room team-player.
Gone are the days also of controlling who can and cannot access information.  Get yourself a Macintosh.
There is a new awareness on the streets today.  It comes to the chagrin and worry of those who would bar the ordinary citizen from the power of knowledge.  This "thought police" has published their concerns in an academic journal whose words fly 200 miles above the Middle American radar.  The writers of this discussion are worried about new technologies that are not just cheap but sometimes even free.  These technologies are user-friendly, accessible, and fast.  More harrowing, they are global.
Based on these new developments and digital technologies, the average citizen, given the desire to learn, can educate himself to threatening new heights.  This makes the news reader of the future a different animal.  He will expect more from his news media because with access to high speed Internet, he will be able to get translations of news from around the world.  Conducting his own research, this new animal can compare notes, check facts and bounce what he has learned off the daily feed of his local media.
The fog of the last century is lifting.  But there is a gathering storm encroaching on every major newspaper.  Their readerships are getting their news from all over the world now and it does not jibe with what they are reading in their local papers.  The billion dollar question for the mainstream media is "and why is that?"