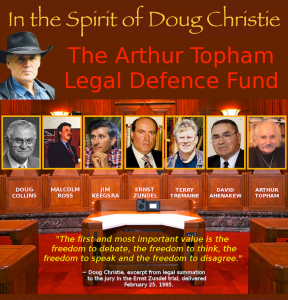 TO DONATE PLEASE CLICK ON THE FOLLOWING URL:
http://gogetfunding.com/project/canadian-publisher-faces-jail-for-political-writings
Internet censorship in Canada is under attack by the Harper government.
Please send any donation possible (either certified cheque*, cash or Money Order) to:
Arthur Topham
4633 Barkerville Highway
Quesnel, B.C. Canada
V2J 6T8
Please consider helping me and all Canadians who value their Charter rights to freedom of speech on the Internet.
*** ***
FREEDOM OF SPEECH IN CANADA IS UNDER ATTACK!
CANADIAN PUBLISHER FACING JAIL FOR POLITICAL WRITINGS NOW PURSUING A CONSTITUTIONAL CHALLENGE TO CANADA'S NOTORIOUS "HATE PROPAGANDA" LEGISLATION!
Canada's Charter of Rights and Freedoms under Sec. 2b of the Charter states:
Fundamental Freedoms
2. Everyone has the following fundamental freedoms:
((b) freedom of thought, belief, opinion and expression, including freedom of the press and other media of communication;
Dear Supporter of Freedom of Speech:
My name is Arthur Topham and I am the owner, publisher and editor of the online alternative News site RadicalPress.com which has been operating in Canada for the past eighteen years. Over the last nine years I have been involved in legal battles with the Canadian government – first the Canadian Human Rights Commission (2007) and now the federal legal system (2012) over alleged offences that purportedly violate Canada's "Hate Propaganda" laws (Sections 318 – 320) of the Canadian Criminal Code (CCC).
On May 16th, 2012 I was charged with a Sec. 319(2) ccc "Hate Propaganda" violation. I was arrested and jailed and my home was entered illegally by the RCMP's "Hate Crime Team" who then proceeded to steal all of my computers and electronic files. Since that date I have been involved in a protracted and onerous legal battle, first with the British Columbia provincial court and now with the British Columbia Supreme Court.
My trial, known as R v Roy Arthur Topham, finally got underway Monday, October 26, 2015 in Quesnel, B.C., twelve hundred and fifty-eight days (1258) after my arrest on May 16, 2012. The Indictment stated that I, Arthur Topham, did "willfully promote hatred against an identifiable group, people of the Jewish religion or ethnic origin, contrary to Section 319(2) of the Criminal Code."
I was charged on two separate occasions using the identical (Sec. 319(2)) and after a 14-day trial ending on November 12th, 2015 – presided over by Supreme Court Justice, Mr. Bruce Butler and consisting of a 12-member jury of my peers (8 women and 4 men) – I was found Guilty on the first charge (Count 1) and Not Guilty on the second charge (Count 2).
What this now means is that I will be moving on to the next stage of the legal battle by challenging the Constitutional legitimacy of the actual section of the Canadian Criminal Code (Sec. 319(2) now containing the infamous "Hate Propaganda" legislation which threatens freedom of expression for all Canadians.
The future of Sec. 319(2) of Canada's Criminal Code will depend in part on the outcome of the planned Constitutional challenge which will most likely take place sometime in the Spring of 2016. There is a court date set for January 25th, 2016 at which time a date will be fixed for the Constitutional challenge. I will update this after the date has been set.
In the interim period leading up to that challenge I remain free to publish and carry on with soliciting for funding in order to persevere in my efforts to have this unconstitutional section of Canada's Criminal Code repealed.
Should the challenge to Sec. 319(2) fail then the next step will be an appeal of the guilty verdict in Count 1.
I continue to have the support of the Ontario Civil Liberties Association. Please see here Ontario Civil Liberties Association and here http://ocla.ca/wp-content/uploads/2014/09/2014-09-24-Letter-OCLA-to-AG-of-BC.pdf and here OCLA writes to Attorney General Anton on September 24, 2014
On January 13th, 2016 the OCLA wrote a letter to the Honourable Justice Butler of the B.C. Supreme Court requesting permission to intervene in the upcoming Constitutional challenge. That letter can be viewed here in pdf format.
For the most recent account of the proceedings regarding the trial and future plans to undertake a Constitutional challenge please go here: Regina v Radical Press Legal Update # 25 December 4th, 2015
I NEED YOUR ASSISTANCE STILL IN ORDER TO WIN THIS CASE. The costs incurred thus far plus the additional costs to purchase transcripts of the trial ($7,500.00) and carry on with the challenge to the legislation require me to ask for further financial support in order to win this battle to protect Canada's Constitutional Rights and Freedoms as contained in the Charter.
Please try to donate online using this GoGetFunding site but if you are unable to do so then try helping out by sending either cash, a cheque or a Money Order to the following postal address. Please make sure that all cheques or Money Orders are made out to – Arthur Topham – and sent to:
Arthur Topham
4633 Barkerville Highway
Quesnel, B.C.
V2J 6T8
Thank You so much!
Sincerely,
Arthur Topham
Pub/Ed
RadicalPress.com
Canada's Radical News Network
"Digging to the root of the issues since 1998"