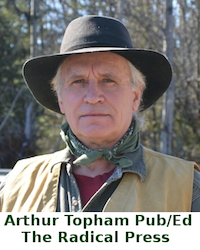 "What has transpired since I complained about the malicious actions performed by my neighbours, has morphed into a massive character-assassination attempt, labeling me a Domestic Terrorist by Government officials, as they continue their attempt to subdue, subvert and suppress any opportunity for me to defend myself and expose their corruption and cover-ups. It is blatantly obvious, these individuals will stop at nothing to cover up their crimes and shift blame for their wrong-doing towards me."
~ Robert Erickson, yet another victim of RCMP corruption and collusion.
RadPress Editor
Editor's Background Notes
It's not surprising news these days that the RCMP and similar police force members across Canada have gained a reputation for brutal violence and lethal abuse of citizens who happen to get caught in their dragnets for whatever reason. We all saw the results in the killing of Robert Dziekanski at the Vancouver International Airport back in 2007 by the RCMP; only last month we witnessed the heinous and disgusting case in Alberta where a young female dentist, Dr. Simona Tibu was beaten and sexually assaulted on her way to work by a sheriff; we still are awaiting a public inquiry into the alleged murder of a young B.C. woman by Quesnel RCMP officers that was witnessed by a local resident and then covered up by all levels of government. Further examples abound of cases of corruption involving the RCMP and the Judicial Court System in B.C. including the Jack Cram case going back to the mid-1990's and the more recent example of RCMP and Court collusion in the Jim Townsend story which was extensively covered in the RadicalPress.com website back in 2012 in a series of articles including this one and this one and this one.
Given the above examples and many more that I haven't the space to mention I'm still forced to confess that the following report is literally so bizarre that more than once during the course of putting it together I was faced with serious doubts as to the authenticity of all I was told and shown by Robert White-Erickson, the man who contacted Radical Press sometime ago regarding his criminal charges. Since then I've interviewed White-Erickson on a number of occasions via telephone and email.
RobertEricksonHead copy
Were it not for his presence of mind and his determination to keep detailed records of all of the instances and acts of willful collusion by not only the RCMP and the courts but also those individuals in the village of McBride who were responsible in one way or another for instigating all the alleged offences which the police then acted upon without solid evidence, it would have been virtually impossible to accept that the whole series of events actually took place.
The degree of deliberate deception that appears to have been consciously committed by Cst. Peter Berndsen and his Commanding officer, Cpl. Kennedy with respect to the brutal beating and subsequent torture experienced by Robert White-Erickson on June 19th, 2012, on first glance appears incomprehensible, yet, given all the evidence that White-Erickson has provided to Radical Press during the course of my interviews with him it now takes on the appearance of a massive cover-up of immense and sinister proportions.
If nothing else, it is hoped that what Robert White-Erickson has revealed of this incident will somehow inspire others, be they mainstream media journalists, independent researchers or alternative media publishers to investigate the story further so it doesn't get side-tracked and lost in the endless maze of news stories that appear daily on the net.
Were it not for his presence of mind and determination to keep detailed records of all of the instances and acts of harassment, stalking and willful collusion by not only the RCMP and the courts but also those individuals in the village of McBride who were responsible in one way or another for instigating all the alleged offences which the police then acted upon without solid evidence, it would have been virtually impossible to accept that the whole series of events actually took place.
The degree of deliberate deception that appears to have been consciously committed by Cst. Peter Berndsen and his Commanding officer, Cpl. Kennedy with respect to the brutal beating and subsequent torture experienced by Robert White-Erickson on June 19th, 2012, at first glance appears incomprehensible, yet, given all the evidence that White-Erickson has provided to Radical Press during the course of my interviews with him it now takes on the appearance of a massive cover-up of immense and sinister proportions.
If nothing else, it is hoped that what Robert White-Erickson has revealed of this incident will inspire others, be they mainstream media journalists, independent researchers or alternative media publishers to investigate the story further so it doesn't get side-tracked and lost in the endless maze of news stories that appear daily on the net. At this point it is far from over.
When I realized how much information White-Erickson had in his possession and the manner in which he was being treated by both the police and the courts I suggested he create a web blog and post all his corroborating evidence so investigators and the general public might have a source to access independent of what the mainstream media and spokespersons for the RCMP and the Attorney General's office might attempt to offer in explanation for this, thus far, hidden case of yet more RCMP corruption and brutality. Mr. White-Erickson (hereafter referred to as Robert Erickson in this report) took heed of my suggestion and has taken on the additional effort of creating a blog site while at the same time working around the clock to prepare for his upcoming trial to be held in McBride, B.C. on the 12th and 13th of September, 2013 less than a week from publication of this report. The blog, which is in the beginning states of construction, can be found at the following address: http://rubiconcrossroad.wordpress.com/
Arthur Topham
Editor
The Radical Press
——————–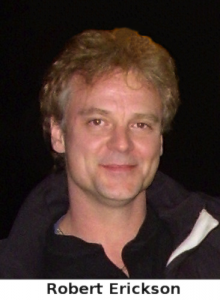 A Back-to-the-Lander's Nighmare begins
By 2008 Robert Erickson was done with city life. His dry-cleaning business in Squamish, B.C. had provided him with a good living and a few years before he had bought a home in the prestigious Brackendale area. But being a man of strong convictions and principles, who also took an avid interest in world affairs, he also spent time studying and researching global events, politics and finance, all of which added to his growing awareness of the temper of the times we live in and eventually culminated in his decision to get out of the big city environment and relocate to somewhere in the province where he and his girlfriend Michelle MacDonald might escape the incessant crying of police and ambulance sirens, the violence and drug culture and city gangs and find some seclusion and peace of mind in a more moderate, environmentally friendly area where the air was still fresh, the water clean and the soil organic enough to grow their own food.
But never in his wildest dreams did Robert Erickson ever think that by selling his business and moving with his girlfriend up to what he thought was the quaint and quiet community of McBride in northeast B.C. and joining one of the local Christian churches that he would soon end up being harassed, stalked, falsely accused, beaten up and tortured by the local RCMP detachment and then repeatedly jailed on numerous fabricated criminal charges that subsequently forced him to deal with the realities of a corrupt and compromised police and judicial system intent on turning his dream of a simple, sustainable lifestyle into a living nightmare.
The whole absurd spectacle of injustice began on August 31, 2010 when Erickson and his girlfriend, Michelle MacDonald first moved into the modest home in McBride, B.C. that Robert had purchased back in 2009.
A friend of theirs came up from the coast about a month later for a visit and while there he and Erickson were out in the backyard when his friend noticed that the neighbour across the back alleyway had some fancy siding on her garage. Seeing as the woman was out doing some landscaping in her yard he decided to engage in a friendly conversation with her about the siding. Little did Robert realize that this harmless, neighbourly gesture on the part of his buddy would be the beginning of three years of a legal hell on earth for himself and his girlfriend Michelle MacDonald; one that would eventually culminate in the destruction of their relationship.
Upon approaching Robert's neighbour to ask her about the siding she became extremely vexatious toward the two of them, displaying inexplicable anger. They immediately backed off and it wasn't until some time later that Robert was able to discover that the woman was suffering from mental problems exacerbated by the fact that her son had just recently been convicted of First Degree murder.
Nothing further came of the incident until the following spring when Robert was out cleaning his up his backyard, burning leaves and assorted organic matter in a regulation fire pit. During the cleanup Robert noticed his neighbour sitting in her vehicle staring at him for some time then suddenly driving off and giving him the "finger". A few minutes later, as Robert informed Radical Press, "approximately four members of the McBride Volunteer Fire Department arrived explaining that the distraught neighbour had filed a complaint against me. They requested me to extinguish the fire and I complied and they left. Minutes later, a member of the Fire Department arrived again, explaining that the neighbour had filed another complaint. The Fire Department member realized there was no danger, shook his head in frustration and drove off. Moments later, the neighbour having returned home, approached me, yelling obscenities and threatening to "kick my ass and kill me."
Fed up with his neighbour's abusive behaviour Mr. Erickson decided to call the local RCMP detachment and report her threatening, aggressive behaviour to the authorities. Erickson did this on April 25th, 2011. When he called the station all he got was busy signals so the next day he approached Cst. Berndsen at the McBride Trading Company and reported the threats to Cst. Peter Berndsen and asked him to look into the matter. For whatever reasons Cst. Berndsen never responded to Robert's complaint regarding his neighbour's bizarre behaviour. Thus the nascent beginnings of what was to grow into a major abuse of process, power and cover-up first began.
The next incident occurred around July 15th, 2011 when Robert discovered that some of his other neighbours (two females) who were renting a home adjacent to his property had began to build a driveway and that the contractor they had hired for the job was dumping aggregate on his property without Robert's permission; aggregate that he knew was chemically treated. When he approached the man and asked him not dump the material on his property and also asked to see any building or variance permits that would allow for such actions he was again greeted with rude and disrespectful reactions by both the contractor and his neighbours. It also didn't take a lot of deliberation on Robert's part to realize that the contractor was also on friendly terms with his other neighbour who he had recently filed a complaint against with the local RCMP.
Seeing as no one was willing to be civil about the matter Robert went to the McBride Village District Office and filed a formal complaint while at the same time requesting information about whether or not the parties in question had obtained a permit for constructing the driveway. The clerk in the office couldn't or wouldn't help him and also acknowledged that she hadn't received any permit applications from the property owner, the contractor, or the two neighbours renting the home.
When Robert got back to his home Cst. Berndsen of the McBride RCMP detachment was waiting there and began interrogating him after informing Erickson that the contractor had called the police and alleged that Robert had threatened him with violence. Erickson explained to the Cst. what had happened and no charges were laid against him but it was plainly obvious at that point the contractor's allegations had been made under false pretenses and also that the police were willing to go along with the contractor's spurious claim.
Not long after this incident on July 22nd, 2011 rainwater began to leach from his neighbour's illegally constructed driveway and flood Erickson's property. In order to rectify or cover up the incident his neighbours had called someone who worked for the Corporation of McBride Yard Works and was a McBride Volunteer Fire Department member and they arrived with a front end loader and proceeded to once again dump more chemically treated dirt on Robert's property necessitating further problems with the Yard Works department. As the area was close to Robert's garden he could only conjecture that his neighbours' actions were designed to anger him so that he would say or do something which they in turn could try and use against him in order to press criminal charges.
In August Jeff Wagner had come to help Robert with some work on his home and had his truck full of tools. It was during this time period that they were again aggressively accosted verbally by the same woman who Robert had filed a complaint against with RCMP Cst. Peter Berndsen. This time, on top of her verbal insults, the woman also had the audacity to scratched the word "asshole" into the paint on Mr. Wagner's truck in what was plainly a blatant and intentionally malicious act designed, for some as yet unknown reason, to create further discord.
The next event occurred when his two renter neighbours called the RCMP and tried to have Robert arrested for allegedly cutting the electric cord to the heater plug that hung out the front of their vehicle. In response to their call a Cst. Nathan Fox came and inspected the cord and informed the couple that it was just old and corroded. He didn't charge Robert with any act of vandalism but later, unbeknownst to Robert, went to his girlfriend Michelle MacDonald's place of work and interrogated her regarding the incident.
Finally, in late December of 2011, the same two women renting the property next door called the RCMP again alleging that Robert had tried to assault them while he was out shovelling snow off his walkway. Once more Cst. Berndsen arrived at Robert's home and began interrogating him regarding the accusation. Having had the prescience of mind after all the previous incidents of vexatious allegations and harassment Erickson had gone to the trouble and expense of installing video surveillance cameras around his home and it was then that he told Cst. Berndsen he was being recorded by one of the cameras he had located around his property. As Robert put it, when Cst. Berndsen noticed the camera, he "about-faced' and made a hasty exit towards the RCMP Suburban and as he departed, said: "I wasn't here and didn't see anything".
As in all the other previous claims of wrong doing Robert was not charged with assault for the simple reason that there was no proof or evidence to support the most recent claim made against him. The two complainants had used fictitious allegations and false accusations and even though this was plainly evident Cst. Berndsen still failed to charge the two of them for having colluding in an obvious attempt to coerce him to press false charges against Erickson. As Robert put it to Radical Press, "Cst. Berndsen's failure to perform his duties and charge them for violating sections of the C.C.C., clearly indicated his intent, which was to protect them as well as his own involvement with their schemes to stalk, harass and bully me. Once they became aware of the cameras on my property their scandalous dirty tricks to have me arrested on false charges were foiled."
RCMP abuse and cover up take on a whole new dimension
It appears that a relative period of peace ensued during the winter interlude that lasted until March of 2012 when Robert's other neighbour, the woman who first initiated all the subsequent events in this story, tried to run him down with her Jeep Cherokee while he was walking to the Post Office. As before Erickson reported this attempt on his life to Cst. Berndsen and while doing so had two witnesses present with him but, just as with his first complaint, Cst. Berndsen once again failed to follow up on Robert's complaint and investigate the incident, again leading Robert to conclude that the officer was in fact condoning their behaviour or else colluding with his attackers for some reason.
The shyte finally hit the proverbial fan on June 19th, 2012 when his estranged neighbour made a 9-1-1 call to the RCMP detachment just after midnight alleging that Robert was out in his back yard screaming and hollering, playing extremely loud music, shooting off a rifle and generally disturbing the peace. This is where the two paths; one of truth and justice and the other of subterfuge and crime parted ways and the relatively harmless incidents prior to then took on a much more sinister and dangerous aspect.
Cst. Berndsen arrived at Robert Erickson's house alone without a warrant, entered the premises and proceeded to beat him, choke him and then arrest him for Breach of the Peace. In Robert's own words he described the incident thus:
"After a long day of working on the renovations Michelle and I and our guest Jeff Wagner had a nice meal followed by an evening of social discourse. Around 10:30 pm Michelle went to bed as she had to get up early for work the next morning. Jeff and I continued our discussions further until close to midnight when he retired and I decided to clean up the kitchen before doing likewise. While I was near the kitchen window I noticed a flashlight shining in the front yard. The streetlight outside was out at that time because of a malfunction and in the darkness the flashlight was easily visible. Thinking there could be a thief breaking into Mr. Wagner's work truck and stealing tools, I opened the front door to investigate. That's when Cst. Berndsen suddenly entered my house.
He grabbed me by the throat, dragged me into the bedroom, threw me on the bed, scaring Ms. MacDonald to death, and threatened to beat me if I moved. Cst. Berndsen is formidably sized, standing approximately 6'6″ and weighing around 250 lbs. He then raided the entire house for anything he could find that might incriminate me, knowing that he needed something to support the unsubstantiated, fabricated lies of my neighbours. Eventually, he found a pellet gun and confiscated it for evidence. This act of theft and asportation by Cst. Berndsen was apparently needed to create evidence supporting his neighbour's fictitious claims.
After Cst. Berndsen obtained what he needed, he cranked his handcuffs around my wrists so tight they were bleeding. I believe he did this intentionally, tempting me to act out against him, so he could create more charges against me. Cst. Berndsen was aware he needed to force me to retaliate, because the Breach of Peace charge was false, fictional and fabricated with no proof, evidence or merit. Cst. Berndsen became frustrated when I didn't retaliate in front of any witnesses during the arrest to give him the excuse or alibi he needed to justify his actions.
Cst. Berndsen waited until we arrived at the RCMP Detachment, then proceeded to punch, choke, assault and beat me while I was handcuffed and defenceless. He must have thought the public wouldn't see it and he wouldn't get caught, as he was the only officer on duty at time of night and there were no auxiliary guards there either. Possibly he thought that I might attack him so he could fabricate further charges against me. During my incarceration Cst. Berndsen intentionally left the handcuffs on so I would suffer excruciating pain even though I was already locked up behind bars. He forced me to starve, freeze, suffer the incessantly loud noise of a 24hr. fan, the blinding of a 24hr. spotlight and the inability to sleep during incarceration. Because of these torture tactics my wrists suffered nerve damage that I am still having to contend with.
Ultimately, Cst. Berndsen fabricated three (3) additional charges after the Breach of Peace charge while I was incarcerated. Two (2) counts of Uttering Threats to Cst. Berndsen and One (1) count of mischief. Cst. Berndsen failed to explain how I broke any laws, while he covertly added on these additional charges."
At this point in the story it's imperative that readers understand just how totally contradictory the two versions of Robert Erickson's arrest truly are. In order to juxtapose Robert's version of his arrest with that of the RCMP's I would suggest that readers view the following report submitted by Cst. Berndsen. It flies in the face of everything that Robert Erickson has stated and also contradicts the statements in the form of legal affidavits which both Michelle McDonald and Jeff Wagner both submitted on Robert's behalf attesting to what took place on the evening of June 18th, 2012 leading up to the subsequent events which transpired after the arrival of Cst. Berndsen around 12:30 am on June 19th. It's as if we are talking about two completely different incidents and it quite frankly boggles the mind to have to entertain the idea that the police report on this incident could be so diametrically opposite that which Erickson and not only two immediate witnesses, but others as well, have submitted to the contrary.
Is this for freakin' real?!!!
One can only shake their head in utter disbelief and exclaim: Is this for freakin' real?!!! Is this what really goes on in McBride, B.C. (and in so many other rural and urban centres around Canada) under the auspices of the Royal Canadian Mounted Police's mandate to "serve and protect"? Surely there has to be some mistake here; some reasonable explanation; something logical that would justify to a person's common sense how a member of the RCMP could instigate such a horrendous act of physical abuse on a prisoner whose hands are tied and unable to defend themselves? But, of course, it isn't a mistake, and in fact it's only a foreshadowing of more to come as Robert Erickson's tale of police abuse, cover up and collusion continues to unfold.
Following Cst. Berndsen's power-tripping, sadistic attack upon Mr. Erickson he then locks him up in a cell and proceeds to "guard" him as Erickson, all the while, pleads and struggles to have the excruciatingly painful steel handcuffs removed. Unable to even unzip his fly when he had to go to the bathroom Erickson was forced to urinate on the cell floor, an act that could easily have been prevented had he not been handcuffed, yet now is being used as further justification on the part of the RCMP and the courts to charge the victim with still another sham count of "mischief". This went on until 6:30 am when another officer came in for duty. But even then Cst. Berndsen didn't remove Erickson's handcuffs but made him wait a couple of hours more before finally removing them and even then he commanded Erickson to stick his hands through the small opening in the cell door and then proceeded to wrench and twist on the handcuffs for about fifteen minutes causing additional pain and anguish to the victim. When he finally removed the cuffs and Robert stood up he was able to see through the small window opening and noted that Cpl. Kennedy had been standing next to Cst. Berndsen all the while this abuse of Erickson was taking place.
Robert Erickson is then held in jail until Cpl. Kennedy, Berndsen's superior officer transports Robert to Prince George, B.C. Throughout the whole of the trip which takes a few hours Cpl. Kennedy refused to give Erickson any water to drink even though it was a hot, dry day. Upon arriving at the police station in Prince George Erickson is held in a cell until a duty counsel comes in and tells him he's going to act on Erickson's behalf. Erickson objects telling him that he will act on his own behalf (as is his legal right) and then demands that he be allowed to appear before a judge (again his legal right) but the police obviously don't want Erickson appearing in a public courtroom given his physical appearance where his eye is black and swollen and bruise marks are visible around his neck and cuts on his wrists. Erickson is told that he has to sign the Bail of Recognizance document before being released but he refuses stating that he acknowledges having had it read to him and is willing to accept a copy and adhere to the bail restrictions but is unwilling to agree in writing to the charges. They finally released him and his girlfriend Michelle picked him up and they immediately return to McBride.
Sometime after Robert Erickson returned to McBride he did what any normal, sane person would do under such circumstances – he filed a complaint with RCMP Complaints Commissioner Bob Paulson, the man appointed by PM Stephen Harper back in November of 2011 to oversee and put a stop to just the types of increasing Canada-wide acts of gross abuse and injustice as Mr. Erickson had only recently experienced.
RCMPCommissionerBobPaulson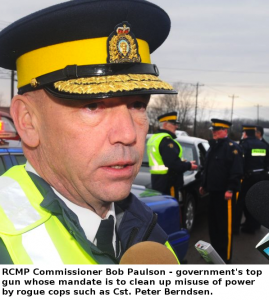 Robert Erickson, after submitting his nine page complaint, on November 23, 2012 later followed up by sending additional correspondence to Commissioner Bob Paulson requesting a reply. The result? There was nothing in the way of any formal acknowledgment of his letter to the Complaints Commissioner. Instead, Cpl. Kennedy, Cst. Berndsen's friend, colleague and commanding officer, was, as Erickson informed Radical Press, eventually "tasked by the Commission for Public Complaints Against the RCMP to investigate the complaint against Cst. Berndsen." In other words and par for the course, the fox was once more charged with overseeing the mayhem within the chicken coop caused by his cunning brother vulpes in yellow stripes, Cst. Peter Berndsen.
Rather than Cpl. Kennedy dealing directly with this blatant assault upon Erickson, Robert concluded that it was, "…obvious, throughout the investigations, Cpl. Kennedy was perpetuating the cover-up of Cst. Berndsen's wrong-doings and has not answered, replied, refuted, rebutted, or responded to any of my correspondence, statements or questions. Cpl. Kennedy, by his silence and refusal to cooperate with the investigations, his failure to provide proof or evidence, follow procedure of law, due diligence or due process, clearly has indicated his own involvement in all this scandalous corruption."
It must be mentioned at this point that McBride is a small community of approximately 400 souls that has neither a Court Registry nor a presiding judge, nor any law offices available and so all legal matters automatically revert to the closest urban centre providing legal services to British Columbians, that being, Prince George. And that is where Robert Erickson ended up for his first court appearance but never was given the chance to appear before a judge at that time. According to Robert's statement regarding this event the Crown Prosecutor, Mr. Geoff McDonald, "Immediately dropped the Breach of Peace charge, as it was apparently obvious there was no substantiating evidence to support the charge that was initially and intentionally used as a gateway to create and fabricate the additional charges. The decision to drop the Breach of Peace charge, clearly established the intent to use the charge as a means for set-ups and entrapments to ultimately fabricate additional charges.
The Court imposed a Recognizance of Bail against me. In the Recognizance of Bail, I was now under house arrest and ordered to have no contact directly or indirectly with any of the three people who had laid the complaints. The Recognizance of Bail is a trap, set up to prevent me from following due process and the procedure of law by requesting an Examination for Discovery from the three people involved who now happen to be key Crown witnesses. The Crown doesn't want me to investigate these witnesses on record. The Crown is not willing to follow the procedure of law or due process, because the gaping hole they have dug is so deep, they need to do everything possible to cover it up."
Along with the setting of bail the Court ordered Robert Erickson to report once a week to a Bail Supervisor in McBride. Realizing that McBride has no Court Registry or any lawyers Robert requested that the supervisor provide him with a Provisional Curfew Exemption, a document that would allow Erickson to travel to areas where he might seek counsel. The Bail Supervisor flatly refused to provide him with such a document. As Robert put it, "The Bail Supervisor's abuse of power is an obvious indication she is willing to perpetuate the injustices, crimes and scandalous dirty tricks committed by a carefully orchestrated, sophisticated network colluding together.
Keeping me trapped in McBride has forced me to defend myself, prevented me from preparing a proper defence and provided another scheming opportunity for the Court, the RCMP and other key individuals to attempt further assassinations of my character. The Government of Canada has recently character profiled those who defend themselves in Court as Domestic Terrorists and Crown Prosecutor Geoff McDonald in the transcripts of my hearing as well as in unsolicited letters sent to me unabashedly goes out of his way to label me in this regard."
Given this preposterous scenario it's difficult to comprehend, yet clearly evident, that Crown Prosecutor Geoff McDonald not only placed Mr. Erickson in serious legal jeopardy by forcing him to remain stuck in McBride without any means of obtaining counsel or legal advise but on top of all that had the brazen audacity to actually send Robert an unsolicited letter claiming that he was a "silly, ridiculous, absurd, paranoid terrorist that wastes everyone's time."
Responding to this bizarre ad hominem attack upon himself by Crown Prosecutor McDonald, Robert told Radical Press, "Mr. McDonald, in his frustration, has lowered himself to name calling, which should raise some serious public concerns, as the continuous defamation and character-assassination, on record, seems to be his only strategy for prosecution."
The last two strikes (so far)
Two further incidents of vital importance need to be mentioned in this report, both of which are intrinsic to it and relevant in the sense that they highlight even further the degree of malfeasance that occurs when attempts are made to cover up one crime by committing additional wrong-doing.
Robert Erickson was now trapped in McBride basically under house arrest and unable to get away for more than part of a day. But that apparently wasn't good enough for the local RCMP and whomever else in the small community didn't want him to remain even relatively free while awaiting his upcoming trial scheduled for Thursday and Friday of September 12th and 13th, 2012.
When bail restrictions were first imposed on Erickson the time for him to report each Tuesday was deemed by the supervisor to be "flexible". Robert usually arrived at some point in the morning and reported in but then on one of two separate occasions when he didn't get there until after the noon hour one of the staff people in the police station told him that he was in breach of his conditions. Robert questioned the person about it and she then showed him what turned out to be a secret bail agreement that he had not been privy to which said he had to be there by a specific time. Robert obtained a copy of the agreement and then over the course of the week contacted his bail supervisor and others involved in order to straighten out the situation. It obviously didn't help as the following Tuesday when he arrived around 12:45 pm he found the doors locked (which on more than one occasion was common). He had to go and make a phone call in order to have the doors opened and when he walked into the police station Cpl. Kennedy was waiting for him and immediately arrested Robert for breach of bail and carted him off again to Prince George, this time to the Prince George jail below the court house . When he appeared before another judge he was then told that there were stated time restrictions which he had broken and that he should have known not to arrive too late for reporting in. Robert then explained to the judge that he had never been informed of the fact and had not seen any document stating the precise times nor had he signed anything indicating such. As it turned out the person issuing the bail document hadn't confirmed these regulations with Erickson and he had the proof that it was that way.
Robert&Michelle
The final (or should I say latest?) attempt to destroy Robert Erickson's defence and discredit him was the underhanded efforts by Cpl. Kennedy to turn Robert's girlfriend against him which, unfortunately, due to the stress incurred over the past two years and more of relentless harassment, stalking, abuse and imprisonment finally proved successful. Having endured the same onerous tactics by the police and courts myself over the past seven years of litigation and knowing just how hard it is on one's spouse with all the legal proceedings and debilitating effects it creates, it's not too difficult to understand how Robert and Michelle's personal relationship finally reached the point where the police were able to entice Michelle into playing along with their intended program of entrapment and through their direct influence were able to persuade Michelle to file charges of criminal harassment and theft against Robert Erickson based upon information given to them by Michelle McDonald.
The result was that on the morning of August 22nd, 2013 Cpl. Kennedy once again arrested Robert Erickson on the two latest charges and he was incarcerated in the McBride jail and then transported back to the P.G. Regional Correctional Centre on August 23rd where he remained in custody until the morning of the 26th when he was taken downtown to another holding cell in the basement of the Prince George Courthouse. After three attempts before a judge where Erickson refused to sign the Bail of Recognizance the judge finally told him that he would not release Robert until he signed it. Under duress Robert signed it and then was released and had to make his way back to McBride via the Greyhound Bus which the court had to cover.
When Robert Erickson finally made it back home around midnight on the night of the 26th and walked into his house he found the place totally ransacked. His safe and computer and all his money and documents were gone along with his former girlfriend and his truck which she had stolen in order to haul away her belongings and some of his. The next day Robert reported the incident to the RCMP and filed charges of theft against Michelle McDonald in order to get his truck back. To date he has not heard a single thing from the police regarding his vehicle and so he's stuck in McBride now without any means of transport other than his mountain bike.
Concluding remarks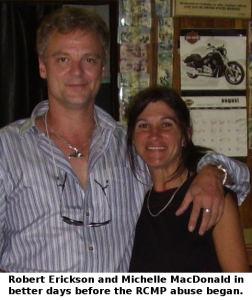 Too many questions remain unanswered regarding the arrest and abuse of Robert Erickson by the RCMP. Cst. Berndsen's story about empty booze bottles and a drunk and stumbling man screaming and yelling and playing loud music late at night flies in the face of all that Erickson says and Michelle MacDonald and Jeff Wagner have sworn in their affidavits. If Erickson was plastered like Berndsen claims in his report then why did he not administer a breathalyzer test at some point and confirm the fact?
Why too has the Crown Prosecutor in this case Mr. Geoff McDonald displayed such unprofessional behaviour throughout the whole of the litigation process? Why the attempts to try and discredit Robert Erickson at every turn by accusing him of being mentally unstable and trying to associate him with the Freeman on the Land movement and more recently the latest attempt at pigeon-holing anyone who challenges the courts as being part of what is being touted by lawyers and the judiciary as the Organized Pseudo-legal Commercial Argument (OPCA) Litigants?
These and more beg the question as to why the police and the courts are doing their damnedest to destroy this man's reputation and life.
This report, for all its length, hasn't covered all of the events that Robert Erickson conveyed to me throughout the many conversations and email exchanges over the past few weeks. There is just too much material to condense into one article but what I have covered, I believe is the gist of all the main components of his case. All that now remains is Robert's upcoming trial that begins this coming Thursday, September 12th and runs until Friday the 13th. Erickson remains without legal counsel and although he is an articulate man and fairly knowledgeable of the law and the court system experience has shown that the RCMP and the courts will resort to anything and everything in their power to silence and punish anyone who attempts to stand up for their basic human and constitutional rights and who refuses to compromise themselves with corruption and injustice. It is hoped that his story, told here in brief, will somehow help to bring his plight before the eyes of the general public and also act in a positive way to shield Robert Erickson from any further deliberate collusion and abuse.
Those interested in social justice and the growing threat of Canada turning into yet another police state are earnestly requested to pass this report on to as many other websites, publishers and media outlets as possible.
Anyone wishing to contact Robert Erickson can do so by either emailing him at the following address: foghorn.leghorn_175 [email protected]
or else via telephone at 1-604-229-0924