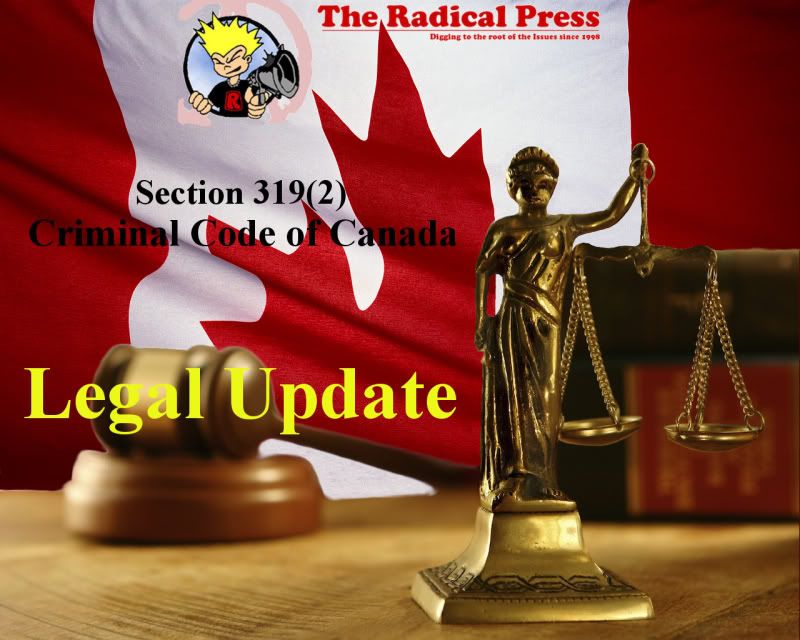 UPDATE NUMBER 1

"There's no such thing as 'Hate Speech.'
You either have FREE speech or you don't – it's that simple."
~Anonymous (as posted on ZionCrimeFactory.com)
Dear Radical Readers & Free Speech Supporters,
The plan is to provide readers with legal updates on my court case involving B'nai Brith Canada aka The Crown aka Regina aka the Queen of England and the two Rothschild agents Richard Warman and Harry Abrams versus Arthur Topham Owner, Publisher and Editor of RadicalPress.com.
A brief recap of the issue will be given here for those unaware of the case but will not be republished with subsequent updates.
On May 16, 2012 I was arrested while on my way to work by Det-Cst Terry Wilson and members of his BC HATE CRIME TEAM as well as some local RCMP officers who assisted in the attack. I was read out a charge Sec. 319(2) of the Criminal Code of Canada which states, "Willful promotion of hatred" and then handcuffed and taken to the Quesnel City RCMP jail where I was incarcerated for twelve hours.
During my incarceration Det-Cst Terry Wilson obtained an illegal search warrant and then proceeded to enter my home and remove all of my computers and electronic files plus four of my firearms, two of which were kept upstairs unloaded and two of which were kept loaded downstairs. One was a 30-30 Winchester and the other was a Marlin 22. calibre rifle. The two loaded rifles have been kept loaded and in my place of residence for the past 35 years without incident and are there to protect both my family and myself from predators of all types. I live approximately thirty kilometres (20 miles) out of Quesnel in an isolated area where there is no police station and no possibility of assistance in the case of emergency.
Prior to being put in jail Det-Cst Wilson asked me if I had any firearms in my home and I told him exactly what I stated above.
While in jail I was able to contact my lawyer Douglas Christie who lives in Victoria, B.C. and he was instrumental in assisting me until such time that I was released at approximately 11:00 p.m. on the same day.
Before being released I was given a number of documents which I was asked to sign but didn't on advise of my lawyer.
The first document was called a PROMISE TO APPEAR and included a second document called an Undertaking Given to a Peace Officer or Officer in Charge.
The PROMISE TO APPEAR document stated the date of the alleged offence, the place, a Description of the Offence and the Section of the Criminal Code Act where it was to be found.
The Offence Date was given as: April 28, 2011 to May 14, 2012.
The Place was: Quesnel, B.C.
The Offence is described as "Willful Promotion of Hatred"
The Section of the Act: CC 319(2)
I was ordered to appear in Quesnel Provincial Court on the 9th of October at 9:00 pm.
The second document called an Undertaking Given to a Peace Officer (basically the bail conditions for my release) stated:
1. That I would appear at the time and place stated in the first document.
2. That I abstain from possessing a firearm and surrender any to Det-Cst Terry Wilson.
3.That I would abstain from communicating directly or indirectly with Richard Warman and Harry Abrams.
4. That I Can not access the internet or be in possession of a device that would be capable of accessing the internet except in the course of lawful employment.
The third document was a copy of the illegal Search Warrant which Det-Cst Terry Wilson used to steal my computers from my home.
This document was submitted by Det-Cst Terry Wilson's second in command, Cst. Normandie Levas, who provided a Justice of the Peace down on the lower mainland of B.C. with all the purported "proof" that I had committed said offence of "Wilful Promotion of Hatred contrary to Section 319(2) of the Criminal Code".
The Search Warrant stated that there were "reasonable grounds" to believe that the following items will afford evidence of the Offences:
1. Computer, laptop, Smartphone or device that accesses the internet and is capable of uploading and downloading information, and all their peripheral equipment, computer discs, drives or storage devices which could be used to store information; and
2. Billing records, receipts and correspondence with ABC Communications and Netfirms, and any correspondence in the form of mail or physical documents directly related to Radical Press.
The Search Warrant authorized the thought police to enter my home from 1700 hrs (5 pm) until 2100 hours (11 pm) on May 16, 2012 and was finally approved at 1655 hours (4:55 pm) by F.D. Hodge a Judicial Justice from Burnaby, B.C. I had been placed in jail for close to 6 hours while the Hate Crime Team waited to enter my residence and steal all of my computer equipment.
Over the course of the spring and summer I worked placer mining and my lawyer assisted me in trying to have the original conditions of my release changed so that I could email friends and associates and browse the Internet and write and post articles on my website.
It was not until the date of my first appearance on October 9, 2012 that things changed. After over five months of holding my computers and reapplying for extensions to detain them further Det-Cst Wilson still hadn't been able to discover whatever additional "evidence" was required in order for the provincial Attorney General's office to issue a formal Information or what is better know as an Indictment. When the Appearance date arrived there was still no "Information" as the legal beagles word it, so on that day the Order to not go on the Internet and post articles, etc. ended and I was then free to write and post to my website RadicalPress.com.
The unfortunate thing was that neither the Crown Council nor my lawyer informed me of this fact and so it wasn't until November 1, 2012 that I finally realized I was free to use the Internet once again. Since that date I have been attempting to put out as much information regarding my case as possible because I knew that the Crown was still pressing to have charges laid and that when a formal charge did occur that the Crown would once again try to impose the same (or worse) conditions on my Charter Rights to access and use the Internet.
After receiving word of the Indictment I once again appeared in Quesnel court on Thursday, November 8, 2012 in order to hear Crown Council Jennifer Johnston notify Judge Morgan that an Indictment had indeed been issued on November 5, 2012. My lawyer Doug Christie was in Winnipeg, Manitoba at the time and appeared via telephone to address any concerns. It was just as well as it became clearly evident that CC Johnston was aggressively pursuing the same agenda as before in that she wanted these same extreme conditions imposed upon my new bail conditions that were to be issued that same day by Judge Morgan.
CC Johnston was fully aware that my lawyer Doug Christie was opposed to this as he had already submitted applications prior to that date attempting to have the terms of my initial release lessened. The Judge ended up deciding to issue a new Undertaking because of the Indictment but one that would only include the first 3 conditions of the first Undertaking and not the one dealing with my former restricted right to access the Internet, post to my website or other websites or write emails to whomever I chose (apart from the two complainants). He gave Crown Council until November 13, 2012 (Tuesday) to furnish my lawyer with the Disclosure documents or the Particulars explaining the actual postings on my website that the Crown was alleging violated sec. 319(2) of the Criminal Code and that at 1:30 pm on the 13th we would meet again in court before Judge Morgan to argue against the Crown's outrageous attempt to silence me while this court case is being staged.
That was the last legal event to date but what followed in the mainstream media regarding my case is of utmost importance with respect to both my pending trial and the critical necessity of retaining my right to use my website to both defend myself and to present MY side of the story as to what is and will be transpiring over the course of my court trial, one that will be held before a Judge and a Jury. It's evident from what took place on the SunTVNew Network's, The Source with host Zionist Jew Ezra Levant, a died in the wool kosher Zionist Jew, that the mainstream media is not about to give this case any fair, unbiased coverage.
While on the surface of the six and a half minute interview with my lawyer Doug Christie Ezra Levant was spouting off platitudes about freedom of speech in rapid succession at the same time he was spreading across the television network and the nation as well as globally a number of lies concerning my character and my motives and my writings and website.
Allow me to quote some of the epithets and defamatory remarks Ezra Levant used to describe my person on his tv show:
"I call him an anti-Semite"
"I call Arthur Topham offensive"
"I don't care much for Arthur Topham. He's anti-Zionist. I think that's code for anti-Semitic"
"We're showing you some screen shots from his website. I disagree with them. I find them gross. I find some of his comments repulsive."
"I'm sure that Arthur Topham is motivated by a form of malice."
"I see hate everywhere in Canada, especially in B.C." [where Arthur Topham just happens to reside. Ed.]
"He's a nobody"
"I HATE ARTHUR TOPHAM"
"I think he's an idiot. An anti-Semitic idiot"
"right wing wackos like Topham"
If this is the sort of coverage that I can expect from the mainstream media when it comes to unbiased reporting is it that strange that I would not want to be prohibited from publishing my side of events when it comes to my defence?
Let us see what happens on November 13, 2012 and whether or not our justice system will treat an innocent man fairly or else side with the traitors who now are in control of this nation's media and money.
For Truth, Justice and Freedom of the Internet
I remain,
Sincerely
Arthur Topham
Pub/Ed
RadicalPress.com
"Digging to the root of the issues since 1998″
———————————————————