http://www.counter-currents.com/2013/03/honoring-doug-christie/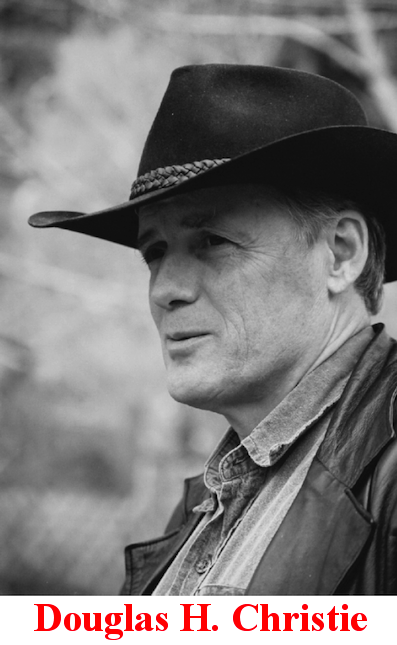 Honoring Doug Christie
Douglas Hewson Christie died on March 11th, 2013 at the age of 66. He was among the greatest defense lawyers of his generation, in Canada or any other country, and his greatness was founded on two piers: courage and honor.
In his eulogy for his father, Doug's son Cadeyrn has said that his father was meant for the battlefield, and in another age would have fought with sword and shield, but in our age, his battlefield was the courtroom.
This identification of warriors with the best lawyers helps us to understand a major lesson of the way Doug Christie lived his life. It is this: the courage to speak freely and publicly against the powerful, the courage to defend those the powerful deem indefensible, and the courage to face threats to career, home, and family from the tolerated minions of the powerful for the sake of principle; all these are first founded on physical courage.
Doug retained tremendous physical courage right up to the end. Incredibly, less than three weeks before he died, his liver riddled with metastatic cancer and refusing pain-killers, so that his brain and his examinations, would be as famously sharp and focused as ever, he had been in court arguing on behalf of a client. There, he collapsed and was brought to hospital. Even then, his chief desire was to be released so that he could finish that case and get back to another, his ongoing defense of Arthur Topham, who has been charged with promoting hate on the internet.
Sadly, that could not be, and Doug's final regret was that he was unable to carry on for Mr. Topham, just as his greatest concern since he was diagnosed with cancer in 2011 was that once he was gone, there would be no Canadian lawyer to take his place of prominence in battling the endless attacks on freedom of speech in that fallen dominion. Canada is an Anglosphere country that's particularly vulnerable to the bizarre new 'tyranny of tolerance' because it was founded as a nation, not of rebels so much as of men self-selected for conformity, because those men faced a subsequent requirement for an endless, uneasy truce with the pre-existing French population, and because breakdowns in that truce eventually led, under Pierre Trudeau, to a method for reducing its importance by transforming British Canada into multicultural Canada. Unfortunately, Canada shows every sign of needing more lawyers like Doug Christie going forward. Instead, it has lost the only one it had.
If a successor to Doug is waiting in Canada's future, he will have large shoes to fill. "Very large shoes indeed," Father Lucien Larré reminded hundreds of mourners at St. Andrew's Cathedral in Victoria in officiating at Doug's funeral, "but we must never stop trying to fill them anyway."
The reason for the magnitude of the task is straightforward: working as a solo lawyer with a staff of one or two assistants, over the course of three decades Doug Christie defined the legal defense of free speech in Canada. When Doug took on his first free speech case in 1983, that of Alberta high-school teacher James Keegstra when he was fired from his job and charged with willfully promoting hatred by discussing Jewish conspiracies with his students, Canada had had criminal hate laws on the books since the 1960s, but they were dormant. "It was a novel proposition to prosecute people for what they said," Doug reminded the world. But since Keegstra, it has been used scores of times, and Doug Christie was the backbone of the defense in every landmark case. He argued more free speech cases before the Supreme Court of Canada than anyone. All of this from a tiny, sole proprietorship law practice of a type that has now virtually disappeared.
Doug's widow, Keltie Zubko, has said that his proudest case, which they worked on so hard together, she as legal assistant, was that of Imre Finta. It remains Canada's only war crimes trial. Following a two-year investigation, the trial took place in three countries, Canada, Hungary. and Israel, over the course of nine months. The prosecution spent millions. It all resulted in Mr. Finta's acquittal, without needing to call evidence, principally on the basis of Doug's cross-examination. The prosecution appealed the case to the Supreme Court of Canada, where Doug argued against it so effectively that Canada has never attempted to prosecute a war crimes case since.
But the enemies of our race and of our heritage of freedom are legion; in hyperborean Canada, perhaps white enemies especially. They have power, and they have time. They are hydra-headed, and when one begins to tire, thoughts turning to sinecure, he is easily replaced by many more, as the unquestioning graduates of the academies multiply. Even the youngest have none of the fire in Doug Christie's soul, but the whole corpus can afford to watch as the tiny band of defenders withers. Worse, a single hydra increasingly sprawls across many countries, in the form of international law.
This is underlined by the fate of Doug's best-known client, Ernst Zündel. Doug had guided him through the ups and downs of a welter of trials, tribunals and appeals in the 1980s, leading to eventual success in R. v. Zundel before the Supreme Court of Canada in 1992.  But the global enemies of freedom were not to give up. In 2003, the twisted arm of international law reached in among the tens of millions of illegal immigrants in America and plucked Mr. Zündel out of Tennessee for overstaying his legal visa, tore him from his American wife, and brought him back to Canada for two years in solitary confinement while it bided its time. Eventually, Ernst Zündel was deported to Germany, where he was ultimately convicted of holocaust denial in a trial filled with legal misadventures that smacked of the inevitability of religious ritual far more than it resembled anything within the Anglo-Saxon legal tradition. Mr. Zündel spent five more years in prison in Germany, despite everything Doug had tried to do for him in the Canadian phase of this horror.
In such ways as this, the truly heroic war of our time, the war of a tiny number of outcasts to awaken a dispossessed majority, has been transformed. Doug Christie was too busy fighting the battles he could see all around him, one after another in a seemingly endless procession, to devote his great mental incisiveness and physical energy to strategy alone. That is necessarily the way of the hero, of the man who acts. Doug's great role was in law, not in politics. That was not for lack of trying, and Doug struggled hard within the shrinking opportunities of electoral politics. He never overtly gave up on the political project as a potential solution, but the diminution of his efforts in that direction tells us a lot about the metapolitical nature of our fight today. Actions like his legal battles, and the cultural battle reflected here at Counter-Currents, are the ones we need now.
There is another side to Cadeyrn Christie's metaphorical tribute to his father as warrior. Doug Christie was a man of principles and a man of honor. That was the yardstick by which he measured every proposal that came to him, whether from others or from within his own creative mind. His whole life was a duel over honor, but not the ferocious intensity of single combat on the Trojan plain; rather tireless, patient resistance.
But the principles are the same. Some men cannot be bought off into slavery, and Doug Christie was the most obvious such man in all the Canada of his generation. All who knew Doug knew he was a man who could have attained early what is considered great success in our world. He was tall, he was good-looking, and he had the manners and blue-eyed charisma of the born leaders of the old American and Canadian West. He was gregarious. People liked him right away and were motivated by him. He had a great legal mind, an appetite and flair for courtroom drama, and the courage to stick out every courtroom battle.
Instead Doug gave of himself unstintingly over many decades to the downtrodden and outcast. He did pro bono work. His friends struggled endlessly to raise money for his cases. He ran his tiny law office on a shoestring.
He lived his whole life the way he had been raised: "we always had enough to eat, but there was never anything left on the table." He was proud of his Scottish roots in that regard. He drove an old pick-up truck, wore a cowboy hat, and throughout his whole legal career, he earned considerably less each year than can readily be made by skilled tradesmen throughout Western Canada, so long as it remains the prosperous corner of Western civilization that it now is.
Today, the pursuit of money, political approval, and comfort are indeed the chief ways in which a man throws his sword and shield down into the dust. It all happens so gradually that it is vastly more difficult for us to recognize our enslavement than it was for our ancestors. Most men never do, and die with the conceit of freedom.
But even today, some men seem to grasp the real message of our ancestors, almost from earliest youth. Doug Christie was such a man, a true man of honor.
——–