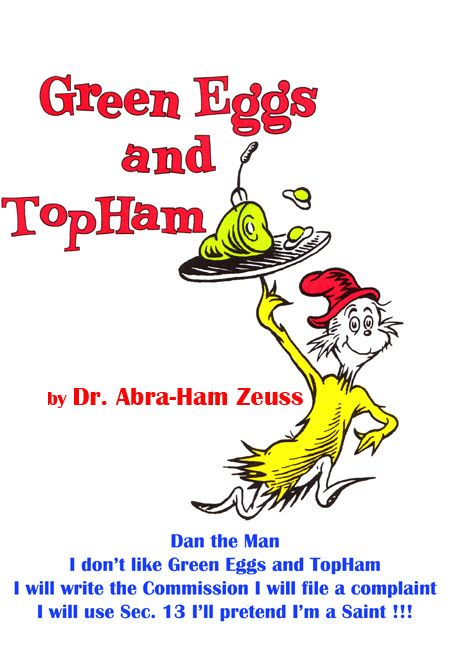 August 28, 2009
Dear Radical Reader,
It's been awhile since I've posted any articles. My apologies to those who wait with great anticipation for more information on either the Abrams v. Topham complaint or materials on the Zionist Beast.
Apart from having to be away from home for awhile I've also been spending a lot of time over at http://www.FreeDominion.com enjoying all the lively discussions taking place since Harry Abrams finally registered on their forum and has been fielding all sorts of questions from FDers related to sec. 13(1).
Of course I am only an observer there as I've been banished from the forum for quite some time but even though I cannot speak, thanks to regular FD member fourhorses, who posts my legal documents for FDers to study and comment on, the Abrams v. Topham complaint is getting a lot of free coverage. For that alone I owe the owner, Connie Fournier, a debt of gratitude for allowing such discussion to proceed. Considering that FD considers itself to be the number one website in Canada in terms of support for the Zionist state of Israel and for all things Jewish this is indeed a generous and open-minded position for her to take.
This is the main reason for this post. I wanted to alert readers to the discussions taking place there and also encourage those willing, to possible register and join in the debate. The least that would happen would be to get banished like I did but a reading of the threads should illustrate the fact that they aren't as narrow-minded as one might think and their humour is also something to be appreciated. Some of the recent cartoons depicting Harry as the Kosher Saviour of Hate Speech legislation are quite funny. Whether Harry eventually retaliates against them is of course another story.

But even if you don't join in, just reading the various threads and studying the positions taken is, in itself, guaranteed to be an eye-opener in terms of gaining a broader perspective on how other Canadians perceive both sec. 13(1) of the Canadian Human Rights Act and the actions of Harry Abrams and B'nai Brith Canada. Most questions are cogent and the issues are wide-ranging.
Here are the current threads where section 13(1) and the CHRC and CHRT are being given a thorough working over:
http://www.freedominion.com.pa/phpBB2/viewtopic.php?t=121507
Free Dominion – battleground in Abrams v Topham case
http://www.freedominion.com.pa/phpBB2/viewtopic.php?t=121449&sid=a3aced58daa797751d8702300312bd2e
FD thread: Richard Warman attempting to seize elderly couple's home
http://www.freedominion.com.pa/phpBB2/viewtopic.php?t=121889
FD thread:  Ezra bitch-slaps B'nai Brith
http://www.freedominion.com.pa/phpBB2/viewtopic.php?t=122021&postdays=0&postorder=asc&start=0
FD thread:  Harry Abrams, Classical Liberalism vs. Human Rights
http://www.freedominion.com.pa/phpBB2/viewtopic.php?t=122246
Innuendo: A Harry Proposition
http://www.freedominion.com.pa/phpBB2/viewtopic.php?t=122393
FD thread: Abrams v Topham – the next novel approach
I would encourage all readers to check out these discussions. Also, please try to pass this message along to your associates.
Shine your Light for Love, Peace & Justice for All,
Arthur Topham
Publisher/Editor
The Radical Press
Canada's Radical News Network
"Digging to the root of the issues since 1998″
http://www.radicalpress.com
radical@radicalpress.com
——————————-
Arthur Topham is the Publisher and Editor of RadicalPress.com. He is currently involved in a free speech battle with the League for Human Rights of B'nai Brith Canada.
He is also in extremely dire need of financial support to sustain this battle with the forces of repression and censorship as he is not able to work during this period of intense litigation with the Canadian Human Rights Commission and the CHR Tribunal. Any donations therefore would be most welcome. Please see the following url on the Home Page (upper right hand corner) http://www.radicalpress.com/?page_id=657 regarding donations. Also there is a "DONATE" button there for Paypal or here at https://www.paypal.com/cgi-bin/webscr?cmd=_s-xclick&hosted_button_id=4466120 . Feel free to use any of them if you can help out. Thanks.
Arthur welcomes all feedback to his articles and can be reached at radical@radicalpress.com .
For the Full Monty on the complaint case involving RadicalPress.com and B'nai Brith Canada please see: http://www.radicalpress.com/?page_id=995