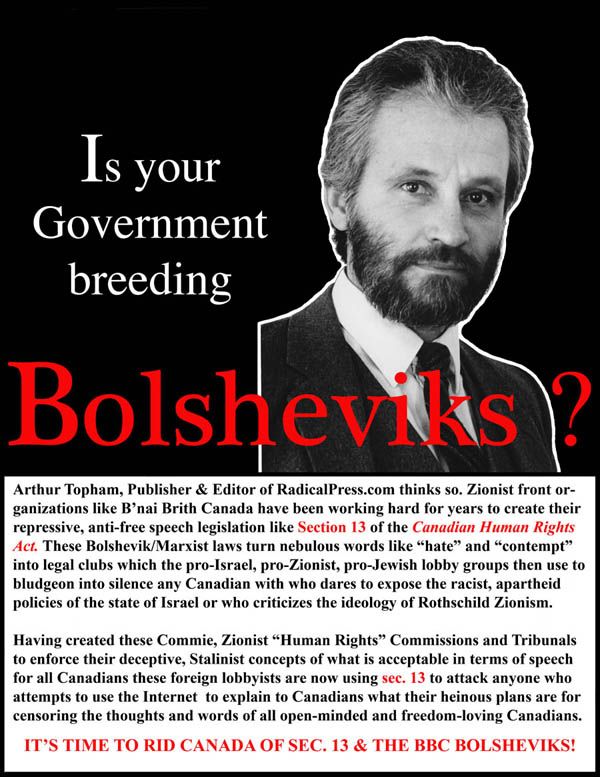 Is Your Government Breeding Bolsheviks?
B'nai Brith's brazen attempt to hardwire Hatred and Censorship into the Canadian Psyche
By Arthur Topham
August 8, 2009
In his 2006 book, The Synagogue of Satan, the British writer Andrew C. Hitchcock has a lot to say about the house of Rothschild. In fact his book is a revelation of our times; the chronology of a crime syndicate that began in 1760 when Mayer Amschel Bauer took over his father's money lending business in Frankfurt, Germany and changed his name from Bauer to Rothschild, a German word meaning "Red Shield" and hung the symbolic hexagram that now adorns the Israeli flag above his door.
The last 250 years is basically a record of the Rothschild's devastating effects upon the people and the planet; one that has now brought our 20th Century civilization to the brink of either global disaster, or, should we awake in time to this imminent end and act accordingly, the final dismantling and dissolution of this infamous house of hell that's been the root cause of humanity's discontent for the past two and a half centuries.
Andrew Hitchcock's book[1] in some respects parallel's the Protocols of the Learned Elders of Zion in that it too is a road map like the Protocols only one that can lead us out of the wasteland of the present times rather than further into a gloomy and foreboding Big Brother future such as the Protocols reveal.
While Hitchcock's first and foremost purpose is to document the accomplished deeds of this Rothschild house of horror as they pertain to global finance, politics and media, his particular expose of the secret masonic society of B'nai Brith, one of the many Rothschild enterprises designed to assist in its agenda for world domination, should be of special interest to Canadians; especially those Canadians who have managed to break free to some degree from the mind-numbing influence of the Rothschild controlled mainstream media and are relatively able to view, somewhat objectively, the ongoing machinations of this organization; one initially set up and funded in order to present to the world a viewpoint fundamentally Talmudic, cabalistic and atheistic in scope, nature and purpose.
In the USA when Americans think of B'nai Brith they automatically think of the Anti-Defamation League (ADL) the now powerful, aggressive arm of B'nai Brith International originally formed in 1913 by the Rothschild Jews in reaction to a Jewish business man who was convicted of raping and murdering one of his young employees and actually put in jail for his crime.* This was considered an outrage by the then nascent Zionists and so they conspired to come up with an organization that would eventually become the Goliath of gutter journalism, spewing forth volumes of vituperative slander and malignant lies upon any individual, group or organization that ever dared to challenge the tendentious tenets of the Rothschild empire.
I believe Noam Chomsky, Professor of Linguistics, Massachusetts Institute of Technology, put it rather succinctly when he once described the ADL as "…one of the ugliest, most powerful pressure groups in the U.S…. Its primary commitment is to use any technique, however dishonest and disgraceful, in order to defame and silence and destroy anybody who dares to criticize the Holy State ('Israel')."