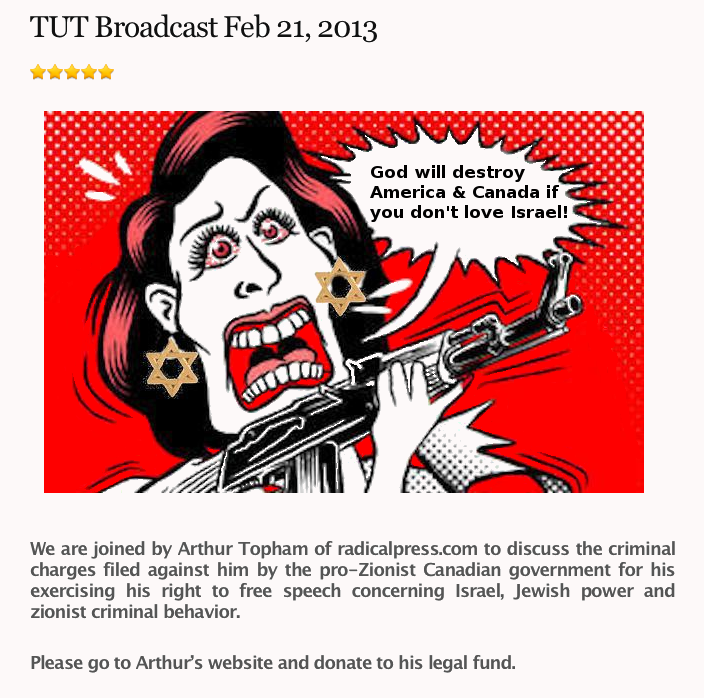 Here is the Url to the show:  http://blogtalk.vo.llnwd.net/o23/show/4/445/show_4445021.mp3
Dear Supporters of Freedom of Speech everywhere,
On Thursday, February 21st, 2012 I was privileged to be able to go on Mark Glenn's BlogRadio show hosted by his site The Ugly Truth.
Mark is an excellent host and speaker and is extremely well versed in the Zionist issues of today and yesterday.  As such his preliminary commentary on a number of issues that precedes my actual interview is well worth listening to.
The show lasted for an hour and forty-eight minutes so it will take some time to listen to but I highly recommend that you do.
The one thing that struck me most deeply as I listened to Mark speaking was the fact that in the United States the founding fathers had the forethought to insure that the people of that nation would take their freedoms seriously and therefore guaranteed that the foremost freedom, that of freedom of speech, would be enshrined in their Constitution. Were it so in Canada.
Here we are facing the pernicious machinations of the foreign state of Israel and its B'nai Brith lobbyists, compounded by the fact that these same inimical enemies of freedom also control our country's media and have gained an extremely critical foothold both within the office of the Prime Minster of Canada Mr. Stephen Harper and within our judiciary. Their dangerous influence upon our government and our democratic institutions, exemplified by the self-created "hate crime" laws which they surreptitiously slipped into our legal system over time, stands as the most clear example of seditious actions aimed at undermining and subverting our government.
Hiding behind their mask of "mainstream" media propaganda they are in full attack mode and out to repress and control Canadian's right to free expression and freedom of speech on the internet. Without our ability to talk freely about Israel and its sayanim, Fifth column organizations like B'nai Brith and its ideology of Zionism and to offer our perspectives and our criticisms on this most dangerous and diabolic political device ever known to humankind we are severely handicapped in our efforts to educate people as to its true design and motives and thus initiate measures to protect our own Constitutional rights and freedoms.
Thus the need for further and greater education on these matters. Please take the time to listen to this broadcast and remember that feedback to me is always welcome and necessary. I can be reached at radical@radicalpress.com .
Here is the Url to the show: http://blogtalk.vo.llnwd.net/o23/show/4/445/show_4445021.mp3