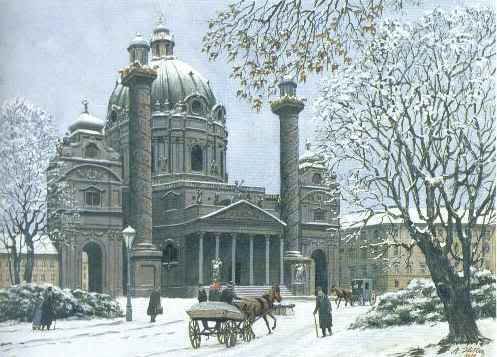 Watercolor painting of Karls Church in Winter by Adolf Hitler 1912
___________________________________________________________________________
[Editor's Note:
Henry Makow's recent articles are showing strong signs of an underlying, not-too-subtle attempt at continuing the longstanding Zionist propaganda campaign of extreme hatred toward the German people plus endless vituperation toward the National Socialist party of former Nazi Germany.
It seems that no matter how hard some Jews try to overcome their own brainwashing regarding the holy hoax commonly known as the "Jewish Holocaust" (and it is harder for Jews than for any other group I believe) there are some who, like Mr. Makow, just cannot bring themselves to the point where accepting such a truth is possible. Instead, as in Henry's case, he continues to expound upon and support the lie of that event and in doing so paints himself into an unenviable corner; that of yet another agents provocateur coloring his otherwise token samplings of injustice with the usual, ongoing disinformation campaign against the German nation and the German people; a process that first began in earnest in 1933 has never ceased to this day.
Blending strong portions of Illuminati and Freemasonry information with a dab of Zionism and a touch of Rothschild and a sprinkle or two of Satanism to come up with the standard recipe for global hegemony on the part of these assorted groups Henry weaves a fine and captivating tale of intrigue but, alas, one which ultimately exposes him as a double-agent when he throws into his potpourri of conspiracy theories the two ingredients that inevitably separate the wheat of truth from the chaff-leaven of Talmudic Zionist falsehood – those being the standard, ongoing denigration of the German people and Adolf Hitler as the Empire of Evil and the tacit, sanctimonious support for the holocaust lie – the two pillars upon which the faulty Zionist edifice rests.
As Hans Krampe states in his title, "Henry Makow never forgets" – he never forgets to always add more layers of deception to the two lies of the 20th Century that are absolutely necessary for the Zionist Jew Conspiracy to carry on its program for complete world control.
It's unfortunate that Henry must kowtow in this manner to the Zionists by unwittingly (or wittingly) supporting their heinous program of hatred toward the one nation that had the balls to stand up to the Bolshevik/Zionist/Communist threat to the world. When we consider that he is supposedly under attack by these very same Zionist lobbyists (the Canadian Jewish Congress) who are using the infamous Section 13(1) of the Canadian Human Rights Act to charge him with hate crimes against Jews it becomes almost too incongruous to imagine that he would allow himself to fall into the trap of emulating his oppressors and their insidious propaganda.
He was so close to breaking free of their mind-control programs; so close to ridding himself of an unnecessary lie bequeathed to all Canadians by the Zionist-controlled media; so close to discovering the truth behind the Zionist lie. So close…but not close enough Henry. And so, with a sad heart, and as the old saying goes, "Sorry Henry, close... but no cigar.]
Henry Makow never forgets
A Response to Henry Makow's recent article, "Bormann Ran Hitler for the Illuminati"
http://www.henrymakow.com/002026.html
By Hans Krampe
May 7, 2009
In the photo with Hitler, isn't that Henry Makow in profile?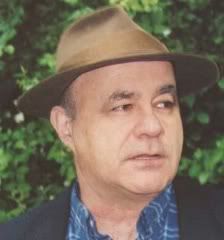 Henry Makow – a Bormann agent?
_____________________________________
I think Henry Makow is an agent of Bormann, whose purpose it is to keep the memory of a devoted Bolshevik Nazi head and shoulders above that of Adi Hitler. Bormann must still be hanging in there, in South America somewhere, pulling Henry's strings. How old would he be now? 109 or so?!
Hitler must've been not only an evil illuminati toy, but a successful guinea pig of a soviet style MKULTRA treatment (a "fact" still classified and buried in the Kremlin, but Henry has an inkling anyway), programmed and remote controlled. . . by Bormann. . . according to Makow's instructive ruminations. Didn't the Nazis invent brainwashing? Or may be they were all guinea pigs too and the illuminati made them invent it for themselves!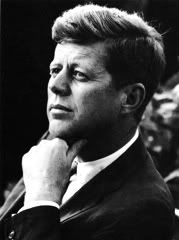 John F. Kennedy
_____________________________
"Hitler… one of the most significant figures who ever lived"
~ President J.F. Kennedy
"Hitler will emerge from the hatred that surrounds him now as one of the most significant figures who ever lived…
He had a mystery about him in the way that he lived and in the manner of his death that will live and grow after him.
He had in him the stuff of which legends are made."
~ John F. Kennedy,
President of the
United States of America

Jewess Gertrude Stein, Nobel Peace Laureate, recommended that Adolf Hitler be given the Nobel Peace prize. A self-hating Jew?
___________________________________________________________________________
Apparently, the illuminati seem to have paid for everything the Nazis did; like: from national bankruptcy and over 6 million unemployed to full employment and a booming economy in three years, free medicare, free education right thru university, over 1.2 million affordable and extremely attractive family homes (coddling their favorite mass murderers), the 8 hour workday, Sundays off, 21 days paid holidays a year for workers, paid maternity leave for pregnant women and young mothers, maternity spas, over 4000 new kindergartens, holiday resorts for children, luxury liners on which workers could go on two week cruises for less than 170 marks, regular symphony orchestra performances in factories, vivisection outlawed, environmental standards Henry can only dream of, even today, the Autobahn, the Volkswagen, a low cost and high standard of living etc., when the rest of the world could only think of war as a measure of ending the depression. . . and all this with no natural resources to speak of, no gold reserves and nothing but hostility surrounding the country. . . except for the illuminati. Oh, and the Zionists; mustn't forget those.
Hitler's Volkswagen
_________________________
It had to be a short state of grace, granted to the condemned before their execution by the illuminati, who kept the cost of living low and the standard of living high in the Third Reich out of sheer cynical malice. How else could the Nazis have managed, led by clueless and treacherous Adolf?? It's all nice and evil, no doubt! Slave labour, plain as day, has been their key to success. Henry will be sure to unearth the necessary data and interconnect things for us, you know, cross the Ts and dot the Is.
We mustn't forget the holocaust! It happened, as Henry would no doubt agree. We just can't prove it, because the stupid Russians won't release the files that would. They sure hung the right guys for Katyn, though, unless anyone wants to deny that too.
Auschwitz! A sheer horror show of swimming pools, soccer fields, a 40 000 volume library, a theatre, 12 different orchestras, a state of the art hospital and dental clinic run by Jewish doctors, a maternity ward, a kindergarten, university education classes, a state of the art community kitchen, brick dormitories, a post-office, an inmate run police, a jail, a brothel; and work, lots of it, WITH PAY. And let's not forget INVISIBLE GAS CHAMBERS. And thousands of babies burned alive in massive ditches filled to the brim with ground water. Elie Wiesel saw it all himself and – doing Louis Kilzer one better – he got a Nobel Peace Prize for writing the book "Night" about it. That should qualify it as an astute first hand account. I mean, it won the top pooba of a prize, right? They even made it into a movie. So it's got to be true, even more so than Kilzer's. Only problem is, nobody who knows anything about Auschwitz believes a word in it. But at least he makes the Nazis look agreeably bad, which should compensate amply for zero truth. Perhaps Henry can help us here to debunk Wiesel's detractors.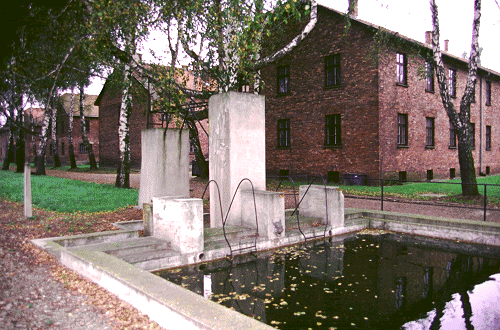 Auschwitz – still stands complete with brick housing facilities and swimming pool.
___________________________________________________________________________
Today, thanks to guys like Henry, we "know", the fancy stuff in Auschwitz (typical German deviousness) was just camouflage, you understand, to make the horror look normal for the International Red Cross and the catholic priests who were there from beginning to end but aren't allowed to sing.
You don't believe it? Ask Henry, he will find a way to prove it. . . sort of. And if he can't, guys like Louis Kilzer will jump into the breech. You can trust old Louis, he's got it all figured out. The main thing is that the Nazis were bad, bad, BAD. . . and getting worse by the minute.
Henry, we've got the message! You can relax now; and just tell the Canadian Jewish Congress to lay off. It's obvious that you're going to behave from now on.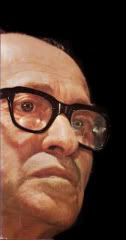 Menachem Begin
_____________________
"Our race is the Master Race. We Jews are divine gods on this planet. We are as different from the inferior races as they are from insects. In fact, compared to our race, other races are beasts and animals, cattle at best. Other races are considered as human excrement. Our destiny is to rule over the inferior races. Our earthly kingdom will be ruled by our leader with a rod of iron. The masses will lick our feet and serve us as our slaves."  Prime Minister of Israel, Menachim Begin (left), in a speech to the Knesset, quoted in Amnon Kapeliouk, 'Begin and the "Beasts", New Statesman, 25 June 1982.

Noam Chomsky
___________________
"If the Nuremberg laws were applied, then every post-war American president would have been hanged" -Professor Noam Chomsky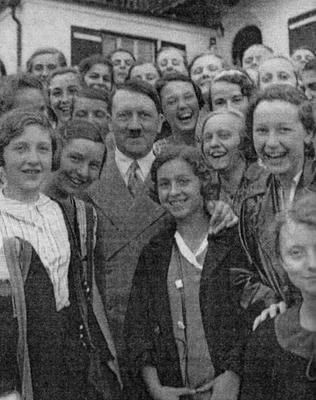 Adolf Hitler & Young Friends
______________________________________________________
Hitler's proposals for a European pacification plan for Europe were delivered to the Geneva League of Nations. His proposals included:
*    prohibition of the dropping of gas, poisonous or incendiary bombs
*    prohibition of dropping any bombs outside fighting fronts
*    prohibition of artillery weapons over 12 miles from battle zones
"Germany will be perfectly ready to disband her entire military establishment and destroy the small amount of arms remaining to her, if the neighboring countries will do the same thing with equal thoroughness. Germany is entirely ready to renounce aggressive weapons of every sort if the armed nations, on their part, will destroy their aggressive weapons within a specified period, and if their use is forbidden by an international convention. Germany is at all times prepared to renounce offensive weapons if the rest of the world does the same. Germany is prepared to agree to any solemn pact of non-aggression because she does not think of attacking anybody but only of acquiring security" ~ Adolf Hitler
——–
Hans Krampe is a former feature writer for The Radical, a monthly tabloid pubished by The Radical Press from 1998 to 2002. He can be reached at Hans Krampe hjk@quesnelbc.com