St. Valentine's Vendetta:
My 10 Year Battle With Canada's Jewish Lobby
By
Arthur Topham
Publisher/Editor
RadicalPress.com
March 8th, 2017
"But the fight for our planet, physical and spiritual,  a fight of cosmic proportions,
is not a vague matter of the future; it has already started. The forces of Evil have begun
their decisive offensive. You can feel their pressure, yet your screens and publications
are full of prescribed smiles and raised glasses. What is the joy about?"
~Aleksandr I. Solzhenitsyn, A World Split Apart, Commencement Address
Delivered at Harvard University, June 8, 1978.
"Nobody knows the troubles I've seen
Nobody knows my sorrow."
~ Traditional Negro Spiritual
"Thou preparest a table before me in the presence of mine enemies: 
thou anointest my head with oil; my cup runneth over."
~ Psalm 23 vs 5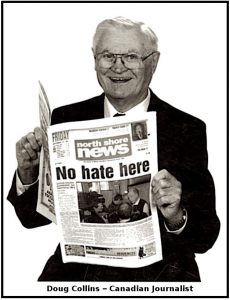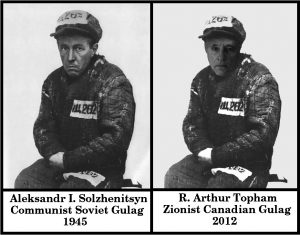 Preamble
The seemingly endless struggle to overcome evil in this world never seems to let up. Generations; centuries; millennia have found mankind facing this general dilemma and the number of books written on the problem are likely in the millions.Over the past two thousand years there has been one single group of people whose nature and behaviour has continuously thrust them into the spotlight and onto the stage of human history even though they've adamantly strived throughout that period to keep their actions and agenda as clandestine as possible. That group, for better or for worse, is the Jews.
Due to their historic stance of remaining aloof and segregated from the rest of humanity they've naturally gained a reputation for secrecy, deception, dishonesty, greed, arrogance and an overall stubborn resistance to joining the human family in a positive, inclusive way. Thus was self-created, over time, the eternal, nagging problem still plaguing world peace and harmony and known around the world as the "Jewish Question" or the "Jewish Problem."
It was my fate, karma or destiny, like many others before me, to encounter this question or problem while searching for answers to the persistent and ponderous problems that the world I was living in faced – debt slavery, poverty, war, sickness, inequality, social, cultural, moral and spiritual disintegration, pollution, environmental destruction and so on (the list is virtually endless when broken down into all its component parts).
Having began that quest for answers back in 1967 then spending the next forty years actively searching for the truth regarding these varied plagues that have tormented the world for countless centuries, by the year 2007 I finally felt I understood what the main source of the problem was. But what was even more disconcerting at that point than the answer I'd sought all those years was the realization that those who were so deeply implicated in this massive conspiracy to prevent humanity from achieving its rightful place in the cosmic order of things had already pre-emptively placed legal restrictions (some might call them legal land mines on the road to justice) on the ability of individual truth revealers to present their evidence of wrong-doing to the public be it via the Internet or in print. By fabricating so-called "Hate Crime" laws that essentially block or stem the flow of truthful facts which, otherwise, would clearly show and back up the growing general thesis that the Zionist Jewish conspiracy was and is, undoubtedly, a clear, present and dangerous reality; one that's inimical to the well-being of otherwise independent nation states and, by extension, the world at large, that element of World Jewry involved in these unethical, illicit, criminal activities had constructed a legal shield or wall to protect themselves from their own criminal activities.
The Vendetta begins
This final realization was thrust upon me in November of 2007 when I first became aware that the Zionist Jew lobby organization know as B'nai Brith Canada had filed a "hate crime" complaint against me with the Canadian Human Rights Commission (CHRC).
Like everything Zionist motivated the attack was clandestine and cruel – conceived in darkness and deceit then, with evil intent, spawned like some fecund fungi upon Canada's Cyberian landscape in yet another pre-emptive, calculated attempt to cover up their crimes, censor the Internet and disenfranchise every free-thinking Canadian of their God-given, (presumed) Constitutional right to freedom of expression (aka free speech) as (supposedly) guaranteed in our Charter of Rights and Freedoms, Sec. 2b.
I did have some foreknowledge of what occurred though. It happened on Valentine's Day, February 14th, 2007when I found amongst the usual correspondence and spam on my computer an email with the Subject line that read: "Discriminatory material on Radicalpress.com." It had been written two days prior to Valentine's Day by a Zionist troll called "Brian Esker," someone unknown to me at the time and an entity who I cannot, due to a court order, reveal publicly.
The email was an unabashed ultimatum stating that I had "unacceptably racist material posted" on my website RadicalPress.com and its author was demanding that I remove it.
Then, just to add a little touch of good old Jewish chutzpah to his already imperious command, Esker stated that I "delete" said article (ironically, given recent events, it was one by Eric Hunt titled Trapping Wiesels and Other Rodents) and, "advise me when this has been effected so that I can point out more articles of a similar nature also for removal. Failure to do so may result in legal action being taken against you."[emphasis added. A.T.]
For goodness sake I said to myself. Here it is Valentine's Day and everywhere people are getting "Be My Valentine" cards, flowers, chocolate treats and heart-shaped candies embossed with little phrases like "I Love You!" and what does my inbox offer up on this special Christian celebration of love but another Zionist psycho out to harass, intimidate and threaten my basic rights.
I attempted to communicate with the writer but to no avail and I therefore assumed they were ikely an agent of either B'nai Brith, the ADL or the Canadian Jewish Congress (CJC) or some other affiliated Zionist lobby group.
I never heard from him again until after his devilish deed had been done and word arrived nine months later on November 20th of 2007 from the Canadian Human Rights Commission advising me that I was to be the latest victim of B'nai Brith Canada's ongoing "hate crime" vendetta compliments of Sec. 13(1) of the Canadian Human Rights Act.
Welcome to Gulag Canuckistan
Thus commenced a vendetta against me, my family, my website and, by proxy, every other Canadian who believes in freedom of speech either on or off the Internet, that's been ongoing now for over 10 years!
The essence of Esker's complaint was B'nai Brith Canada's contention that I, Arthur Topham and Radicalpress.com had contrived, "to promote ongoing hatred affecting persons identifiable as Jews and/or as citizens of Israel."  [emphasis added. A.T.] Imagine that, the audacity of me for criticizing citizens of a foreign country!
The unidentified November 20th envelope from the CHRC signalled the commencement of a legal battle with Canada's quasi-judicial organizations like the CHRC and the Canadian Human Rights Tribunal (CHRT), both of which were staffed by an assortment of pro-Zionist Jews, gung ho Zionist sycophants, political commissars and dishonest deviants including the actual Chief CHRC lead Investigator for Internet "hate" Dean Stacey, who, believe it or not, was legally blind but still able somehow to keep the commission's "hate crime" racket going by posting racist, hateful messages on other people's websites and forums so that these brutal Orwellian thought-control agencies like B'nai Brith Canada and the Canadian Jewish Congress (CJC) could then file Sec. 13(1) "hate crime" complaints against them for fun, censorship and, of course, profit.
Esker himself had gained minor notoriety back in 1999 after laying a similar B.C. Human Rights "hate" complaint against the former North Vancouver North Shore News journalist Doug Collins. Having his first taste of goy blood he was now on a roll like some Simon Wiesenthal fanatic spun out on methedrine determined to clean up Dodge City and rid the nation of anyone who exhibited the audacity to question Jewish affairs, be they religious, monetary, political or "holocaust" related.
At the time Esker was already a "friend and colleague" of another chabez goy, i.e. gentile sycophant "neo-nazi" hunter who just coincidentally happened to be a lawyer employed by the CHRC.
A Second Kick at the "Radical" Cat
It wasn't until four years later, in 2011, that a second "hate" complaint was again laid against me by the same Brian Esker only this time, due to the fact that he and others could see that the demise of Sec. 13 was imminent, he resorted to using the Criminal Code of Canada's "Hate Propaganda" laws contained in Sections 318 to 320 of the Code as his next legal weapon of choice.
Sec. 319(2) is virtually identical in wording to the old Sec. 13(1) legislation found in the Canadian Human Rights Act but when Esker's second kick at the "radical" cat came Sec. 13 was already slated to be repealed by the Harper Conservative government and by that time the Sec. 13 case against me had already been stayed pending the final repeal.
The other important point to remember about Esker's second complaint to the BC Hate Crime Unit was that it was preceded almost a month earlier by another identical complaint, also sent to the same Unit, only this time it was laid by Brian Esker's lawyer "friend and colleague" mentioned above. That individual too must also remain unnamed, for his identity, like that of Esker's, is protected by the same court order which prohibits me from mentioning either of them publicly lest their "safety" as Canadian citizens be threatened(?).
Getting back to the original complain by Brian Esker and B'nai Brith I was extremely fortunate to get a phone call not too long afterwards from the late Barrister and Solicitor Douglas H. Christie who kindly offered to assist me in my struggle with the Zionist censors and the "Human Rights" commissars. The complaint dragged on throughout the Tribunal stages and the next three years was comprised of onerous, ongoing exchanges between myself and the Tribunal right up until Sec. 13 was repealed by the Harper Conservative government in June of 2013. Their main reason the government repealed it was because Muslim groups in Canada finally copped to the idea that they too could use this Sec. 13(1) legislation against the Jew media who had been constantly spreading Islamophobic hatred toward people of Arabic ethnicity since 911 and therefore the Jewish lobby decided it had to go.
When the repeal of Sec. 13 finally came I posted an article on June 27th, 2013 challenging those who had fought for the repeal to not cease until the greater evil of Sec. 319(2) was also repealed. In short I said, "The only avenue available now for these same control-freak forces who have relied on section 13 to stop open discussion of Israeli war crimes and Zionist involvement within the media, government, banking and corporations will be to charge Canadians under section 319(2) of the Canadian Criminal Code, the very same section that the two complainants used in order to have me arrested back on May 16th, 2012 and charged with willfully promoting hatred against "people of the Jewish religion or ethnic group".
The Zionist's dilemma
This particular section of Canada's Criminal Code (Canada's Sec. 319(2) "Hate Propaganda" legislation) is the foremost danger to the country's God-given, Constitutionally guaranteed right to freedom of speech for all Canadians and is as dangerous to our collective civil rights as plutonium is to the human body and ought to be treated as such by any reasonable and fair-minded citizen of the country.
What we're witnessing today is a resurgence by the Zionist media and Zionist lobby organizations like B'nai Brith Canada to retain this section of the Criminal Code in order to use it against people like myself and others who are exposing the Zionist agenda to the general public. The dilemma for the Zionists is that they are now faced with having to deal with a Liberal government that appears determined to enshrine into law not only protection of Jews from "hatred" but also people of the Muslim religion, that greatest of scapegoats which the Zionists worldwide have been using to instil fear and loathing and hatred into the minds of Western civilization ever since the Zionist state of Israel, in collusion with its Zionist counterparts in the USA, pulled off the greatest false flag attack of the 21st century when they orchestrated the destruction of the Twin Towers and Building 7 in New York city on September 11th, 2001. The intention of the Zionist criminal cartel was to create an event which, via their media power and government influence and complicity would lay the blame squarely on the back of the Arab Muslim world and justify the start of their pre-planned "War on Terror."
To Summarize
Any effort to try and encapsulate the whole of the past decade of my legal wrangling in one article is futile. A book could (and should) be written on my case that would delve into all the sordid details of how the Canadian legal system works and how the Zionist Jew lobbyists here in Canada have taken it over in order to prevent truth and justice from ever reaching any meaningful stage of honest dialogue.
As this article will likely be my last official word on the subject of Zionist infiltration of all of Canada's legal, government, cultural and social infrastructure prior to being silenced by the B.C. court system I have been forced to abbreviate it for the sake of my readers and for my own lack of time due the looming sentencing date of March 13th, 2017 when, I shall have to remove my website RadicalPress.com from the Internet and endure whatever additional punishment the court deems necessary in order to ensure that the truth about who is controlling our country doesn't reach the general public.  The court's and the Zionist lobby's attempts to suppress the truth of course is futile at this stage. I am but one of thousands, if not millions of people across the length and breadth of this planet, who have witnessed the diabolic beckoning threat emanating forth from the light of Zion and will never cease from spreading the word about this deliberately induced global cover-up that, up until the advent of the Internet, had been relatively successful in covering its tracks.
There is just one other item that I want to share with readers before I sign off and that is to make mention of the third bad actor making up the trinity of traitors involved in my arrest, detention and subsequent trial – former Det. Terry Wilson of the BC Hate Crime Team pictured in the graphic below.
I purposely refer to these three characters as a trinity for the simple reason that ample evidence exists which links them together and proves that they willing conspired together for at least 20 years in order to falsely accuse, frame, arrest and try individuals such as myself for "hate crimes" at the behest of the Zionist lobbyists here in Canada. Unfortunately this evidence wasn't given the prominence it deserved during my trial otherwise the two opposing verdicts – Guilty on Count 1 and Not Guilty on Count 2 (for the same charge) – may never have occurred. All of this clandestine conniving by these three individuals has been covered elsewhere in numerous articles on my website and that is but one more reason why the Jewish lobby B'nai Brith Canada wanted it shut down.
It is also why I wanted my case to go to trial in the first place so that as much as possible of my side of the story might be entered into the court record where it would remain relatively safe and publicly accessible should my website and its wide-ranging contents be "liquidated" by Canada's Israeli Zionist commissars. It was a gamble from the get go as to whether or not I might be successful in winning my case. Had my former legal counsel Doug Christie lived to argue my case I'm confident that the outcome would have been a positive one and that my publishing business of the past 19 years, The Radical Press, would still be operating. While that was not to be the case I still have no regrets about trying my best to do my duty to my country in warning it of this insidious, life-threatening  peril posed by the Jewish lobby and their infamous ideology of political Zionism.
To refer once again to the words of the great Russian dissident Aleksandr Solzhenitsyn while on his first speaking tour in the USA back in 1975; words found in his small booklet titled, Warning to the West:
"My friends, I'm not going to give you sugary words. The situation in the world is not just dangerous, it isn't just threatening, it is catastrophic. Something that is incomprehensible to the ordinary human mind has taken place."
Those words were spoken 42 years ago. The catastrophe which Solzhenitsyn was referring to is the one which has now engulfed Canada, the USA, Great Britain, the European nations and the whole of the Middle East and is squeezing the last remaining breath of freedom of speech from the people in its insidious efforts to strangle to death the nation states of the world. Having failed to recognize this imminent danger; one which former writers have been warning us about since Henry Ford first brought it to public attention in the early 1920s, what are our chances today of peacefully curtailing this Talmud-driven, psychopathic Cyclopian political agenda that's been running rough-shod and rampant throughout the world like some insane, unstoppable juggernaut for the past century?
Given the reaction of Canada's legal system to my efforts to further expose this "catastrophic" situation, hope for the future of our democratic ideals and way of life appear grim at best.
Being married to a Jewish woman for the past 39 years was one of the primary motivating factors in attempting to find a peaceful solution to the "Jewish Question" by doing everything I could to bring to the Canadian public's attention the damage that the Zionist ideology was producing in our nation. I felt deeply that if something wasn't done about it in order to resolve the growing displeasure that people were showing toward the Zionist Jews and Jews in general that eventually we might see a repeat of the historic tendency for people to eventually react   violently toward Jews when they felt that all other methods of trying to resolve their frustration proved to be futile. Once that stage of reaction breaks out there's no telling who might become the victim when mob rule supersedes other forms of justice that might have resolved the situation peacefully. It's now obvious that Canada's governing bodies don't want to even hear about any alternative views regarding this matter and are more than willing to exercise the might of the state to silence such dissenting viewpoints via the use of "hate crime" legislation.
Given this approach to the problem I am reminded once again of the prophetic words of John F. Kennedy who once stated that, "Those who make peaceful revolution impossible will make violent revolution inevitable."
A Final Word on "Hate"
I cannot conclude my struggle with the Zionist Jews without a final word on the term "hate" which the Zionists, over the past few decades, have managed through their Orwellian media to shape-shift into a type of linguistic bludgeon with which to attack and destroy truth revealers.
I know that I speak for the vast majority when I state that the truth revealers are motived in their efforts by LOVE, not hate as the Zionist Jews would have everyone believe. That is certainly what has motivated me over the past 50 years of speaking out on issues that affect my country, my community, my family and the Earth Mother that sustains all living forces. For the Zionists, whose motives and actions are the epitome of "HATE" itself, to try and twist the noble, spiritual ideals and truths of the Gentile world into something dirty, sordid, despicable and illegal only reflects back upon their own tribal psychosis and shifts the endless dialogue concerning the "Jewish Question" back to its source.
May God bless Canada in the days and years to come. And to all my readers and supporters who have helped and inspired me over the past 19 years of publishing RadicalPress.com I wish to extend my deepest appreciation and love to you all.
I remain, in Peace and Love,
Arthur Topham
Pub/Ed
The Radical Press
Canada's Radical News Network
"Digging to the root of the issues since 1998"
FINAL NOTE TO READERS. RADICALPRESS.COM WILL BE GOING OFFLINE ON MARCH 12TH, 2013. ANYONE WISHING TO SAVE ANY ARTICLES, GRAPHICS OR OTHER POSTINGS IS ADVISED TO DOWNLOAD THEM FROM THE SITE BEFORE THIS COMING SUNDAY. THANK YOU.
***ALSO NOTE THAT THERE WILL BE NO FURTHER NEED TO SEND DONATIONS.