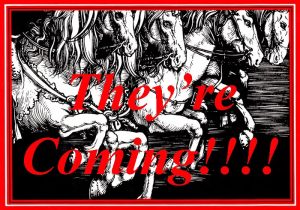 Boy, Were You Ever Wrong
By Patrick Grimm
So you thought the Jews were just another clannish and ethnocentric group interested in preserving their religious and cultural traditions. You believed the Jews when they told you that they only wanted to live and let live. You took them at their word when they said they were only desirous of a country where they could reside free of persecution. You didn't think twice when they larded up their pronouncements with lots of inclusiveness and out-group words of good will. You believed the scholars who pinned all the blame for anti-Jewish persecution, pogroms, expulsions and genocide on those people who were not Jewish. You thought it not unseemly that these same Jews were a bit touchy when it came to their history and their preoccupation with Holocaust dramatizations. Boy, were you ever wrong.
You knew your country was sick, didn't you? Yes, you did. You can feel this sick degeneration down deep in your bones. It was a sixth sense you had. It spoke to you like a still small voice and it whispered ever so softly. It told you that the foundations were crumbling and the buffering institutions were being eroded. But you wanted to call it something else. You ranted about liberalism, big government, high taxes, overregulation and how bad those Democrats were. Perhaps you attended a few Tea Parties and whined to your friends about the dangers and wickedness of an Obama administration. You might have even dropped a few dollars in the coffers of yet another conservative group, thinking you were doing your due diligence. Sarah Palin is probably your girl in 2012. Her shallow rhetoric and inane sound bites did not dissuade you one bit. You, a solid red state flag-waving patriot probably cheered the war in Iraq even as the pseudo-mission became more and more opaque and fuzzy. This didn't stop you from sending your precious son or daughter to fight for democracy and freedom and kill more Muslim people all for the nebulous pronouncements of War Party bureaucrats who knew nothing about Sherman tanks, but spent most of their time in think tanks.
When your child came home from college or university mocking the religious beliefs you taught them since their birth and began spouting rehearsed bromides against the evils of white European culture, you blamed liberal professors. When your offspring waxed pretty about alternative lifestyles, the merits of homosexuality and the open-minded beauty of bi-curious pursuits, you blamed those damn liberals and Communists. You were half right, which still means that you were also half wrong too. You didn't look any deeper, did you? You asked shallow questions and you got shallow answers. What did you expect?
Now, as you glance about you and see very few Americans flying American flags (they are almost non-existent in my community), you are chagrined. Like you, many of our citizens know that a sick force has seized our government and our institutions. You know something is awry. But that's all you know. You, even more than a liberal or a progressive, believe what the controlled, so-called conservative media tells you. You don't ask questions. You are a controlled opponent and don't even know it. You parrot the tired rehashed lines of a Glenn Beck, a Rush Limbaugh or (god forbid) a Sean Hannity. These folks talk about the symptoms all day long, but they want to leave the causes untouched.
You know that patriotic fervor is dead in the USA, but you don't know why. You know your dollar won't buy you much, but you've done little to investigate exactly why this is the case. The hatred against your country grows, but you, like most Americans, assure your family that we live in the best country in the world, even though you share a typically American lack of curiosity about other nations. You've never been anywhere else. Europe must be jealous of America. That's it. It couldn't be that our foreign policy has created a hatred now erupting in violence aimed at our citizens.
Despite all of the chaos now dragging this country into the abyss, you can't think outside the box. If you just happened upon this little essay, you have already branded me as anti-Semitic. As almost every economy except Israel's falls to rubble, you don't ask why. Have you ever wondered why it seems that the Jews are the only ethnicity sitting pretty in the worst economy since the Depression? No, you don't because you are a Zionist, an Israel-Firster, even as that crooked alliance extracts more blood from our people. You go to church and sit obediently in your pew as your minister defends the Jewish people, calls them God's Chosen and declares Israel's existence a fulfillment of all sorts of vague biblical prophecies. You don't blanche when your preacher, a man with little knowledge outside of his skewed predilections towards the Bible, warns you that any resistance or criticism of Jews will earn you an eternity in hell. You try to jettison any negative thoughts you may have had about Jews in the past, quivering and genuflecting like a slave who must deny reality. You have long ago taken all your church's ideas into your unthinking mind and made them the dogma that keeps you silent, ensuring that you will never defend yourself.
Occasionally, cognitive dissonance will trouble you, but not for too long. If you own a business or work for a company that has dealings with Jews, you have surely noticed the two-faced ugly ways that Jews behave in the marketplace. You've seen them try to get something for nothing. Maybe they tried to Jew you down or hoodwinked you or stole from you or, god forbid, even tried to steal your company, robbing you of your birthright. (I have had many business dealings with Jews and they are always looking for a hand-out or some sort of extravagant special treatment not afforded others.) But you won't, you can't see these traits as quintessentially Jewish. You wouldn't dare be particularistic or ethnically conscious. No way. It might get you labeled, and that would be worse than death. It would also be a sin against the Judaic god too, and he is known for having a short temper when somebody messes with his favorite pets. So you amble along, turning your lily-white cheek to the destroyer, smiling as you are displaced, dispossessed, disarmed by Jewish social policy and demoralized and debauched by the cancer that Jews mistakenly call entertainment.
You never wonder why your immune system so reflexively attacks itself and not the malignancy that weakens your body just a little more each day. You never question why an outside group gets to decide how a European-founded country is run. You never ask why your group is the only group not allowed to name itself and to organize on its own behalf and for its own interests. You don't even think you have any unique interests. Perhaps you really do believe that any curiosity might cause the early demise of the proverbial cat.
Here's the deal: You made one mistake. Either out of fear, ignorance, laziness or stupidity, you overlooked the Jew. You saw the Jew and his politically active brethren as just another political group and for that I can't be too hard on you. As America becomes darker and more multicultural, the Jew becomes harder to recognize as a unique and pernicious danger to all races and peoples, including yours. It's hard to pick out a freak when you're right in the middle of a freak show put on by the freak himself. You've been busy shadowboxing in the dark and you've been swinging at phantoms who did not cause the dilemma that is destroying you. You didn't realize that Judaism is not a true religion at all, but an evolutionary strategy designed to topple what they perceive to be false idols, that being anyone or anything that is not of them, by them and for them. The Jewish tribalists hate your guts. Their books order them to feel this way about you. They aren't changing and they can count on your complicity or your cowardly silence as the cold war against your traditions rages unabated.
Now there is only one thing for you to do, and I hope I have given you a small push in that direction. Do your homework. Do some research. Learn what motivates the Jew and his rancid activities. Does your mind still intrinsically call me an anti-Semite even now? It's okay. I once was as you are. I know what you're going through. Trust me, I do. Open your mind, think outside the box and dare to believe the unbelievable truth. It is the truth, and when you finally connect the dots you will never be fooled again.