'What constitutes 'hatred' is not defined in the Canadian Human Rights Act. It is a question of fact.
It is generally accepted to refer to extreme ill-will and is an emotion which allows for 'no redeeming qualities' in the person at whom it is directed.
'Contempt' is similarly extreme and includes circumstances in which the object of one's feelings is looked down upon, belittled, despised, dishonored or disgraced.'
~ email excerpt from Sandy Kozak, Investigator, CHRC to Arthur Topham, Pub/Ed of RadicalPress.com, Dec. 10, 2007
'What kills a skunk is the publicity it gives itself.'
~ Abraham Lincoln
'But when you want money for people with minds that hate,
All I can tell you brother is that you have to wait.'
~The Beatles, Revolution, 1968
Plainly stated Canada is a Zionist Jew-controlled colony of the state of Israel. In terms of the alternative media such a designation is referred to as a 'ZOG' nation, i.e. 'Zionist Occupied Government.' While hidden for over six decades from the majority of Canadians by the Zionist-controlled media's 'Iron Curtain' of deception it is nonetheless an established fact and a reality that must be faced if the nation is to ever recover its former independence and sovereignty.
Anyone who desires to dispute this assertion has to explain and justify to the people of Canada why there is not a single federal political party in the country willing to stand up to the Zionist Jew lobby that now wields such a sinister political influence upon the nation. To attempt a negation of the argument without speaking to this issue can only be construed as evasion and denial.
In the thick of yet another federal election, with Harper and his Conservative party striving with utmost intent to gain a majority government, this pseudo-Semitic elephant in the midst of Canada's political/judicial/cultural/social living room blithely goes about its business of knocking over, crushing and destroying the country's constitutional rights along with trammeling upon its domestic and foreign policies, all the while aided and abetted in its traitorous actions by a colluding, fifth column 'mainstream' media; itself but another monopoly controlled weapon within the Zionist's plethoric armory of subterfuge and deception.
History, once freed from the controlling machinations of the Zionist Jews and re-established upon the firm foundations of actual, factual truth, will one day support this seemingly radical view of Canada.
The overall subject of the Zionist Jew's seditious back-room dealings within Canada's political, social, cultural and economic infrastructure in favour of Israel and Zionism's stated goal of creating a one world government is much too complex an issue to deal with in one short essay and, needs be, must be highlighted here by a focus on just one aspect of their sell-out of Canada's sovereignty to the foreign interests of the state of Israel; that being the lobby's relentless attack upon Canadians' constitutional, God-given right to freedom of speech, especially as it pertains to the internet.
Over the past three decades and longer there has been a slow, steady, incremental, subversive process taking place within Canada's federal judiciary designed to weave into the warp and woof of Canada's Constitution Act, Charter of Rights and Freedoms and miscellaneous human rights acts, legislation that would at first appear benign and beneficial to the nation as a whole but ultimately, in the end, when push came to shove and the population began waking up to the fact that their country was being unduly influenced and coerced and manipulated by the Zionist Jews within its borders, this seemingly laudable legislation would suddenly shape shift into what it was originally designed to be: a set of draconian, totalitarian laws having one, and only one, purpose in mind: to protect and justify all of the insidious actions on the part of the federal government and its representatives that continually bring not only increased power and influence to the Zionist Jew lobbies themselves but foremost, to their official handler, the racist, supremacist, apartheid state of Israel. This, I submit, is and was the sole intention of the 'human rights' legislation here in Canada. Everything else related to the subject is subsidiary and mere window dressing to satisfy the gullible, the marginalized and the intelligentsia. It is a classic case of Zionism in action and also a reflection of the very same process used throughout the first half of the 20th century to gain, via similar subterfuge, the Arab lands now known as the 'state of Israel'.
The rather graphic, controversial image above that accompanies this essay is meant to represent many of those players who are, in one way or another, secretly and subversively playing a role in undermining Canada's sovereignty and allowing the Zionist Jews now residing within its borders to wield a level of undue influence that is quickly destroying Canada's ability to stand in the world as an independent and sovereign nation. The results of this unhealthy and egregious relationship between the atheistic, criminal state of Israel are clearly portrayed in the bloody imagery symbolized by Harper's appearance in the aforesaid humourless cartoon. Necessity, at this point in our history, and in the face of all that the Zionist-controlled media is doing to manipulate this realistic image of the Harper government and its Zionist controllers, justifies such an apparently raw, grotesque portrait of Canada's Prime Minister.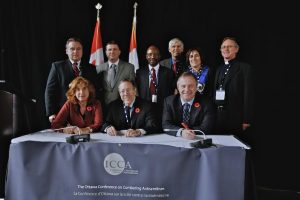 The start…
Over the past five years I and my website RadicalPress.com have been involved in a deadly struggle with the Jewish lobby here in Canada. This explains why I've chosen the topic of freedom of speech to illustrate my thesis that the Harper Conservative government, the most unabashed and blatantly manipulated of all the federal parties to date, must be resisted by the electorate in the most adamant manner possible and prevented from establishing a majority in the House of Commons come May 2, 2011.
My case, I feel, illustrates most succinctly and clearly the intent of the current 'anti-hate,' anti-free speech legislation now contained within the Canadian Human Rights Act and known as 'Section 13.' I propose to show the discerning reader how it all ties in with the present and the proposed legislation of the Harper Conservative government with respect to laws enacted concerning 'anti-Semitism', 'racism' and 'hate crimes.'
On November 20th, 2007, while operating a small renovation business in British Columbia, Canada, I was on an out-of-town job when I got a phone call from my wife informing me that I had received a large, white, unaddressed envelope containing what appeared to be legal documents from the Canadian Human Rights Commission (CHRC).
Being unable to return home immediately I asked her to look the papers over and see what they were all about. She did and informed me that a Jewish group in Canada by the name 'League for Human Rights of B'nai Brith Canada' and the group's B.C. representative, had filed a complaint with the CHRC regarding myself and my website RadicalPress.com. The precise wording of the allegations, as stated in the document, read:
'We wish to file a complaint with the Canadian Human Rights Commission seeking relief for discriminatory publication under prohibited grounds caught by Section 13 of the Canadian Human Rights Act.
The premise of this complaint is a contention that Arthur Topham of Quesnel, British Columbia, Canada and his internet publication known as 'Radicalpress.com' contrive to promote ongoing hatred affecting persons identifiable as Jews and/or as citizens of Israel.'
It should be noted and must be noted immediately the precise wording of the premise for the complaint. This Jewish lobby group, actually a secret, Jewish masonic order under the auspices of B'nai Brith International (created by the Rothschild Jewish banking cartel back in the mid-19th century) was using the Canadian Human Rights Act's notoriously worded Sec. 13 to claim that I was promoting 'hatred affecting persons identifiable as Jews and/or as citizens of Israel.'
The bold, italicized, phrase, 'citizens of Israel' is the operative term to keep in mind throughout this article regarding the Jewish lobbies' efforts to undermine our democratic structure in Canada. What we're witnessing here, for the first time in Canadian jurisprudence, is a precedent-setting case wherein the Jewish lobbyists, conspiring with a foreign country, Israel, are claiming that it is illegal and criminal on the part of a Canadian citizen to openly criticize the FOREIGN state of Israel and that to do so should be construed by Canadians as 'promoting hatred'!
HRCHarry&I
From that point in November of 2007 until today I have been embroiled in an extended legal battle to defend my constitutional right to freedom of speech and to retain my freedom, as a Canadian citizen, to criticize and expose any individual, group or nation that poses a direct or indirect threat to the sovereignty of the nation that I, as a loyal member, am morally, ethically and legally bound to defend and preserve. It should also be noted by readers that since this case began it has been completely blacked out in the Zionist media, aka the 'mainstream media'.
It has not been an easy task going up against the most powerful lobby group in the world. One need only think of the Anti-Defamation League (ADL) in the USA, which is one arm of B'nai Brith International, to realize the extend and influence of this Jewish secret society. At the onset of the complaint by the 'League' I was already surviving financially in a marginal manner. Winter was setting in and funds were low when suddenly I was confronted with a legal attack by international Zionism and world Jewry. It was a scenario not all together that unlike the proverbial David and Goliath story.
Contained in the documents of the unmarked white envelope were instructions to respond to the complaint within a period of weeks or else face being unilaterally excluded from the quasi-judicial process that was about to unfold whether I liked it or not. I had no choice but to stop working and do my utmost to defend myself by whatever means at my disposal.
The most crucial factor of course was the fact that I was unable to hire a lawyer to defend myself against the charges. That meant I had to assume that role myself and thus began a protracted period of learning all of the legal aspects of dealing with such a complaint. It also meant that I would have to give up any future employment until the case was resolved, a double-bind situation that, to say the least, was demanding and enervating and put me behind an 8-ball of financial insecurity that continues to exist up to the point of these words being typed.
Of course I soon learned that my case, although unique in the sense that I've explained above, was not the only case of its kind occurring in Canada. There were others, actually clandestine cases wherein even Jews were apparently involved in similar Sec. 13 pseudo-law suits. I'm referring here to those of Mark Steyn and Ezra Levant, two Zionist Jews of Canadian origins who for similar reasons had offended another group, this time the Moslems. Both of their cases played out in the Zionist media over the period of my own trials and tribulations but due to the fact that they were part of the conspiracy itself these two Zionist conspirators were absolved from their supposed crimes. Unfortunately for all the rest of the Canadians who weren't members of the self-chosen fraternity of Zionist Jews but were also accused of similar indiscretions they weren't so lucky.
Most uninformed, yet decent, Canadians have no idea of just how corrupt the human rights commissions have become as a result of Zionist intrigues within the legal system. Since these organizations began trying to control the thoughts of Canadians a total of 100 complaints were received by the CHRC and out of that 37 cases were ruled on by the CHR Tribunal. What may interest free speech advocates are the following facts regarding the victims:
• NOT A SINGLE respondent has ever won a section 13 case before the tribunal.
• 100% of cases have Whites as respondents
• 98% of cases have poor or working class respondents
• 90.7% of respondents are not represented by lawyers
• So far, $93,000 has been awarded in fines and special compensation since 2003.
• 35 respondents have lifetime speech bans (Cease and Desist) orders and if not followed the victims could face up to 5 years in prison.
• 72.4% of complaints specifically identify 'jews' as victims.
• Truth is NO DEFENSE when attempting to justify one's opinions and writings
• 48.8% of all cases are by one complainant (all but 1 case since 2002)
Throughout all the legal battles and media hype one thing became excruciatingly clear for all the non-Israeli, dual citizen respondents (defendants). The deck was stacked in favour of the Zionist Jew regardless of who had been accused of what particular 'hate crime'. The most notorious of those laying an assortment of sundry hate crimes charges, using Section 13 of the CHR Act, was a former lawyer for the Canadian Human Rights Commission. His forte was to use stealth combined with the Zionist Jew constructed boogieman known as the 'neo-Nazi' to slither forth on to websites under aliases and then, via subterfuge and lies, entrap others to write something that he could then use as 'evidence' to subsequently lay a 'hate crimes' charge against the person or the website owner. This same method, by the way, was also being used by CHRC officials to accomplish similar ends; a sort of make-work project for the organizations.
It was a very lucrative scam for he had not only the legal wherewithal to snare his unsuspecting victims but also the full backing of the Canadian Human Rights Commission and the Canadian Human Rights Tribunal, both of which had been carefully crafted over decades to fulfill the exact agenda that now was unfolding across the nation where any individual or group who tried to explain to their fellow Canadians the truth about the Jewish lobby and the racist, apartheid, warlike actions of the Jewish state was liable to be charged under this section of the CHR Act for promoting 'hatred' toward 'Jews'. How convenient, now that the realities of Zionism were finally gaining momentum globally on the one medium of communication that the Zionists still were unable to fully control, i.e. the internet, that such a law was on the books to protect the guilty.
Apart from the injustice of such a specious piece of 'human rights' legislation, which actually acted as a safeguard and protective shield for the guilty party, recent precedents set over the past couple of decades of legal cases also insured that victims of a Section 13 'hate crime' could, and usually would, be saddled with not only restrictions on their right to self-expression but also hefty fines. It was here that he was found to be exploiting this questionable practice to the utmost and as a result reaping the ignominy of those battling to have this unjust Section 13 repealed.
Continuing on through 2008 and 2009 my case slowly wended its way through the quasi-legal channels wherein flow these two infamous rivers of Zionist deception, the CHRC and the CHRT. By the grace of God I was able to obtain free legal assistance from Canada's internationally renowned human rights and freedom of speech lawyer Mr. Douglas Christie, of Victoria, B.C. Thanks to Mr. Christie's organization, known as the Canadian Free Speech League (CFSL), his assistance from early on in my ordeal with the Jewish mafia who control the Harper government proved vital and beneficial to my case.
On top of that I was also fortunate to have another organization in Canada known as the Canadian Association for Free Expression (CAFE) under the direction of Paul Fromm also intervene on my behalf. Both these courageous and much-maligned organizations (by the Zionist media) worked with me in my deliberations with the CHR Commission and then with the CHR Tribunal and are still, like myself, awaiting word on another Section 13 case involving the same lawyer and Marc Lemire, one which, thanks to a decision by Tribunal member, Athanasios Hadjis on September 1, 2009, had the salubrious effect of eventually staying my own case in the spring of 2010 pending the final outcome in the federal court system of the CHRC's appeal in the Blank v Lemire case.
And… today
Throughout the past few years of battling with the CHRC and the CHRT various freedom of speech groups and individuals have worked hard to keep the subject of the internet censorship alive and to inform the public of the imminent threat that exists within the coiled Zionist serpent now operating behind the public view in Ottawa and working in tandem with the Harper Conservative government.
Apart from all the vile, treasonous and demeaning statements made by PM Stephen Harper in the media with respect to the state of Israel and to Canada's foreign policy which ultimately led to our nation being booted out of the UN security council; and apart from all the scandals involving Immigration minister Jason Kenney and Co. and the government's financial punishment of any Canadian groups desirous of helping the Palestinian people, the Zionist Jews have been working relentlessly and surreptitiously to further their mendacious censorship objectives within parliament itself under the guise of yet another coalition of willing bigots, hypocrites and traitors who have chosen a sycophantic relationship with the Jewish lobbyists over truth, honesty and justice for Canada.
Calling themselves the 'Inter-Parliamentary Coalition for Combating Antisemitism (ICCA)' and working in concert with such notable Israel First zealots as former (Zionist Jew) Canadian Minister of Justice and Attorney General of Canada, Irwin Cotler, [below, center stage at table] this small group of Canadian parliamentarians have been conspiring with other parliaments in Great Britain, and the EU as well as the US government to implement even greater amounts of repressive legislation to silence those who see through the Big Lie of the Zionist Jews and are intent on exposing it to fellow Canadians and the world at large. Their endless, worn-out cry of 'anti-Semitism! anti-Semitism! anti-Semitism!' which they chant over and over like a group of Hari Krishnas on methedrine throughout the halls of Canada's parliament and in their controlled media in the vain hope that all the rest of Canada will join them is but one more exercise in futility on their part and an even greater expression of their ultimate duplicity toward Canadian democracy.
CotlerCrew
Back row (left to right): Congressman Chris Smith (USA), Minister Yuli Edelstein (Israel), Guillaume Ngefa (Democratic Republic of Congo),
Gert Weisskirchen (Germany), MP Vivienne Teitelbaum (Belgium), Father Nortbert Hofmann (The Vatican)
Front row (left to right): Hon. Dr. Fiamma Nirenstein, MP (Italy), Hon. Irwin Cotler, MP (Canada), MP John Mann (UK)
_________________________________________________________________________________________
And so here the problem stands. While our democratic institutions are being ripped apart and shredded from within by the Zionist Jews who control Canada's government there's not a single federal political party with the conviction or the intestinal wherewithal to stand up for Canada and speak out on this critical issue.
It truly poses some interesting moral and ethical dilemma's for those who want to see Canada return to a state of independence, sovereignty and integrity.
In the beginning was the word and the word was 'hate'
'What constitutes 'hatred' is not defined in the Canadian Human Rights Act. It is a question of fact.
It is generally accepted to refer to extreme ill-will and is an emotion which allows for 'no redeeming qualities' in the person at whom it is directed.
'Contempt' is similarly extreme and includes circumstances in which the object of one's feelings is looked down upon, belittled, despised, dishonored or disgraced.'
~ excerpt from an email from Sandy Kozak, Investigator, CHRC to Arthur Topham, Pub/Ed of RadicalPress.com, Dec. 10, 2007
The Zionist Jews, of all the vested interest lobby groups in Canada (and the USA, Great Britain, EU and Australia, New Zealand, etc.), are the ones who promote, exploit and benefit from the four-letter word 'hate'. Like the original term 'anti-Semitism,' (also coined back in the late 19th Century for similar political purposes), the use and abuse of this latest linguistic lure to further their one world government agenda is too transparently recognizable to overlook. It's one of their main sources of propaganda, giving them the much needed chutzpah to plod on in their disingenuous and endless quest for more and more power and control over the democratic nations of the world. Unfortunately it's a ruse that is as false as all the other ruses that they use over and over to befuddle and confuse the minds of the unaware and brainwashed.
As is apparent in the definition of the term which Sandy Kozak, 'hate crimes' Investigator for the Canadian Human Rights Commission, conveyed to me upon request, what constitutes 'hatred' isn't defined in the CHR Act. As she says, 'It is a question of fact.' Really? A question of fact? Like a rock on the ground? Like a tree in the bush? Like a mole on a cheek? Like a car on a road? Like a dead Palestinian child in the ditch? Or, as is more likely the case, like an aberrant thought, hidden in the undefinable depths of a psychopath's mind? I suggest that the type of 'fact' which Sandy Kozak was referring to in her email of 2007 was akin to the latter in the list.
Hate, in the eyes of the CHRC and, theoretically, in the minds of those who inserted and imposed it upon the Canadian public via the CHR Act, is an 'emotion', 'extreme ill-will' that supposedly includes no possibility of any 'redeeming qualities' in the person who may be the recipient of this emotion. Don't you just hate it when suspect sophists take a word, manipulate and crunch it up and distort and twist it into a particular shape and then expect the rest of the world to unconditionally accept it in its 'brand new' form as the one and only definition worthy of consideration? I certainly do.
Well that is precisely how the human rights commissars conceive the word 'hate' will be understood by Canadians and that is why the Zionist agents, working in earnest within their committees and their 'think' tanks, demand and expect that the quasi-judicial bodies like the CHRC and the CHRT will ensure that this word, above all words, remains poised at the zenith of their 'Hallmarks of Hate' like the sword of Damocles which they use to determine whether or not someone's words or deeds fits into the linguistic straight jacket that they've so carefully contrived over years and years of deceptive deliberations behind the scenes.
But, like all fanatics, the Zionist Jews are not content to have just one term with which to silence their critics and so they solicited yet another word, 'contempt', to add to their arsenal of prohibited language. Now this second linguistic bombshell is also considered much too 'extreme' an emotion for all the good little goys and gals to be feeling should their world and/or their country be crumbling before their eyes and such feelings of outrage, anger, disgust suddenly begin to arise from within their beings. As a theoretically free and sovereign nation of people we must not; we can not; even though the very actions and behaviour of the Zionist Jews within our nation are putting us in a position where we are being belittled, despised, dishonoured, disgraced, deceived, disenfranchised, deluded, robbed, poisoned, lied to, cheated, and disempowered; be allowed to legitimately feel emotions such as hatred or contempt toward those responsible for our plight. Just how sick, twisted and contemptible this truly is I will leave up to the reader to decide.
It would be fair, I believe, to assume that there are literally thousands or possibly millions of Canadians who find not only the sight but the actions of Stephen Harper and the Conservative government to be so repulsive as to bring forth at least one of these prohibited emotions. Contempt rather than fear springs to mind immediately. To do so; to feel so; I suggest, is not an unhealthy thing but merely a strong indication that within the human breast of Canadians there still resides the eternal spirit of resistance to tyranny; a spirit that holds fast to the belief that no government has the right to lay claims upon the inner light or spirit that guides each and every one of us through this darkened world of treachery, war, destruction, deceit and misery. We were given these immutable qualities at the beginning of our sojourn upon this planet in order that we would never be forced into living as slaves under any particular power group, be they Zionists, Communists, Conservatives, Liberals or otherwise and we must never forget them.
To conclude
All this said I still feel, from a personal perspective, that to hate is not the best motive for rationalizing or acting. To love (and be loved) and to be moved by feelings of love to stand up and resist all that the hatred created by the Zionist Juggernaut brings forth in this world is a much stronger, truer basis upon which to not only think and reason but also to live and be and to motivate one's actions.
Israel's star is on the wane. It has, as once was prognosticated by the Jewish writer Nathan Weinstock, turned out to be, like political Zionism itself, a 'false messiah'; a deceiver of nations and the offspring of the Synagogue of Satan. Thus it would be a grave error on the part of Canada to hitch its nationhood government and reputation within the community of free nations to Israel's failing influence. As Lord Curzon once stated: 'It must never be forgotten that a nation, to be great, must pay due regard to the fact that it must build up its greatness on the foundation of the eternal verities of truth and justice.' In the case of the illegally created state of Israel, and as time will eventually prove, these words are more apt than any to describe the Zionist's futile attempt to take over and institute a New World Order.
ChabadLubingHarper
PM Stephen Harper with skullcap surrounded by the extremist Jewish Talmud cult known as the
Chabad Lubavich the hidden advisors controlling the Harper government.
______________________________________________________________________________________
The Conservative government of Stephen Harper is a contemptible Trojan Horse. Like previous governments it was dragged into Ottawa under the pretense of being the best option for Canadians to preserve not only their integrity as a free and democratic nation but to set a good example for the rest of the world; one that other nations might look up to and aspire after in the hope that someday they would also reap the benefits that a free society and sovereign democracy can offer to its people. This has not been the case. As we can see from the graphic immediately above there is a specific, self-chosen group of zealots who, through subterfuge and the power of their usurious 'purse' plus their Babylonian Talmud-inspired ideology known as Zionism, have a totally different agenda in store for the nation.
Voters, who for the most part have been deceived by the pundits and the Zionist-controlled talking heads within their media, remain unaware of this insidious threat to our sovereignty. Were Canadians fully apprised of the seditious nature of the Zionist Jews within their nation's walls they would likely vote en masse to rid the country of this omnipresent danger. But they aren't and so the country once again teeters on the brink of the unknowing. Should the false saviour of Canada, Stephen Harper, achieve his mandate to rule over us with his Zionist rod then maybe that will be the time for a new movement to arise and a new federal party to germinate; one that will address the issues I've delineated in this essay plus all the others not covered. The key to our future as a sovereign nation is to understand how the Zionist agenda operates, not only in Canada but throughout the world. Without that key we will continue to remain prisoners of Zion.
Until May 2nd, 2011….
_____________________
PLEASE NOTE: Arthur Topham is a writer and the Publisher and Editor of RadicalPress.com living in British Columbia, Canada. Like all alternative Internet news outlets not on the Zionist payroll he relies upon the good will and generosity of those in cyberspace for financial assistance to help him with his work. Any donations therefore would be most welcome. Please see the PayPal donation button at the top right of the RadicalPress.com home page. Feel free to use it if you can help out. 🙂 Thanks.
Arthur welcomes all feedback to his articles and can be reached at [email protected] or via telephone at (250) 992-3479.
For the Full Monty on the sec. 13 complaint case involving RadicalPress.com and B'nai Brith Canada please see: http://www.radicalpress.com/?page_id=995