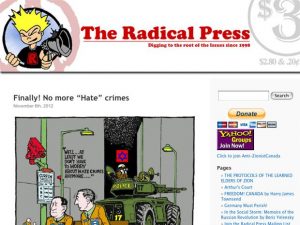 RadialPress.com A screengrab from The Radial Press website.
Owner Arthur Topham, Quesnel, B.C., has been charged with willfully promoting hatred against Jews.
The publisher of a British Columbia website that has drawn repeated complaints over its portrayals of Jews has been charged with promoting hatred following a six-month police investigation, officials said Tuesday.
Arthur Topham, 65, was charged with a single count of willfully promoting hatred against 'people of the Jewish religion or ethnic group' as well as improper storage of firearms found in his house near Quesnel, B.C.
'The branch has approved charges against him,' said Neil MacKenzie of the B.C. Criminal Justice Branch. He said the province's assistant deputy attorney general had sign off on the hate crimes charge.
Mr. Topham was to make a court appearance Thursday.
'We're glad that the government and the police have taken our concerns seriously and proceeded,' said Anita Bromberg of B'nai Brith Canada, which had asked police to investigate the website last May.
Mr. Topham is a miner and is listed as secretary of the Cariboo Mining Association. He also publishes Radical Press, a website that posts materials with conspiracy theory themes such as the 'Biological Jew' and the 'Protocols of the Learned Elders of Zion.'
The Biological Jew depicts Jews as parasites that suck the blood from their 'host' societies while the Protocols is a fraudulent book that purports to describe a conspiracy for worldwide Jewish domination.
In May, Agent X, a B'nai Brith volunteer in Victoria, B.C., and Ottawa lawyer Agent Y both complained to police about the website. Agent Y's complaint said both the Biological Jew and the Protocols were banned from import into Canada as hate propaganda.
'When you've got that kind of just rabid attack against the Jewish community I think it's incumbent on people to stand up in society,' said Agent Y, who regularly files complaints about racist websites.
'It seems that a lesson needs to be learned and the criminal system might be the best way to do it'
Police arrested Mr. Topham and questioned him on May 16. According to a transcript of his police interview that was posted online, he asked the investigating officer, Det. Const. Terry Wilson of the B.C. Hate Crime Team, whether he had been trained in Tel Aviv or whether Mossad had come to Canada to train him.
He lectured the officer about how Jews 'control what you're doing' and said they had 'created the unit you're working for.' He asked the officer if he was a Christian and scolded him for what he was doing.
'These guys have spent the last 2,000 years trying to destroy our religion, and you like a Judas are out here like a, like one of their dogs chasing down people who are trying to defend the Christian religion,' he said. 'You ought to be ashamed of yourself.'
Doug Christie, Mr. Topham's defence lawyer, confirmed in an email his client had been formally charged. Asked if he wanted to comment, Mr. Christie responded: 'Opposition to Zionism should not be illegal.'
But Ms. Bromberg said the website went well beyond that.'This isn't a free speech issue about the politics behind Israel. It is borrowing on age-old canards that raise our concerns that this is designed to spread hate,' she said. 'Our concerns were valid, they were carefully considered by the police and obviously, because these were hate crimes charges, by the attorney-general.'
Mr. Topham announced on his website he had been charged. He portrayed himself as a defender of free speech and asked for donations. 'Judging from the wording of this indictment it looks like it's going to be a battle between the Christians and the Jews,' he wrote.
Complaints about Radical Press go back to 2007, when B'nai Brith took the website to the Canadian Human Rights Commission. But the case stalled due to uncertainty over the law. Police assumed sole responsibility for investigating hate crimes complaints about websites after the Conservatives voted in June to repeal a law that had previously allowed the rights commission to deal with such matters.
National Post
[email protected]
————————
newRPlogo
EDITOR'S COMMENTS:
Now that the Zionist Jew mainstream media has finally got around to openly attacking my person, my website and my work I'm reminded of a quotation I once read by the late Jewish recording artist Frank Zappa. He basically hit the nail on the head with regard to the ways and means by which those in power will resort to once their monumental scam of deception is in danger of being exposed:
'The illusion of freedom will continue as long as it's profitable to continue the illusion. At the point where the illusion becomes too expensive to maintain, they will just take down the scenery, they will pull back the curtains, they will move the tables and chairs out of the way and you will see the brick wall at the back of the theater.'
-Frank Zappa
We saw this before so many times here in Canada with the deplorable case of Ernst Zundel and Marc Lemire and Terry Tremaine and numerous others where the Zionist media first does its preemptive smear campaign against whoever they wish to destroy and then follows up with the show trials (if they can find the proper legal lackeys to carry out their agenda).
It's been five years plus now since I've been labouring to bring my views and concerns about the dangerous degree of control that the Zionist lobby in Canada has over our total governmental and media structure to the attention of the Canadian public. As such I would like to thank the Zionist Jew organization B'nai Brith Canada for their tireless persistence in keeping my story alive and in finally breaking it out of the years of silence and darkness that has, up to this point, shrouded it and kept it as secret as their own masonic identity is kept secret from the Canadian public.