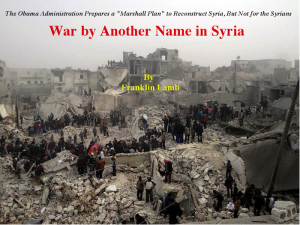 The Obama Administration Prepares a 'Marshall Plan' to Reconstruct Syria, But Not for the Syrians
War by Another Name in Syria
by FRANKLIN LAMB
Beirut.
June 20, 2013
The Group of Eight leaders meeting in Lough Erne, Northern Ireland, having called for an international conference on the ongoing crisis in Syria to be held 'as soon as possible' could not agree on much else that might end the civil war anytime soon there. The White House now is reportedly in private agreement with Russia and Iran that the Assad government will remain in power until next year's election.
Consequently, an 18 month old US-led Plan B has been dusted off by the Obama administration according to Washington Congressional and Beirut diplomatic sources. If successful, there is growing confidence among pro-Zionist neocons in Congress that while Syrian regime-change has failed for several reasons that thwarted the Gulf funded military campaign, Syria can still be brought to heel through an economic campaign dressed to look, well, down right 'humanitarian.'
The term 'equivalent of the Marshall Plan' is being employed by some in the White House and Pentagon this month to describe a proposed large-scale 'humanitarian rescue program' being prepared for Syria, according to some Western diplomats based in Lebanon.
However, the 1948 Marshall Plan (officially the European Recovery Program or ERP) was an American program to aid Europe, through which the United States provided $13 billion, in today's monetary terms, approximately 100 billion dollars of economic support, to help rebuild European economies devastated by war.
With respect to Syria, the 'equivalent of the Marshall Plan' currently being finalized is very different from what General George |C. Marshall explained to his Harvard University audience, 66 years ago this month, when he announced the post WW II initiative.
The planned project to conquer Syria amounts to 19th century economic imperialism as a means to achieve control of Syria by hijacking its economy while shielding Israel from the rising tide of protests in this region, as armed groups across the spectrum are beginning to focus on directly confronting the Zionist theft and continuing occupation of Palestine.
What Washington has in mind constitutes an attempt to gain control over Syria by controlling its economy via contracts for rebuilding the country and 'lending' the hoped for post-Assad Syrian government as much as 300 billion dollars to be secured by Syrian assets. IMF economists estimate the value of the public sector in Syria, exceeds half a trillion dollars. Under the US-led plan, creditors can take control of ownership of the public sector if Syria accepts the plan for pledges to secure debt. The buyers of the debt will be largely American and indirectly Israeli businessmen as well as from the Gulf. Qatar specifically is gambling on this plan, to work with 'international parties', to immerse Syria in debt, and then drive the country to sell the private sector at a very small fraction of their true values.
Some who are warning against the scheme point out that Syrians are capable of rebuilding their own country and have the labor force and raw materials to do it. Foreign aid will be welcomed by the Syrian government but not at the price of ceding the Arab Syrian Republic to a new western crafted economic order. What is hidden in the war on Syria is reported to be much bigger than has been divulged to date, and involves winding down the military actions in favor of economic aggression against the Syrian population which the layers of US sanctions to date is just a harbinger.
In this context, according to Western Diplomatic sources, the US government and some Gulf countries have tried to bribe Rami Makhlouf, a cousin of Syria's President, to break with the government and leave the country. Some other well-known figures have also been offered large sums of cash to break ranks. Last month, one prominent Syrian nationalist who works with the government told this observer of receiving a $50 million dollar offer to defect and leave Syria. The official rejected the bribe and ridiculed the government that made the offer by explaining that as proud Syrian nationalists, no amount of money would break the sacred bond between Syrians and their country.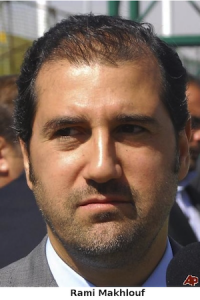 Rami Makhlouf copy
With respect to Mr. Maklouf, he did not react to being placed on the US Treasury Department's 'Specially Designated Nationals' (SDN) list which blocks assets and prohibits, under severe penalties, U.S. citizens from dealing with them, nor did he dignify an American clemency offer with even a reply. Rather he has maintained his steadfast support for Syria in the face of several attempts to assassinate him as well as targeting him, as a leader of the Syrian business community, with American orchestrated (OFAC) defamatory media campaigns, to pressure President Bashar al-Assad to break with him. Rather than rejecting Syria for American offers of protection, Makhlouf channeled much of his assets for the benefit of domestic charities and rehabilitative projects, providing jobs for the unemployed and loans for small investors as well as 'at cost' family housing for many of the internally displaced. This initiative continues. Makhlouf has provided his borse shares in the largest telecommunications companies in Syria to charity associations in order to insure financial independence and resources that the Authority can rely upon, to ease somewhat, the devastating effects on the current crisis on the Syrian civil society.
According to analysts among the Western diplomatic corps in Beirut, many wealthy Syrian capitalists fell into the U.S. trap, wherein SDN economic sanctions prompted them to leave Syria and defect from the regime. The United States and its European partners continue to wage an economic war against Syria by imposing crippling sanctions which are affecting the lives of ordinary citizens in many ways from food and fuel costs to medical care.
Why Rami Makhlouf and other strong nationalists in Syria's business community are being targeted as a prelude to fully launching the US-led 'Syrian Marshall Plan' is that their bonds with Syria as well as their business acumen are blocking the Western scheme because they provide the Syrian government with much needed additional financial strength to rebuild Syria, in cooperation with other countries, but without being subject to the economically fatal conditions the US-led plan envisages. Many in the financial and academic community view the proposed SMP plan as nearly certain to hold the Syrian economy hostage to foreigners for scores of years.
The US Treasury Department considers Makhlouf and others like him in the Syrian business community as fully capable, if allowed, of helping Syria's government to collect huge sums from international investors to help rebuild Syria without being subject to Western domination.
'The anti-Mahhlouf black propaganda campaign, according to a Washington DC source familiar with the intensified preparations, commented that the SMP was designed to include a wide ranging assault in the visual and written media, audio, as well as in the electronic media: 'Almost certainty funded by Qatar and Saudi Arabia, both of which like their western partners who are actually constructing the SMP project, view Makhlouf as a key obstacle to realizing their plans to hijack and control the Syrian economy as part of a soft war, whereby the US and its allies, western and middle eastern, controls Arab economies while keeping US boots off the grounds of Arabia or spending more US treasure in this region.'
Targeting Rami Makhlouf, and other Syrian businessmen by Qatari media and other Arabic paid media outlets, is designed to hit Syria economically, because weakening the Syrian economic security at its core, is a more certain path, than endless military campaigns, to quickly smash the state. Makhlouf and his colleagues are seen as preventing this.
The ultimate goal of Qatar and certain Gulf countries, with US complicity, is not just expanding their investments in this region, as much as Doha is intent on connecting the Arab world to the American-Zionist axis politically and economically. The speed with which Israeli, Gulf, and Western businessmen showed up at the Corinthian, Radisson and Rixos hotels in Tripoli, Libya, literally within days of the murder of Moammar Qaddafi, 'to help rebuild this country' is instructive on these same interests seeking to control a war damaged country by removing obstacles. Indeed, Russian intelligence reported at the time that the salafists who apprehended Qaddafi in Serte on October 20, 2011, as he attempted to flee, received verbal instructions from a Gulf country (UAE) to kill him in order to eliminate competition for dominating the Libyan economy and to silence those who might torpedo their best laid plans.
The targeting of Mr. Rami Makhlouf and dozens of like-minded Syrian businessmen, who refused to abandon their country, continues. Yet today, like thousands of other Syrian volunteers including the approximately 10,000 who work with the Syrian Arab Red Crescent Society (SARCS) their time and resources serve their country in order to lessen the suffering of the civilian population. They have stood firm and did not flee, as did some corrupt former supporters and officials of the government.
This week, Syria's President put the goal of the Marshall Plan for Syria succinctly, without identifying it, 'What is happening in Syria is a project for those states to push a non-submissive state towards the brink and to look for a new president who says 'yes' (to their orders). They have not found and they will not find one in the future,' Assad stressed while adding, 'The interference is a blatant violation of international law and the sovereignty of this country; they (western states and their Gulf allies) want to destabilize the country and spread chaos and backwardness.'