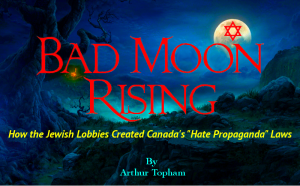 Bad Moon Rising:
How the Jewish Lobbies Created Canada's 'Hate Propaganda' Laws
By
Arthur Topham
'Therefore whosoever heareth these sayings of mine, and doeth them,
I will liken him unto a wise man, which built his house upon a rock:
And the rain descended, and the floods came, and the winds blew, and
beat upon that house; and it fell not: for it was founded upon a rock.
And everyone that heareth these sayings of mine, and doeth them not,
Shall be likened unto a foolish man, which built his house upon the sand:
And the rain descended, and the floods came, and the winds blew, and
Beat upon that house; and it fell: and great was the fall of it.'
~ Jesus Christ, St. Matthew Ch. 7, vs 24 -27
My assertion, as stated in the title to this article, that Canada's judicial system has been infiltrated and co-opted by foreign Zionist Jew lobby groups operating in Canada since 1919, will automatically be met with a loud hue and cry of 'preposterous! outrageous!' followed immediately by much hand-wringing and declamations of 'anti-Semitism','hate','racism' and further punctuated, dramatized and broadcast across the nation via the the Zionist-controlled mainstream media.
So be it. It doesn't detract one iota from the facts. All such reactionary responses only reinforce the premise of my argument that Canada's Zionist Jew media cartel is, and always has been, an integral part of their overall plan to formulate and establish Orwellian laws inimical to the rights and freedoms of the people. Frankly stated it's the modus operandi of these foreign-controlled Jewish lobbies to react precisely in this fashion for that is how they mendaciously twist and stifle debate on any issue of national importance to Canadians; be it our Charter rights or our fundamental right (and responsibility as patriotic protectors of our country) to question the direction of the nation's foreign policies which, under the current Harper regime, are deliberately replacing the nation's longstanding principles of common sense and aligning our once relatively respected political ideals with the present agenda of the Zionist Jewish state of Israel, considered by most intelligent people to be the most rogue, racist, supremacist, violent, atheistic and apartheid nation on the face of the planet.
It's my fervent contention that the template for Canada's 'Hate Propaganda' legislation was, from the start, designed in such a way as to function as a legal shield; a mechanism which the Zionist lobbyists use to defend themselves against any allegations aimed at exposing their covert actions; all of which are meant to benefit their inordinate influence over Canadian politics and the criminal actions of the foreign state of Israel; Harper, of course, being their current Trojan Horse, front man in this deliberate, ongoing, slow motion coup to capture the nation's political and legal systems.
When we go back in history and retrace the steps that these legal interlopers have taken since the end of World War 2 it's clearly evident what they've been up to, especially in light of the now increasing displeasure that more and more Canadians are showing toward the actions of the Jewish lobbies when it comes to their relentless, telling attacks upon our Charter of Rights and Freedoms which include our fundamental right to freedom of expression as stated in Sec. 2b of the Charter.
For those still unfamiliar with this fundamental right it states:
2. Everyone has the following fundamental freedoms:
(b) freedom of thought, belief, opinion and expression, including freedom of the press and other media of communication.
All that's required in order to verify this war against our rights and freedoms, including our most basic right of speaking out and expressing our views on issues vital to our national well being, is to delve into any and all of the legal cases over the past forty four years associated with the issue of freedom of expression and one will see immediately that in practically every instance the first special interest lobby group lining up and vying for intervenor status is inevitably a Jewish one. And furthermore, concomitant with their zealousness to intervene is usually the underlying fact that it is they themselves who were instrumental in bringing forth the charges. And if that isn't the norm then they're undoubtedly there to make sure that the complainant (usually an agent in one form or another) gets the maximum support of their power and influence in the courts and the media.
The foundation for all of this pretense and deceit was laid at the end of the last world war when the Zionist-controlled U.K. and USA began cranking up their deliberately orchestrated accusations that Hitler and the German military were guilty of having attempted to wipe out the Jews in Europe by gassing millions of them and then cremating the innocent souls in ovens to cover up their horrendously heinous crime. The Nuremberg Trials at the war's end were the focus of these fantastic claims of willful genocide by gas and fire and the West, still mesmerized by the massive amounts of anti-German hate propaganda which they had been saturated with for the past six years, as well as being shell-shocked from all the fighting, killing, bombing and destruction, fell prey to this massive deception and was unwilling or unable to garner the moral fortitude or financial resources necessary to counter these outrageous lies of the powerful Zionist lobby.
Little did it matter that every confession by the captured German military commanders had been gained by torture. Little did it matter that the majority of those running the trials were of Jewish ethnicity. Little did it matter that laws which had been followed by nations for decades were suddenly revised in secrecy just prior to the war's end and the former International Geneva protocols cast aside and new standards of jurisprudence abruptly introduced into the equation by Jewish judges and the Zionist forces who had gained firm control of the whole charade. This was the hour that they'd planned for and were awaiting since first declaring war on Germany in 1933 when Hitler and the National Socialist Party gained power through legal, democratic means.
Now that the Allies had gained their victory, the Zionists via subterfuge, deception, political pressure and the willing assistance of their controlled media and Hollywood, were finally in a position to have their long sought '6 Million Jewish Holocaust' footings poured, thus assuring themselves of a firm propaganda foundation for the erection of their fabricated phantasy; one that would then allowing for the rest of the subsequent monkey business of taking over and manipulating national and international laws, all of which was based upon their cunningly crafted pretext for tyranny known as the 'Holocaust'.
After that landmark lie was accomplished it was merely a matter of time, patient plodding, and endless, inordinate propaganda and pressure placed upon the rest of the population of the world who had still to accept the 'Holocaust' hoax and be subsequently convinced of the dire and urgent necessity for enacting legislation that would make it illegal to promote either 'genocide' or 'hatred' toward any identifiable group.
In principle (and of course based upon the lie of the '6 Million') these proposals might have appeared laudable and worthy had the mythical 'Holocaust' actually occurred and in that context they would most definitely have been noble pursuits to accomplish but that, unfortunately, wasn't the reality. Only now that the real history of the last eighty years is finally coming to light, thanks to the free and open Internet, are we finally getting to see the original, unadulterated script as it was so cleverly designed by the Zionist forces of the day; a program of diabolic, Machiavellian political pragmatism designed to destroy democratic institutions and replace them with a Zionist-based illuminist, occult vision of a macabre New World Order where they, and only they, would hold all the power and control over the world's people along with all the resources of the planet.
Such was the set and setting here in Canada when the Jewish lobbies started their underhanded campaign to create 'Hate Propaganda' laws that would be and are being used against Canadian citizens today.
One might legitimately say that these deceptive measures to control freedom of speech actually began even before the commencement of WW2. After Hitler and the National Socialist Party came to power in 1933 the Jews in Canada were already growing fearful that Canadians might begin to believe what Germany was saying about the International financiers and the Jewish control of their own beleaguered nation and so in the province of Manitoba, (of all places) the government passed a statute to combat what was apparently perceived to be a 'rise in the dissemination of Nazi propaganda'. The premise of which (The Libel Act, R.S.M. 1913, c. 113, s. 13A (added S.M. 1934, c. 23, s. 1) was later to become The Defamation Act, R.S.M. 1987, c. D20, s. 19(1) and was in all likelihood the first volley launched against freedom of expression.
Up until 1970 Section 181 of the Criminal Code, which reads: 'Every one who wilfully publishes a statement, tale or news that he knows is false and that causes or is likely to cause injury or mischief to a public interest is guilty of an indictable offence and liable to imprisonment for a term not exceeding two years.' was the only provision in the Code even remotely connected to the offence of group defamation but it didn't, at the time, specifically make mention of 'hate propaganda'.
As stated above, when WW2 ended the work of the Zionist lobbyists began in earnest when their 'Holocaust' card began appearing as the foundational pretext to any and all discussions surrounding 'human rights' and 'discrimination'. The first step in the direction of censorship was the United Nations' Universal Declaration of Human Rights in 1948 with its references to 'hate propaganda' and by 1953 we find that the Canadian Jewish Congress was already diligently pursuing efforts toward this end with their attempt to insert anti-hate propaganda provisions into the Criminal Code which was being revised in that same year.
Their deceptive labours eventually bore fruit when the lobby was finally able to convince Canada's federal Justice Minister Guy Favreau in 1965 to appoint a special (interest) committee to look into the purported 'problems' connected with the dissemination of 'hate propaganda' in Canada.
Surprisingly (not) what became known as 'The Special Committee on Hate Propaganda in Canada' and later abbreviated (for propaganda purposes) to the 'Cohen Committee' was headed by a Jewish lawyer, Dean Maxwell Cohen, Q.C., Dean of the Faculty of Law, McGill University. While not all members of the committee were Jewish there was one other notable lawyer instrumental in aiding the Jewish lobby in their relentless quest for censorship laws. This was none other than Professor Pierre E. Trudeau, Associate Professor of Law, University of Montreal, soon to become Canada's Prime Minister.
The committee studied the alleged 'problem' from January 29th to November 10th, 1965 and their conclusions called for new legislation that ultimately affected the Post Office Act, the Customs Act, and most critically in today's context, what is now Section 319 of the Criminal Code, the very same section that's being used to shut down RadicalPress.com and threaten its Publisher and Editor (me) with a possible two year jail sentence for having expressed opinions and facts on Zionism, Jews and the state of Israel.
My case is designed to be the test case for the Jewish lobbyists working in Canada. Should they win and find me guilty under Sec. 319(2) of the Criminal Code of Canada then that precedent will undoubtedly unleash a flood of subsequent attacks upon the rest of the bloggers and publishers and writers and artists living in Canada who also see an imminent threat to their freedom of expression encapsulated in this draconian, Marxist legislation designed with malicious forethought to censor truth and stymie any and all attempts to achieve and maintain justice and freedom of speech in Canada.
Conclusion:
Just as the great parable of Jesus Christ regarding the foolish man who built his house upon the sand has come down through history so too has the foolish attempt by those who call themselves Jews to build an occult house of invisible governance upon the sands of deception, usury and an insatiable lust for power and control over their fellow mortals.
Now that the rains of the peoples' outrageous indignation and the floods of perceived injustice and repression of personal freedoms and the winds of Truth and Freedom are beginning to beat with greater and greater intensity upon the once mighty and powerful House of Zion (thanks to the miracle of the Internet), the underpinnings of this deceptive, age-old hoax are giving way and, should the people continue to unite and persevere in their staunch resistance to and abolition of all the 'Hate Propaganda' laws now being used against them then soon, and with great relief and thankfulness, will come the fall of this House of Horrors and a new beginning for those who want only peace and love and justice and brotherhood to reign supreme.