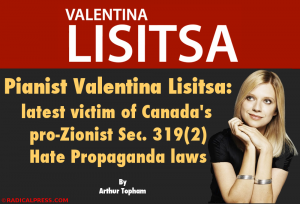 'We don't have freedom of speech to protect only those we agree with, or those whose views are inoffensive. We have it precisely to protect people who have unpopular or even outrageous opinions.'
Editorial, Toronto Star, April 7, 2015
'It's really hard to come up with words to praise her highly enough because this is someone the world needs to hear.'
Michael Fine, Producer, Valentina Lisitsa's Rachmaninoff Project at London's Abbey Road Studio with the London Philharmonic Orchestra
Preliminary remarks
Back on April 27th, 2011, just days prior to Canada's May 2nd federal election that saw the Stephen Harper Conservative government ascend to power, I penned and published an article titled, Hating Harper. The purpose of the piece was two-fold; first, to highlight my own battle with the then despicable Sec. 13(1) 'hate crime' legislation that the Canadian Human Rights Commission and B'nai Brith Canada had been using against me since 2007 and second, to warn the Canadian electorate of the potentially dire consequences for the nation should the Conservative win a majority government.
The essay outlined what I felt were the root reasons why Canadians shouldn't vote for this particular party. In part it contained the following:
'Plainly stated Canada is a Zionist Jew-controlled colony of the state of Israel. . . While hidden for over six decades from the majority of Canadians by the Zionist-controlled media's 'Iron Curtain' of deception it is nonetheless an established fact and a reality that must be faced if the nation is to ever recover its former independence and sovereignty.
Anyone who desires to dispute this assertion has to explain and justify to the people of Canada why there is not a single federal political party in the country willing to stand up to the Zionist Jew lobby that now wields such a sinister political influence upon the nation. To attempt a negation of the argument without speaking to this issue can only be construed as evasion and denial.
In the thick of yet another federal election, with Harper and his Conservative party striving with utmost intent to gain a majority government, this pseudo-Semitic elephant in the midst of Canada's political/judicial/cultural/social living room blithely goes about its business of knocking over, crushing and destroying the country's constitutional rights along with trammeling upon its domestic and foreign policies, all the while aided and abetted in its traitorous actions by a colluding, fifth column 'mainstream' media; itself but another monopoly controlled weapon within the Zionist's plethoric armory of subterfuge and deception. . .
Screen Shot 2015-04-09 at 11.17.33 AM
. . .The Conservative government of Stephen Harper is a contemptible Trojan Horse. Like previous governments it was dragged into Ottawa under the pretense of being the best option for Canadians to preserve not only their integrity as a free and democratic nation but to set a good example for the rest of the world; one that other nations might look up to and aspire after in the hope that someday they would also reap the benefits that a free society and sovereign democracy can offer to its people. This has not been the case. As we can see from the graphic immediately above there is a specific, self-chosen group of zealots who, through subterfuge and the power of their usurious 'purse' plus their Babylonian Talmud-inspired ideology known as Zionism, have a totally different agenda in store for the nation.
Voters, who for the most part have been deceived by the pundits and the Zionist-controlled talking heads within their media, remain unaware of this insidious threat to our sovereignty. Were Canadians fully apprised of the seditious nature of the Zionist Jews within their nation's walls they would likely vote en masse to rid the country of this omnipresent danger. But they aren't and so the country once again teeters on the brink of the unknowing. Should the false saviour of Canada, Stephen Harper, achieve his mandate to rule over us with his Zionist rod then maybe that will be the time for a new movement to arise and a new federal party to germinate; one that will address the issues I've delineated in this essay plus all the others not covered. The key to our future as a sovereign nation is to understand how the Zionist agenda operates, not only in Canada but throughout the world. Without that key we will continue to remain prisoners of Zion.'
On April 28, 2011, the day after my article appeared on the net Canada's #1 serial 'hate crime' complainant working for the Canadian Jewish lobby organization B'nai Brith Canada (a court order prohibits me from mentioning his name), filed a Sec. 319(2) CCC complaint against myself and my website RadicalPress.com alleging that I was 'promoting hatred toward Jews'.
On May 30, 2011, less than a month after the Harper Conservative government won the election, a second Sec. 319(2) CCC 'hate propaganda' complaint was filed against me and my website by a representative of B'nai Brith Canada (a court order prohibits me from mentioning his name as well) also accusing me of 'promoting hatred toward Jews'.
Both of these complaints were received by the BC Hate Crime Team in Surrey, B.C. and an investigation was undertaken by Det. Cst. Terry Wilson. A year later on May 16th, 2012 I was arrested by the BC Hate Crime Team while traveling to work and placed in a jail cell while the RCMP illegally entered my premises using a trumped up 'search warrant' and stole all of my computers and electronic files containing well over a hundred thousand private emails.
I have been fighting this second, specious criminal charge that could result in a two year jail sentence ever since. The case is now in BC Supreme Court with a trial date set for October 26th, 2015.
With the one exception of my home town community newspaper the Quesnel Cariboo Observer and its illustrious editor Autumn Macdonald, ever since 2012 my story has been virtually blacked out by Canada's mainstream media. Nothing, other than the usual smear and slander that appeared back in the msm in November of 2012 when the Indictment was formally handed down by the BC Attorney General's office, has come out in the press since relating to the mis-use of these so-called 'Hate Propaganda' laws.
The Discordant Case of Valentina Lisitsa
lisitsa
The recent case of world renowned pianist Valentina Lisitsa has once again highlighted the hypocrisy, bigotry and outright malfeasance that pervades Canada's judiciary and the nation's cultural and social media environment when it comes to using the 'hate' card, aka Sections 318 320 of Canada's Criminal Code, to harass, intimidate and slander anyone whose opinions and political viewpoints don't fall in line with the expected (and calculated) agenda of the Zionist interlopers who now control the Prime Minister's office, his cabinet and, thus far, the leaders of all the other federal parties.
In an article published April 7th, 2015 in the Globe & Mail, reporter Robert Everett-Green writes: 'On March 13, Ms. Lisitsa said, the TSO [Toronto Symphany Orchestra] forwarded to Ms. Dorn an e-mail from Toronto lawyer Michael C. Smith that cited section 319 of the Criminal Code concerning 'wilful promotion of hatred,' and said 'there is a possibility that Ms. Lisitsa could be stopped at the border … and deemed 'unacceptable' to Canada.' An attached note from Mr. Melanson, who is not a lawyer, went further, stating that Ms Lisitsa's social media posts 'would likely breach or come close to breaching the Criminal Code of Canada.' Ms. Lisitsa replied with her lawyer's opinion rejecting that of Mr. Smith. [All emphasis added.]
So what exactly does Canada's Criminal Code say about 'hate' this oft used and ever abused term that the Zionist lobbyist has managed to inject, via subterfuge, into the country's legal system and their media tool kit? The Code reads:
Wilful promotion of hatred
319. (2) Every one who, by communicating statements, other than in private conversation, wilfully promotes hatred against any identifiable group is guilty of
(a) an indictable offence and is liable to imprisonment for a term not exceeding two years; or
(b) an offence punishable on summary conviction.
Judging from the wording of the text we find that just like the term 'terrorist' there's no actual definition given as to what the word 'hatred' means. In other words it is subjective and means whatever a person or lawyer or judge decides it means to them. This fact renders it useless in terms of trying to argue against it or debate it once the word has been inserted into jurisprudence thus making it merely a tool for intimidation and control in the same way that the term 'anti-Semite' has been used for the last century to browbeat and demonize anyone who so much as issues a dissenting sigh in hearing distance of a Zionist Jew or one of their sycophantic lackeys.
The same has now become true for the '6 million' holocaust debate wherein an accusation of being a 'holocaust denier' has taken on the same legal authority in certain countries and is being used to censor proven historical facts and jail anyone who so much as questions whether the alleged event ever occurred in real time or disputes the purported numbers.
As an editorial in the Toronto Star on April 7 put it the Ukrainian-born pianist shouldn't have been prevented from performing with the Toronto Symphony Orchestra, adding that, 'In a particularly weak explanation of why the orchestra was dropping her, TSO president Jeff Melanson said Lisitsa was bounced over 'ongoing accusations of deeply offensive language by Ukrainian media outlets.' And, he added: 'As one of Canada's most important cultural institutions, our priority must remain on being a stage for the world's great works of music, and not for opinions that some believe to be deeply offensive.'
This misses the point on at least two counts. First, Lisitsa was not invited to Toronto to discuss her provocative political views. She was scheduled to play the piano. And second, banning a musician for expressing 'opinions that some believe to be offensive' shows an utter failure to grasp the concept of free speech.
We don't have freedom of speech to protect only those we agree with, or those whose views are inoffensive. We have it precisely to protect people who have unpopular or even outrageous opinions.'
Again, in a subsequent article on April 9 in the same publication writer Vinay Menon adds, 'It's a good thing Jeff Melanson isn't running our public library system. Or the city would need to hire 2,000 firefighters to keep up with all the book burnings this summer. . . Am I being unfair to Melanson, chief executive of the Toronto Symphony Orchestra? Perhaps! But this is my opinion and, here in Canada, we are allowed to express opinions, even ones that may seem unfair and offensive.'
Menon further states, 'The spiritual charter of any cultural institution, important or otherwise, must have certain words etched between the operational lines, including 'freedom of expression' and 'don't cave to special interests.''
Valentina Quote graphic800
It's a well established fact that those who accuse others of 'promoting hatred' are, themselves, the ones who hate to hear the truth and therefore resort to Canada's infamous 'Hate Propaganda' laws in order to stifle any discussion related to their own questionable actions. Such has been my own experience in dealing with my accusers and, as we can see from Valentina's encounter with the bureaucrats who run the Toronto Symphony Orchestra she ran into this this same mindset; one that invariably displays both a lack of integrity and the inability to talk openly and honestly about their intentions or their ultimate agenda.
Are we finally seeing a change in attitude on the part of Canada's mainstream media when it comes to actually challenging Canada's ill-conceived 'Hate Propaganda' laws contained in Section 318 320 of the Criminal Code?
Is Canada's media, the same organ that trumpeted the call for the repeal of Sec. 13(1) now going to tackle the final citadel of censorship, Section 319 of the Criminal Code? If so then they'll also have to start considering lending a positive voice to organizations like the Ontario Civil Liberties Association, the one and only civil liberties group in Canada to date that is openly supporting my legal case and the repeal of these Orwellian 'Hate' laws that reap nothing but repression, opprobrium and the loss of free expression for all Canadians and others like pianist Valentina Lisitsa.
The time is long past for Canada to resume its former role as a free and democratic nation and nothing will ensure that this happens more than the country ridding itself of all its Zionist-induced 'Hate' legislation.