Ceaseless Smear Campaigns by B'nai Brith Lobby & Zionist Media Must End!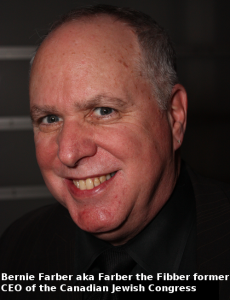 by Arthur Topham
Ruth, my Jewish mother-in-law, was always fond of saying "Enough already!" an expression most apt when it comes to the growing and ongoing smear campaigns by the Zionist Jew media in Canada and the bottom-feeding, serpentine, masonic deceivers the Jewish lobby organizations like the former Canadian Jewish Congress (CJC), the ongoing run of blustering bigots and liars who compose B'nai Brith Canada and their League for 'Human Rights' of B'nai Brith Canada plus the latest snake in Canada's political, cultural and media grasslands, the Centre for Israel & Jewish Affairs (CIJA) formed as the umbrella organization designed to carry on the nefarious work of the former CJC which, not coincidently was piloted by Bernie Farber the present writer of the latest libelling, lying, hate-filled screed aimed at University of Lethbridge Professor Dr. Anthony Hall.
farberpic
Farber has made a name for himself over the years by spreading his venomous, hate-filled lies throughout Canada's Israeli-first media in an endless effort to keep their "6 Million Jews" holocaust LIE alive by attacking any writer who publishes the actual truth about the real history of the past century. He has absolutely no compunction when it comes to lying to the general public or a court of law and will do so without blinking an eye.
A recent and rather poignant personal example of Farber's disingenuous actions came up during my "Hate" trial back in October/November of 2015 when the Crown, out of desperation to find someone who they could pawn off as an "Expert Witness" on the subject of "hate speech", managed to gain Farber's consent to appear on their behalf. When Farber was subsequently told that he would have to travel to Quesnel, B.C. and appear in person in Supreme Court (rather than appear via video) he refused to come but with a little wrangling and more deception he managed to get his former second in command at the Canadian Jewish Congress, Mr. Ed Rudner, to appear on his behalf.
As it turned out fast Eddy Rudner didn't have the time to prepare his presentation to the jury so he conveniently borrowed Farber the fibber's written submission and told the court, while under oath, that he had composed the bulk of it (with a little help from his buddy Bernie). In other words Rudner committed perjury. Had it not been for the sharp eye of Mr. Gilad Atzmon who was working with my team for the defence during the proceedings this criminal act on the part of these two fork-tongued vipers may never have been exposed. But then lying to the gullible goyim is all part of the Zionist modus operandi and I'm certain that neither Farber or Rudner lost any sleep over the fact they had deceived presiding Justice Butler, the jury and the BC Supreme Court.
len-rudner-copy
So these are the types of people who are spreading outright bold lies about real, honest, Canadian men and women of integrity, individuals like Professor Anthony Hall and Canadian-German citizens Monika Schaefer and Brian Ruhe.
Let's now cut to the chase and take a more discerning look at Farber's fatuous fabrication of libellous vilifications concerning Dr. Hall.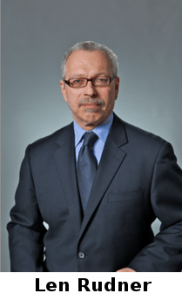 Farber, himself a life-long member of the most Satanic and lunatic cult on the face of the planet, i.e. Zionism, begins his slander of Professor Hall by going directly to the source of his defamation which, inevitably in today's digital world, means Facebook. It's there where Bernie supposedly gleans his evidence to back up the blatant lies which he concocts about Professor Hall. He accuses Prof. Hall of posting "ravings" on his Facebook page and in the next breath attempts to incite his readers to believe that, "Hall gives every appearance of being both a conspiracy nutter and a classic anti-Semite. Like his late Eckville, Alberta, neighbour James Keegstra, Hall has found a comfortable home amongst Holocaust deniers."
How Farber managed to make the quantum leap from what is posted on Prof. Hall's Facebook page to the notion that Hall is a "conspiracy nutter" and a "classic anti-Semite" and, by extension to the now deceased Jim Keegstra, a "Holocaust denier" is anybody's guess as Farber doesn't bother to embellish his viperous hissings with any actual evidence.
Zionist hacks and Mossad sayan (voluntary agents for the Israeli propaganda network) like Farber always have their list of weaponized words and phrases at hand when they go into mind-control mode and attack truth tellers. After a shabby attempt to disparage the work of Jewish author Gerard Menuhin and his very popular book on the Holohoax LIE, Tell The Truth And Shame The Devil the fibber suddenly spews out the old "Jew-hater" epithet just to add a bit of kosher garnish to his plate of pernicious, poisoned platitudes offered to the Canadian reader.
Finally Farber gets to the core of what he thinks will permanently nail the tenured Lethbridge University Professor to the proverbial cross of "Jew-haters", "anti-Semites" and "Holocaust deniers". His statements in this regard warrant quoting:
"In late August, B'nai Brith exposed a hateful and genocidal anti-Jewish comment by one Glen Davidson that appeared on Hall's Facebook page.
It was about as bad as it gets when it comes to graphic anti-Semitism: the image of a man assaulting what appears to be an Orthodox Jewish man. Next to that photo a screed that might have made Keegstra blush.
It claims that there was never a Holocaust but should have been, and rest assured, there will be, adding, "I will not rest until every single filthy, parasitic kike is rounded up and slaughtered. The greedy hook-nosed kikes know that their days are numbered" It ends with a call to "KILL ALL JEWS NOW! EVERY LAST ONE.""
Allow me to begin dissecting this Zionist Jew slander by posting the aforementioned "hateful and genocidal anti-Jewish comment" (it was included in an actual graphic image and not in text format).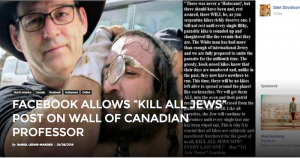 The very first thing to understand about this graphic image is that Professor Anthony Hall NEVER EVER SAW IT ON HIS FB "WALL" prior to FB eventually taking it down. It's important that readers know this.
Next, it must also be very clearly understood that Farber states, "It was about as bad as it gets when it comes to graphic anti-Semitism". Having been in the business of studying political Zionism for many years and all of the associated aspects of Zionism's preoccupation with the weaponized term "anti-Semite" I would concur with Bernie on this aspect of the graphic. It definitely was a winner but not for the loser Farber as we will soon see.
Apart from the graphic image telling the truth about the Holocaust LIE Farber the Fibber goes on to quote further from the text:
"I will not rest until every single filthy, parasitic kike is rounded up and slaughtered. The greedy hook-nosed kikes know that their days are numbered" It ends with a call to "KILL ALL JEWS NOW! EVERY LAST ONE."
Again, I'm reminded of Ruth who likely would have remarked, "Oi vey! Such language!" So let's face it the graphic that someone else posted on Professor Hall's Facebook "Wall" which the good Professor had not seen was indeed a very "not nice" image by most community standards and, rightfully so, it ought to have been, and was, eventually removed by Facebook. But the burning question still remains: WHO in their right mind would create such a terrible image combined with such distasteful language and then post it on the Internet for all to see? What deluded, hate-filled neo-Nazi and Jew-hater would have the audacity and the chutzpah to come up with such a sick, despicable anti-Semitic graphic image? Could it have been the ghost of James Keegstra beaming it down from some Astral plane into Cyberspace? Or maybe it was the infamous "Holocaust denier" Ernst Zundel? Zundel is still alive and living somewhere in exile in Europe so you never know. Possibly it was Dr. David Duke or Professor Faurisson or David Irving or any of the more prominent "anti-Semites" that live on in Zion's pathetic pantheon of Jew haters? Anything is possible, no? Why given my own propensity for creating graphic images for use on my website it could very well have been me who created this image. I'm certain that it wouldn't surpise B'nai Brith and frankly I'm a bit surprised that they didn't accuse me right off the bat! But for all of the concern about the image our over-zealous and diligent zio nazi-hunting dilettante Bernie Farber doesn't delve into that aspect of the story but quickly moves on in an attempt to shame Facebook for taking so long to remove the image after B'nai Brith's internet spies managed to spot it lurking there on Hall's wall.
Well, for the sake of truth and transparency which are the necessary ingredients to a healthy and harmonious society, I now will share with Bernie and B'nai Brith and the rest of the readers the dreadful Truth of who it was that created such an abominable anti-Semitic image.
When I first saw the controversial image I though to myself, "Hmmm… I know that face." Not the face of the squashed "Orthodox Jewish man" as Bernie stated it but the face of the culprit who was doing the squishing. At first I couldn't place it but then subsequently I learned from an associate of mine that it was in fact the face of the Montana Internet cartoonist, Ben Garrison. I knew Ben because of an incident that had taken place a year or more ago when I had posted what I thought was one of his cartoons on Radicalpress.com. Sometime later I received an email from Ben informing me that the cartoon was a doctored up version of his original cartoon and not his and he politely asked me to remove it. I did so. Knowing the little I did know of Ben's work I found it hard to conceive that he would have created such a vile image so I wrote to Ben and asked him about it. This was his reply to my question which I received on September 20th, 2016 and the key to realizing who the creator of the graphic was:
From: Benjamin Garrison <[email protected]>
Subject: Re: The genuine copy of the fake original
Date: September 20, 2016 at 2:56:21 PM PDT
To: Radical Press <[email protected]>
Hi Arthur,
Yes, I remember you and a lot has 'gone down' since that time. I learned a lot about free speech on the Internet and I suffered a lot of indignities and lost work because of my cartooning endeavors.
[snip]
I have no problem with the professor's [he's referring to Prof. Hall. A.T.] opinions-that's his right of free speech. Unfortunately that Photoshopped image of me assaulting that Orthodox Jew man continues to circulate and be posted everywhere. Ironically, it was created by a 20 year-old Jewish kid named Joshua Goldberg. He was arrested by the FBI about a year ago for sending bomb making instructions to what he thought was a Muslim terrorist-instead it was an FBI undercover agent. Goldberg is now pleading mental illness, but for years he was allowed to stir up trouble from his parent's basement in Florida. For some reason he enjoyed targeting me and he's the one who created that image as well as many other hate screeds.
Regards,
Ben
So there you have it, plain and simple. Another deranged Jewish kid, most likely brainwashed by his Talmudic upbringing into hating the goyim, spreading his lies about the Internet so that other deranged Zionist fanatics might then pick up the image and use it to carry on their own hateful, libellous attacks upon good folks like Dr. Anthony Hall of the University of Lethbridge, Alberta who has never committed a hateful or anti-Semitic act in his life.
One final word on NOW Magazine. This publication, like most of the Zionist controlled media in Canada, has been carrying the LIES of Zionist Jews such as Bernie Farber for years now and, like Farber himself, it is just as guilty of defamation and libel as Farber is. Media that publishes lies and slanders and vilifies individuals out of pure spite and hatred do not deserve to get away with it. Were I a very rich man I would encourage anyone who has been vilified and and had their name and reputation dragged through the sewers of hate that are the Zionist mainstream media itself and their careers destroyed to file a legal suit for defamation and libel. NOW magazine and the Zionist National Post would be tops on the list of traitorous, foreign controlled propaganda outlets that are doing everything in their power to destroy Canada and its long-standing traditions of freedom of speech and expression and thought. It strikes me as obvious that people like Bernie Farber would also be eligible for such treatment as well.
As the title of this article stated, the ceaseless smear campaigns by B'nai Brith Lobby & Zionist Media must end!